Most avid Chiefs fans can cite the exploits of the great players in team history, but there are many other players who have escaped the hype but yet played vital roles in their teams' success and, for one reason or another, have slipped the minds of many fans then and now.
Throughout the coming year, we will profile some who did more than simply play a part when they took the field for the Kansas City Chiefs.
The Kansas City Chiefs have had more than their share of tragedies, particularly at the running back position. Over the course of the franchise's existence, it has had to suffer through tragic deaths to running backs Stone Johnson (1963), Mack Lee Hill (1964-65) and Joe Delaney (1981-82).
While any death suffered before its time is a tragedy, none stung the Chiefs more than the passing of Hill, who came from nowhere to become what most fans and coaches believed would be the team's running back of the future who would propel them to another AFL championship.
His story was rightfully compared to Horatio Alger, and it caught the attention of media throughout the nation following a new young brand of professional football.
Hill grew up in Quincy, Florida, near Chattahoochee on the Georgia border. Standing 5'11" and weighing 225 pounds, he attended Southern University in Baton Rouge, Louisiana and received some attention from enough scouts to gain an invitation to a training camp which turned out to be Kansas City's.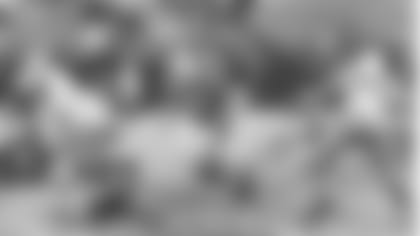 Coming to camp as a free agent, he was noticeably quiet and kept to himself. Dave Grayson, a teammate, remembered and the two struck up a friendship. Grayson was an all-pro defensive back and recalled Hill breaking loose during the team's first night scrimmage shortly after camp started in 1964. Grayson had been friends with Stone Johnson, too, and had even stayed behind in Wichita when Johnson was hospitalized and suddenly died there after being injured in a pre-season game. To have it happen to two of his friends must have played havoc on his mind.
Hill broke out officially while the team was mired in a 1-6-1 record. With Jack Spikes gone and Curtis McClinton moved to halfback, Hill was the primary ball carrier and against the Raiders did so for 62 yards and two touchdowns in a Chiefs win. Following the game, he was quizzed by media about what he might have done had he not made the team. In a matter-of-fact, but hardly haughty tone, he replied: "Nothing. I knew I would make it."
In his rookie year, Hill carried the ball 105 times for 576 yards, scored six touchdowns, and had the AFL's best average-per-carry of 5.4 yards. By 1965, he was continuing to average over five yards and ranked only behind the AFL's best of Paul Lowe, Cookie Gilchrist, Clem Daniels, Matt Snell and Curtis McClinton.
Injured in the team's next-to-last game of 1965 in Buffalo, he underwent a routine operation on a torn knee ligament. In the process, he suffered a massive embolus blood clot and died. In remembering Hill, his roommate in the 1964 AFL All-Star game, Clem Daniels, said of him:
"We played in the same starting backfield and even as a rookie, he deserved to be there. I was very impressed with the type of person he was, quiet and reserved. A guy so young with so much to live for."
A year later in special ceremonies in a game against the Denver Broncos, the Chiefs honored Hill's memory and Len Dawson offered the words that are now part of the team's Mack Lee Hill Award selected annually by the team and presented to whom they believe is the best first year player.
"He accomplished what we all strive for in life," said Dawson, "complete respect and admiration from the people with whom we work and associate."