The Kansas City Chiefs won an absolute thriller on Sunday afternoon, rallying to defeat the Baltimore Ravens in overtime by a score of 27-24.
Here are 10 interesting notes about the win.
1. The Chiefs notched their first overtime victory in quite a while
Kansas City needed an extra period of play for the fourth time in the last three years, with the last occurrence being a three-point loss to the New York Giants in Week 11 of last season.
Sunday's victory was the Chiefs' first overtime win since Kansas City's memorable victory over the Denver Broncos back on November 27, 2016, when kicker Cairo Santos bounced the game-winning field goal through off the left upright.
The Chiefs' four overtime contests since 2016 are surprisingly tied for the third-most in the league during that time.  
2. The advanced metrics didn't see that one coming
The possibility of overtime seemed unlikely only a few plays earlier, when the Chiefs faced a fourth-and-nine at their own 46-yard line with just under two minutes remaining and down a touchdown.
Here's a look at the Ravens' win probability at that moment, courtesy of ESPN: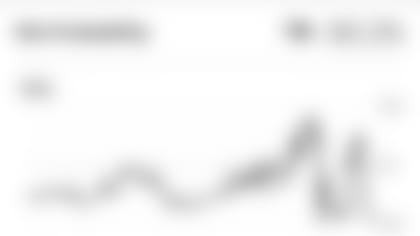 That was before Chiefs' quarterback Patrick Mahomes found wide receiver Tyreek Hill on the run for an incredible 48-yard completion downfield.
The Chiefs then converted yet another fourth down a few snaps later as Mahomes found tailback Damien Williams for the game-tying score.
It was all improbable, to say the least, but it happened. 
3. Those late-game heroics secured a spot in the postseason
There's still plenty of work to do in terms of seeding, but the Chiefs are guaranteed a spot in the playoffs once again this season. It will mark Kansas City's fourth-consecutive trip to the postseason and a fifth trip in six years under Head Coach Andy Reid.
This is currently the Chiefs' longest stretch of consecutive postseason appearances since qualifying for the playoffs in six-straight years from 1990-1995.
To purchase tickets for potential postseason games at Arrowhead, click here.
4. Mahomes put together a game to remember on Sunday
The 23-year-old Mahomes completed 35-of-53 passes for 377 yards, two touchdowns and in interception on Sunday, further making his case as the MVP of the league.
It marked Mahomes' 10th game with at least 300 passing yards in just 13 contests this season, which is something only Andrew Luck (2014), Peyton Manning (2013), Drew Brees (2011) and Rich Gannon (2002) had accomplished before him.
Mahomes' 43 touchdowns on the year are also the fourth-most through 13 games in NFL history, trailing only Manning (46 in 2004, 45 in 2013) and Tom Brady (45 in 2007).
Additionally, Mahomes surpassed 4,000 yards passing on the season midway through the game – reaching the mark faster than any other quarterback in franchise history. Mahomes' record-breaking season is just the 13th occurrence in NFL history that a player has thrown for 40-plus touchdowns and 4,000-plus yards in the same year, and at 23-years-old, he's the second-youngest player to ever do it behind only Dan Marino.
5. Tight end Travis Kelce has been on a roll lately
Kelce hauled in seven catches for 77 yards and a touchdown on Sunday, continuing what's been a torrid stretch for the All-Pro tight end. In his last the games, Kelce has 29 catches for 372 yards and four scores.
He also made a little history on Sunday.
Kelce's 10 touchdowns this year are a career-high, and with just 169 more yards through the air, he can break Rob Gronkowski's NFL record for receiving yards by a tight end during a single season.
Additionally, as Sports Radio 810's Soren Petro points out, Kelce's 10th score helped the Chiefs achieve some history.
6. Wide receiver Tyreek Hill fought through injuries to come up big
Hill was hobbled for much of the game with nagging hand and foot injuries but it didn't stop the third-year receiver from posting a huge performance. The speedy Hill hauled in a team-leading eight catches for 139 yards – including Mahomes' heave on fourth-and-nine with the game hanging in the balance – for his fifth 100-yard game of the season.
7. Spencer Ware and Damien Williams each chipped in strong performances
Ware amassed 129 yards of total offense in Sunday's win, picking up his first game with triple-digit yardage from scrimmage since Week 7 of the 2016 season. Williams, meanwhile, tallied his first two touchdowns as a member of the Chiefs.
Williams' first score was a one-yard plunge over the goal line for the Kansas City's first points of the day. His second came at the most vital of times, catching a short pass from Mahomes on fourth down and trotting into the end zone with just a minute left.
Williams is the 10th player to catch a touchdown for Kansas City this year.
8. On the other side of the ball, Chris Jones did it again
Jones brought down Ravens' quarterback Lamar Jackson early in the game and made some history in the process. It marked Jones' ninth-straight game with a sack, setting an NFL record for consecutive games getting after the quarterback during a single season.
It's just one shy of the overall record, which is shared by Simon Fletcher (1992-93) and DeMarcus Ware (2007-08).
9. It all contributed to yet another win at Arrowhead Stadium
The Chiefs have now won 23 of their last 27 regular-season matchups at Arrowhead, which are the second-most home wins in the NFL since 2015 behind only the New England Patriots. Kansas City is one of just three teams in the NFL with perfect records at home this year, joining New England and the Los Angeles Rams.
10. Andy Reid continues to climb on the all-time wins list
Reid now has 205 career victories (including the postseason), which matches Marty Schottenheimer for the seventh-most all-time victories among head coaches.