There's no way to win 11 straight games and not have a few things going right for your football team, and in the case of the Kansas City Chiefs, that conversation should start with the depth and versatility of their offensive line. It has been the difference.
This group has steadied the sails during a hurricane of injuries this season.
In 17 games, the Chiefs have started nine different combinations up front, including four different starting combinations over the past six games.
But they just keep winning because every guy in that room is prepped and ready to go at a moment's notice and can play multiple spots if called upon.
Here's a look at the starting offensive line combinations for the Chiefs this season:
Chiefs Starting Offensive Line Combinations in 2015
The Chiefs have had five players—Zach Fulton, Jeff Allen, Eric Fisher, Donald Stephenson and Jah Reid—who have all played multiple spots along the offensive line this season.
Fulton has actually started at all three interior line positions at different points in the season.
"With the limited rosters on game day and that you're only dressing seven guys, those guys have to be ready to play multiple positions," quarterback Alex Smith explained. "Zach [Fulton] is obviously a great example of that, being able to move around.
"Mitch [Morse] goes down and [Fulton] jumps in at center and does a great job for us."
Before Saturday, Fulton had only ever started a regular season game at center once in his career dating all the way back to his college days at the University of Tennessee. The start was earlier this year against the Oakland Raiders in Week 13.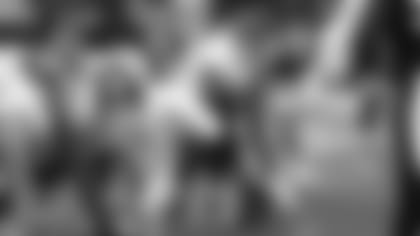 With Mitch Morse ruled out with a concussion on Saturday, Fulton was needed to play center and so he stepped up to the challenge and anchored an offensive line that was going up against one of the most formidable front sevens in the entire NFL in the Texans.
Led by Fulton and company, the Chiefs ran for 141 yards and held All-Pro J.J. Watt to just 1 tackle before he left in the third quarter with an injury.
It was the sixth different starting offensive line combination for the Chiefs during this current 11-game winning streak.
It has taken everyone in that room to help contribute and lead this offense, and much of the credit, according to coach Andy Reid, should go to offensive line coach Andy Heck and his assistant, Eugene Chung.
"I give a lot of credit to them," Reid said of the two positional coaches. "You take the run game and add it in there, too. Andy Heck does the run game. So, between he and Eugene coaching the techniques and fundamentals, they do it as well as anybody.
"There's also another side to that, and that's putting your guys in good positions—they do that, too."
Over the past six games, which have included two different starters at left guard, center and right tackle, not to mention Jah Reid stepping in at right guard for the injured Larry Duvernay-Tardif during last Saturday's 30-0 blowout of the Houston Texans, the offensive line has paved the way for 818 yards and 5 touchdowns on the ground during this stretch.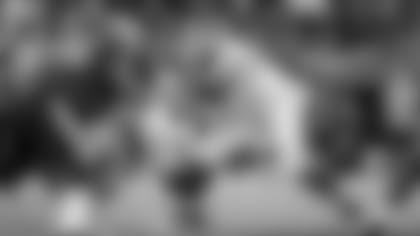 "Coach emphasizes us always being ready to play multiple positions and to know the game plan," Jah noted, "so I try my best to do that and they have my back."
The other interesting aspect of this offensive line is that they're young. The starting offensive line for the Chiefs against the Texans had 15 years worth of NFL experience combined, or 135 combined starts, which averages out to just 27 career games started per player.
That's less than two years worth of starting experience per player and is led by third-year player Eric Fisher, who has 43 career starts.
While 43 career starts isn't a lot in the big picture, the Chiefs still haven't lost a game since Fisher returned to left tackle back in Week 7 against the Pittsburgh Steelers.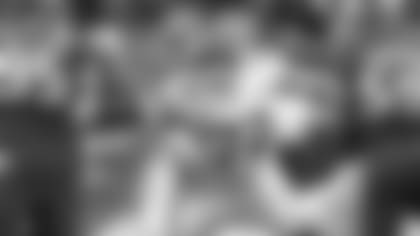 "I've seen him grow tremendously from training camp," running back Charcandrick West said of Fisher. "He's just got that fight in him now."
It's something Allen also agreed with.
"He's playing with more fire, more passion, and that comes along as you get older," Allen noted of Fisher. "When you're young, you're like a deer in the headlights. You're just trying to make it through. But now, as you get older you kind of develop that confidence, and you know what you're doing. You can play fast, now you can turn it on, and that passion comes out.
"That's what you're seeing from [Fisher]."
This was never more evident than last Saturday against the Texans, when Fisher was put in the spotlight. The fans at NRG Stadium didn't appreciate his willingness to finish a play on Texans star defensive lineman J.J. Watt.
Fisher was put on the jumbotron and the boo birds in Houston let him have it. In response, Fisher raised his arms and welcomed their point of view, signifying that he didn't care about how they felt.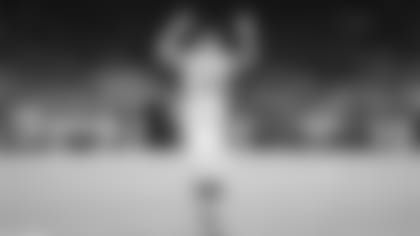 "That was an awesome moment," Allen explained. "He didn't shy away from it. You know, they put it on him and he was like 'yeah, I'm here.'
"And we loved it. That gave us all some extra fire."
Since moving back to left tackle, Fisher hasn't been called for a single holding penalty, either.
"That's the big thing about lineman," Fisher said of their success as a group. "We haven't changed anything that we've been doing. We're doing the same drills no matter how taxing they are on our bodies. We just coming to battle every day. We do the same thing every week.
"We're just so repetitive, so you just have to stay mentally tough and come to work every day, no matter if it's the same thing you've been doing 3 months ago, 4 months ago, whatever."
Whatever Fisher has been doing has been working, and the Chiefs have been a better football team because of it.
And whether it's Fisher, Fulton or Reid—who moved to right guard when Larry Duvernay-Tardif was injured on Saturday—the result has always been the same with rotating bodies along the offensive line.
"That's been a strength of ours here in the second half of the season," Smith said of the depth. "It's really a huge part of why we're even here. It's part of the game – those guys at such a physical position, those guys end up getting hurt. But having the depth that we have and all of those guys being able to play different positions and they've all done it and played at such a high level—I think says a lot.
"Moving Jah in there this last week and having him play the way he did and our group as a unit against a really good front was a huge reason why we ended up winning the game."
The versatility, depth and development from the group as a whole has been the steady hand this team has needed to weather a rash of injuries, both of the season-ending variety and also as guys miss a few games here and there.
They often don't get the credit they deserve, but it's hard not to notice that there always seems to be someone different in there. "I have trust in all of those guys," West noted. "I feel like they'll get the job done."