While the Kansas City Chiefs winning streak was stopped at nine games on Sunday night, following the Denver Broncos 27-17 victory, Andy Reid's team produced some stats that are very much worth a second look.
DERRICK JOHNSON CONTINUES CLIMB: LB Derrick Johnson recorded five solo tackles in Sunday night's contest, giving him 73 tackles (65 solo) for the season. He ranks third in franchise history for most-career tackles with 947, trailing Art Still (992) and Gary Spani (999).
CHIEFS RECORD BOOK - MOST TACKLES, CAREER
1. 999 Gary Spani 1978-86
2. 992 Art Still 1978-87
3.         947           Derrick Johnson      2005-13
4. 927 Deron Cherry 1981-91
5. 883 Donnie Edwards 1996-01, '07-08
JOHNSON PICKS UP LOOSE BALL: DJ also recovered a QB Peyton Manning fumble and returned it 11 yards to the Denver 18-yard line, during Sunday's game, marking Johnson's second fumble recovery of the season and the seventh of his career. His two fumble recoveries in 2013 tie a single-season career-high set in 2006.
CHARLES CROSSES 7,000 SCRIMMAGE YARDS: RB Jamaal Charles recorded 72 yards from scrimmage in Sunday night's game (78 rushing). He now owns 1,186 scrimmage yards for the 2013 season, giving him 7,004 career yards from scrimmage, becoming just the fifth player in franchise history to cross the 7,000-yard plateau.
CHIEFS RECORD BOOK - MOST SCRIMMAGE YARDS, CAREER
1. 10,954 Tony Gonzalez (14 rush, 10,940 rec.) 1997-08
2. 8,447 Priest Holmes (6,070 rush, 2,377 rec.) 2001-07
3. 7,467 Otis Taylor (161 rush, 7,306 rec.) 1965-75
4. 7,384 Larry Johnson (6,015 rush, 1,369 rec.) 2003-09
5.         7,004         Jamaal Charles (5,339 rush, 1,665 rec.)        2008-13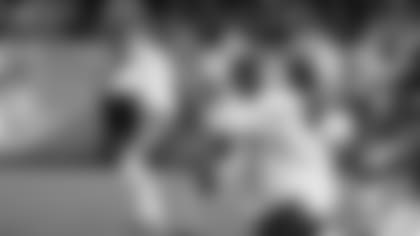 ALEX SMITH MOVES UP QB RUSHING CHART: QB Alex Smith recorded 52 rushing yards on five carries in yesterday's contest (10.4 avg.), giving him 317 rushing yards for the season, ranking second in team history for most rushing yards by a quarterback in a single season in franchise history, trailing QB Tyler Thigpen's 2008 mark of 386 yards.
CHIEFS RECORD BOOK - MOST RUSHING YARDS, QUARTERBACK, SEASON
1. 386 Tyler Thigpen 2008
2.         317           Alex Smith               2013
3. 274 Steve Fuller 1980
4. 272 Len Dawson 1963
5. 264 Steve Fuller 1979
SMITH THROUGH THE AIR: Smith completed 21 of 45 passes for 230 yards, with two touchdowns and no interceptions. He now has 11 touchdown passes for the season and 92 touchdown passes for his career.
FASANO HAULS IN FIRST TOUCHDOWN: TE Anthony Fasano hauled in a 10-yard touchdown reception from QB Alex Smith, marking his first TD reception as a member of the Chiefs. It is his 25th-career touchdown catch. He finished the game with four receptions for 37 yards (9.2 avg.), tying a season-high for receptions and setting a season-high for single-game receiving yards.
BOWE LEADS TEAM IN RECEIVING: WR Dwayne Bowe caught four passes for 57 yards (14.2 avg.) in Sunday night's game, pacing all Chiefs receivers in receiving yards. He hauled in a six-yard touchdown pass from Alex Smith. Bowe now has 37 receptions for 426 yards with three touchdowns in 2013. He has 452-career receptions to rank second in team history, while his 6,154 receiving yards are sixth in team history. He has 42-career touchdown receptions to rank fifth in team history.
Bowe described his six-yard TD catch, after Sunday night's game.
"It was a back-shoulder fade," Bowe said. "We were working on it all week in practice. Alex threw a good ball; I got separation at the end and made the catch."
CHIEFS RECORD BOOK - MOST RECEPTIONS, CAREER
1. 916 Tony Gonzalez 1997-08
2.         452           Dwayne Bowe          2007-13
3. 416 Henry Marshall 1976-87
4. 410 Otis Taylor 1965-75
5. 391 Chris Burford 1960-67
CHIEFS RECORD BOOK - MOST-RECEIVING TOUCHDOWNS, CAREER
1. 76 Tony Gonzalez 1997-08
2. 57 Otis Taylor 1965-74
3. 55 Chris Burford 1960-67
4. 49 Stephone Paige 1983-91
5.         42             Dwayne Bowe          2007-13