CHIEFS ADVANCE TO 9-0: With Sunday's win, the Chiefs became the first team in NFL history to go 9-0, during their first year with a new head coach and quarterback. The Chiefs are also the first team to start 9-0 after posting two or fewer wins in the previous season and are the first team in NFL history to start 9-0 after posting the league's worst record in the previous year. Kansas City's 9-0 start ties for the best start in franchise history (2003).
REID WINS IN RED: With Kansas City's Week 9 win, it marks the first time in Chiefs head coach Andy Reid's 15-year coaching career that he's started a season 9-0. Prior to this season, Reid's best start was a 7-0 start in the 2004 season with the Philadelphia Eagles. Coach Reid is the third head coach in NFL history to win his first nine games with a new team. (Jim Caldwell & Wally Lemm).
"Every win you get in the National Football League is a good win," coach Reid said, during his postgame press conference on Sunday. "We rallied in the fourth quarter and did some things that were better than we had done early. There are a lot of things we can improve on. We were out-gained by a ton, but the turnovers and the score are kind of the important things. Turnovers, either created or lost, really, that's what the game came down to."
SMITH RETURNS INTERCEPTION: CB Sean Smith intercepted a QB Jeff Tuel pass on the goal line and returned it 100 yards for a touchdown, tying for the second-longest interception return for touchdown in franchise history. It was his second interception of the season and seventh of his career. It is his first interception returned for a touchdown and marks his career-long interception return.
"I'm still tired, right now, from the return," Smith said after the win. "I just appreciate my guys sticking with me throughout the entire play and just showing me the way."
CHIEFS RECORD BOOK - LONGEST INTERCEPTION RETURN
1. 102 Gary Barbary vs. Seattle Dec. 11, 1977
2.      100           Sean Smith at Buffalo               Nov. 3, 2013
Tim Collier at Oakland Dec. 18, 1977
4. 99 Dave Grayson vs. N.Y. Titans Dec. 17, 1961
Kevin Ross at San Diego Sept. 6, 1992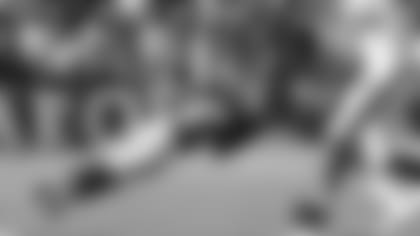 CHIEFS GRAB MULTIPLE INTERCEPTIONS, ONE FOR SCORE: The Chiefs intercepted Buffalo QB Jeff Tuel two times for 101 yards in Sunday's contest, including the Kendrick Lewis INT during the second quarter, marking the sixth time in 2013 that the Chiefs defense has recorded multiple interceptions. The Chiefs returned one interception for a touchdown in the contest, marking the team's fourth interception return for a touchdown of the season, tying for the third-most interception return touchdowns in a single season. It marks the first time since 1999 that the team has recorded four or more interception returns for touchdowns in a season.
In a victorious locker room on Sunday, Lewis explained the reason for the team's defensive success.
"We never panic," Lewis said. "We never panic, not even for one second. We always go in knowing that someone on our defense is going to make a play. That's how we believe in each other, no matter who it may be, someone will come up with a play."
CHIEFS RECORD BOOK - MOST INT-RETURN TDs, SEASON
1. 6 1992
2. 5 1972, 1974, 1999
3.     4               1960, 1967, 1986, 1997, 2013
HALI FINDS ENDZONE AGAIN: LB Tamba Hali recovered a WR T.J. Graham fumble and returned it 11 yards for a touchdown. It is Hali's fifth-career fumble recovery and first fumble recovery returned for a touchdown. The score marks Hali's second-career defensive touchdown after a 10-yard interception return at Jacksonville on Sept. 8, 2013. Hali added four tackles (two solo) in the contest. It is his first fumble recovery since a sack-and-strip fumble recovery of QB Kyle Orton vs. Denver on Dec. 5, 2010.
Celebrating his birthday on Sunday, Hali described what was yet another game-changing defensive TD.
"Cooper forced the fumble and the whistle didn't blow, another blessing from God," Hali said. "Being 1-0 each week is huge, because every game we come in now, we're going to get another team's best game and just knowing that and keeping our poise and just coming in and making sure we can execute and get a win is huge."
CHARLES MOVES UP RECEPTIONS CHART: With six receptions in the Sunday victory, RB Jamaal Charles moved into fourth place for most-career receptions by a running back with 199, passing Abner Haynes (197) for fourth.
The receptions came despite an imposing Bills defense.
"Oh yeah, they had two people on me sometimes and they were watching out for me, especially on the screen plays," Charles said. "They were hugging and they were playing the screen routes well and all the other routes well, too." CHIEFS RECORD BOOK - MOST RECEPTIONS, RUNNING BACK, CAREER
1. 369 Kimble Anders 1991-00
2. 188 Ed Podolak 1969-77
3. 251 Priest Holmes 2001-07
4.     199           Jamaal Charles             2008-13
5. 197 Abner Haynes 1960-64
Charles finished the day with 17 carries for 90 yards (5.3 avg.) to go with his six receptions for six yards.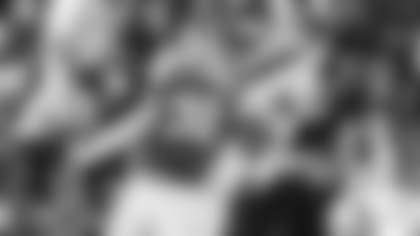 COOPER PLAYS BIG ON DEFENSE: CB Marcus Cooper recorded his first-career forced fumble on a WR T.J. Graham reception, which ended up being recovered by LB Tamba Hali and returned 11 yards for a touchdown. Cooper added three solo tackles and three passes defensed in the game.
Coop described the forced-fumble play, following the win.
"It was a great call by the QB," Cooper said. "He put it out in front, where I couldn't get to it; I saw an opportunity to poke the ball out and just went for it and Tamba did the rest."
BOWE RECORDS PERSONAL BEST GAME OF 2013: WR Dwayne Bowe caught a season-high seven passes for a season-high 67 yards in the 23-13 victory on Sunday.
"God has blessed us to go out there and play this game healthy and we're just riding the horse
right now," Bowe said postgame. "What we've been through and what we're not trying to go back to and guys are just playing like a family and that's the reason why we're winning."