ASSISTANT HEAD COACH/SPECIAL TEAMS COORDINATOR DAVE TOUB
Q: What about Mecole Hardman other than his speed leads you to believe that he will be a good returner?
TOUB: "Watching him in college you could see the burst and the explosiveness after he catches the ball and separates from quality players. We feel like he can do the same thing here at this level."
Q: How does Juan Thornhill's special teams work look so far?
TOUB: "Right now he is a four-phase guy for us. If he is a starter on defense we will pull him back, but right now our plan is to have him as a four-phase starter and we're happy to have him over there. He's doing a really good job. He's smart. Right now, the competition is so high out there. Offense, defense and special teams, it's outstanding and making everybody better."
OFFENSIVE COORDINATOR ERIC BIENIEMY
Q: Are there things you've got Patrick working on, specific things and not just generic improvement?
BIENIEMY: "I think the generic improvement is very, very important. One thing going into this offseason, all the coaches and myself, we sat down and wrote down things we'd like to see ourselves, our players improve upon. One thing Mike harped on was basically being consistent with his drops in the pocket, being consistent with his footwork, and one thing I have seen, we've addressed it. He's doing a better job and you can see it. The thing about it, when I'm looking at him, it's not so much I'm looking at what is he looking at downfield, because that takes care of itself. I want to see if he's being consistent with his pocket presence, with his footwork in the pocket."
Q: How has John Lovett done out here?
BIENIEMY: "He's a smart kid. One thing he understands is he's not going to take any rep or any opportunity for granted. He's done a heck of a job. He's learning to play the tight end position as well as a fullback. At the end of the day, we just want smart, tough, competitive football players. He seems to fit the role right now."
Q: How is Darwin Thompson doing?
BIENIEMY: "The kid is an unbelievable kid. You fall in love with the person. The kid has tremendous work ethic. Obviously, the talent speaks for itself, but one thing you appreciate about him is he comes to work every single day understanding that the classroom is important, the meeting room that we have is important. When we step out on this field for individual (drills), it's important. You wish that everyone would have that demeaner. Everyone has a different way of going about it, but the kid, he is a great kid. We're expecting him to live up to the hype of that because that leadership and that example of who he is needs to carry over on a consistent basis on the field."
DEFENSIVE COORDINATOR STEVE SPAGNUOLO
Q: With coming to a new team and implementing a new defense, what is your personal measuring stick to know once you've hit where you need to be?
SPAGNUOLO: "We have a long way to go before that. We haven't put a shoulder pad on. Luckily they let us put helmets on, otherwise we'd still be doing all those pajama practices we were doing earlier. It's a long process. I'm certainly not going to compare it to anything. What I look for right now is building a foundation. I've talked extensively with the guys about that. It's been all about building a foundation of fundamentals. That goes to communication and to believing in the system. I've talked extensively about mastering the things that take very little talent. It doesn't take a lot of talent to communicate or to call out an under route or get aligned. Those little things we need to get taken care of otherwise it creates holes and then we have problems. So I'm more focused on that."
Q: What do you like about the leadership that Tyrann Mathieu and Frank Clark bring to the team?
SPAGNUOLO: "First thing that sticks out with those two guys is elite competitors. That's what attracted us to them right from the beginning and on top of that they're pretty talented guys. They're team guys, they're leaders, they've got all the intangibles. Sometimes it's really difficult in free agency in this league to find out the intangible things. The things you can't see on film. You gotta dig deep. Brett (Veach) and his staff did a great job. We knew what we were getting and these guys have been what we thought. We haven't gone out and played a game yet, but from the standpoint of practice and how hard they work it's been really, really good."
WIDE RECEIVERS COACH GREG LEWIS
Q:What development have you seen from the younger receivers?
LEWIS:"I thought Byron Pringle has done a great job thus far through the OTAs. He's played fast, he's played physical and he's plucking the ball out of the air and he's giving himself an opportunity to continue to make plays for us. Gehrig Dieter and Marcus Kemp have also been in the system for two years and they stepped up and continue to progress in their development and have done a tremendous job. Demarcus (Robinson) has done a really good job. Being in his fourth year here he's taken on a leadership role and he's come out and made plays consistently on a day-in and day-out basis."
*Q: *What about Mecole Hardman stands out to you?
LEWIS:"He's continuing to develop and he's extremely fast and he plays that way. That's what we want. We want a guy that can play fast, take the top off the coverage, get through and make plays down the field. And then it's my job to develop him as a complete route runner with the underneath stuff. He's doing a tremendous job. He's in here early everyday trying to find the ins and outs to help himself become better as a professional football player."
RUN GAME COORDINATOR/DEFENSIVE LINE COACH BRENDAN DALY
Q: What was it about this situation that led you to leave what appeared to be a pretty good situation in New England?
DALY: "I'm excited to be here. This is a great opportunity for me. I've had a tremendous amount of respect for Coach Reid for a long period of time. I've had the opportunity to work with Coach (Steve) Spagnuolo on the defensive side of the ball in St. Louis. Some familiarity with Matt House as the linebackers coach. I obviously competed against this team a couple times in the past and have a tremendous amount of respect for the organization, for the people on the field, for the players and it's an exciting opportunity and a challenge for me."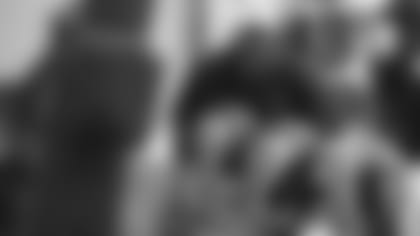 Q:How does a guy like Frank Clark compare to some of the players that you've worked with before?
DALY: "We're going through that process, in terms of evaluating his skillset. It's been a pleasure. He comes in, he works hard every day, he's working to get better. He's got fantastic energy about him and competes out on the practice field. That's been a lot of fun to be around. He's got an athletic skillset, a diverse skillset. He's interested in learning, he wants to improve, wants to be coached. That's been a lot of fun."
LINEBACKERS COACH MATT HOUSE
Q:There are a lot of new faces on this side of the ball. How is everyone meshing together so far?
HOUSE: "Yeah, and I think that's a process too. You can't have that happen in a week, that's why we come out and practice and that's why there's OTAs and training camp."
Q: You were a college defensive coordinator. What made the move to Kansas City and this position attractive to you?
HOUSE: "Well you're working for an unbelievable organization, a Hall of Fame head coach, the opportunity to work with a defensive coordinator that you're familiar with and you believe in. And then obviously the opportunity to win a championship. It's huge."
TIGHT ENDS COACH TOM MELVIN
Q: Looks like you're seeing a lot of new guys get some reps:
MELVIN: "It's phenomenal. Guys that usually were not playing the roles they would have during the year are getting pushed to their limit doing some things that we normally wouldn't ask them to do. It's really exciting because you're really kind of learning what they can do, pushing past the limit that we thought they could do, and it's been a really good learning experience for them too."
Q: Tell us a little about John Lovett.
MELVIN: "John is an interesting kid. No. 1, having come from a quarterback, having played some tight end, fullback in college, he's got a nice perspective on it. Smart kid. He's the third quarterback that we have in there because (Travis) Kelce played in college, Blake Bell same thing. They have a different perspective on how they look at things. It's been good for the room as they talk about some things going on."