Q: Have you noticed in promoting the team and ticket sales that there's been a "Patrick Mahomes effect" on interest?
DONOVAN: "The quarterback position in the National Football League, as you know, is an important one. Any time you make a change the way we have and bring an exciting young player, a high draft pick in, it's going to have an impact and it clearly has. The way we look at the data and the information and what we track, Patrick is a big part of it, but he's not the only part of it. When you think about the moves that Brett (Veach) made in the offseason, bringing in guys like Kendall Fuller, guys that we think are going to make a big difference, (Anthony) Hitchens. Brett and Coach can go through the list better than I can, but there are a lot of exciting players that have been added to a very good football team. When you think about the Kansas City Chiefs over the past five years, you're talking about one of the best football teams in the National Football League from a record perspective. Then you add to that some young and exciting players we feel that on the business side, we feel that from the fans. There are a bunch of different examples that I can give you. The most recent example is we had our Season Ticket Member ticket pickup party this weekend at the stadium and Coach came and spoke to the fans. It's different, you feel it. The excitement that is in that room is something that matters and we feel."
Q: What's your timeframe for deciding if the Chiefs will return to St. Joseph for 2019?
DONOVAN: "Thanks for asking that question because last year I said a couple weeks and it took a little more than a couple weeks didn't it? I will say this, it didn't take a little more than a couple of weeks because of any big issues. More timing on both sides. I can't sit here a minute ago and talk about how great this has been and how supportive they've been and say that we have any big issues. We don't. We love it up here. We have a coaching staff, general manager and football operations staff that sees value in going away for camp. I'll sort of head off the next question which is that many of the NFL clubs in our league are going back to their facilities and that's always an option for us. We see a lot of value in being here beyond what the university does for us as a football team and as an operation. That'll be something that goes into the evaluation. I think the way we've done it, I know from our side it works really well because we can get through a camp, make sure that everything went as we expected it to go, make sure there aren't any issues. And admittedly there have been some issues that we had to address to make it continue to make sense. But that's where the partnership really comes into play because the relationships that we have developed and their understanding of how we work makes those discussions easier. They're difficult issues. They're significant financial issues. They're issues that involved the state, the county, the city that we count on the university to help us get through, but they've done it. I think they've done it because they see the value. We see the value and I think they do as well."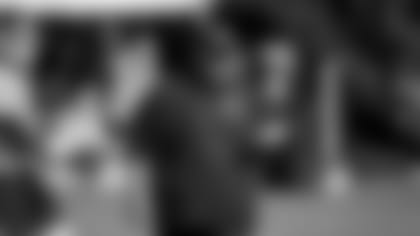 Q: Were you ever at the University of Wisconsin-River Falls for previous Chiefs training camps?
DONOVAN: "My first year I took the trip up to River Falls. Obviously, it was a great model when it was utilized by multiple teams – we had the 'Cheese League' up there. Everyone talks about the weather and having to experience that. The one resounding memory I have of that trip was getting off the plane in Minneapolis and driving by a Vikings billboard and I said, 'What are we doing here?' It just seemed odd. I came from Philadelphia where we ran a camp very similar to this an hour away from the city and at a college. So, that was very different for me. The talks that we mentioned today with Dr. (Robert) Vartabedian and others were already well underway when I first got here so I was involved in the finalization of that. This is more of what I'm used to and this has been very successful for us since we've been coming here."
Q: What kind of affect does having a new, drafted QB have on the business side of the team?
DONOVAN: "I think if you look at the history of NFL franchises and you take a quarterback in the top 10 picks of the draft, it's going to have an impact. There are plenty of cases where it didn't have a great impact, right? I think one of the things that really helped us with Patrick (Mahomes) was the game last year. I know it helped him, I know it helped the team, it helped us with the transition because that's a tough transition. You're going from one of the best quarterbacks in the National Football League and you're making a young guy your guy. To answer your question, specifically, you have an impact because it is the position. I think as I said before, all the changes that we have done have really ignited the fan base. It has ignited the media. I think that is something we will try to take full advantage of. I think like anything else, it is going to come down to how they all play, not just Pat. But Pat will be the focus. He knows that. He has a good room. He has a good coaching staff that will help him get through that. And Andy (Reid) has said this and I agree with him whole-heartedly: last year was invaluable for Pat. He got to sit in a room run by really one of the best in the business with a coordinator who was going to be a head coach and he got to see what it takes. And Pat has talked about that. That is a big advantage that I think we have versus drafting a guy high, putting him out there and starting him."
Q: What has this been like for Andy Reid to have a guy like Patrick Mahomes to work with?
DONOVAN: "You would have to ask him that question. I can give you my perspective, which is he is more excited than I have seen him in a long time. Not only about Pat. You put Sammy Watkins out there and Tyreek (Hill), (Travis) Kelce, Kareem (Hunt). If you are an offensive coordinator with the mind that he has and the creativity that he likes to bring to this game – that gets you excited. And that goes back to Brett and what he has done and how they work together."
Q: What leads you to say that Reid is so much more excited?
DONOVAN: "Well, he is the hardest working guy I have ever been around. I am not going to say that he has worked harder. The conversations we have about what we could do. I think he is looking at a lot of options he may not have looked at in the past and say, 'Well, we could probably do that because of the athletes we have on the field and the way they matchup together. We might take a shot here, we might take a shot here. We might try to develop this play versus maybe not having all those tools.' And again, it is not just Pat. You put Sammy Watkins on the field with everybody else? It creates some stress for the defense."
Q: How has Patrick Mahomes being the face of the franchise changed the business side as far as ticket sales go and partnerships go?
DONOVAN: "So let me try to take that apart a little bit. The quarterback position is different. Pat got some great guidance and saw the way it worked and really stepped back last year when he could have stepped up. He did a lot more things that weren't football and he said, 'I have to figure this out first.' As you can imagine, when we made the trade and he was the guy, we got bombarded. And he got bombarded and his agents got bombarded with, 'Well, you're the guy now so let's go, let's go, let's go.' And everybody wants to get him when he is just getting started and he did a really good job. He got great advice and he took the advice. It was sort of let's get this right. He deserves a great compliment for that. Specifically to your question, all those people that were talking to Pat were talking to us. All those people that want to be associated to a team that is on the rise are talking to us. And every single piece of the puzzle, I keep going back to the other players, but you add a great linebacker. You get a year of Reggie Ragland under your belt. You put (Kendall) Fuller out there, you talk about his talent coming from Washington. That's perceived more by media and fans. They see a team and say, 'This team is going to have a chance.' And it was a team that was really good going in. So from a business perspective it creates more discussions, more opportunities."
Q: Percentage of sales higher, at this point, than a year ago? Can you say that?
DONOVAN: "Well, I would tell you that there is a lot more activity on the corporate side and people wanting to be involved with the organization. I think that's a combination of things, it's not just the players and the quarterback. I think that's just working over the years to develop those relationships and the success we've had, both on and off the field. Ticket sales, I would tell you this, and I've said this in the past, that world is changing and we are seeing that change as we speak. The league is seeing that change as we speak, and to define the change, it's really a transition from the season ticket base model of sports, to 'we buy our tickets a lot of ways, through different avenues, we commit to the games we want to go to, we don't commit to some.' What we've done as an organization, over the last three years really, is really take a deep dive into the data. 'Okay, what's happening, why is it happening, what are the causes, where are they going instead, what do they want?' We did some great surveys this offseason, we did some great focus groups with our Season Ticket Members, and they came back with two big points: one, We want to be valued, and two, we want to be exclusive. So if I'm a Season Ticket Member, I want the value or the benefit that you provide to me, to be just me. Yes, you can only get it if you're a Season Ticket Member. So I would tell you that we have done more in the past eight months, through events, through value, through packaging, through how we did the season ticket pickup, with our head coach there on July 21st or whatever it was, and the chance to actually interact with him because they're a Season Ticket Member. You can't get that if you overpay for a single ticket to the 49ers game. You can only get that if you're a Season Ticket Member. We did it with our ticket delivery this year, they are going out right now. When you see the season ticket box that they're receiving with their ticket card, it's got more targeted things in it than ever before, but it's only available to the Season Ticket Members. We have our Chiefs Kingdom Rewards I mentioned that we've been doing for three years. Chiefs Kingdom Rewards is something we started before, that was specifically targeted toward a Season Ticket Member, and benefitting them more than anybody else and creating exclusive opportunity. I would tell you that season ticket-wise, we're on pace. We are probably a little behind last year, you look at the schedule we had last year and the opponents for our home games, versus the schedule we have this year with the opponents from our home games, it's very different from a value standpoint. So that's impacted sales a bit. We sold more tickets last year than we ever had in the history of our organization. We're budgeted to do more, and I better hit budget, so we've got a lot of people working really hard to do that."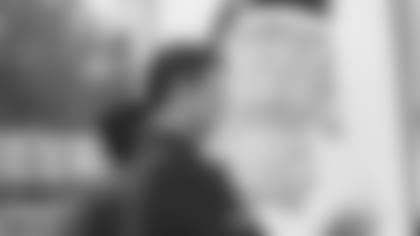 Q: You mentioned the role the state of Missouri plays with training camp and just your business overall. Have you had a chance yet to meet with Governor (Mike) Parson?
DONOVAN: You know, Governor Parson and I texted right after he was appointed, I guess that's political terms. He's a huge supporter. A big, big fan of the organization, and we've had a relationship with him over the years, which helps us. He's got a lot on his plate, so I texted more 'congratulations,' and 'we got to get you up to camp,' and 'tell us how we can help you.' You know, anything we do with camp, anything we do with the stadium, anything we do in the region has got to involve the state. So, we've always had good relationships with our governors and our political leadership and we feel like we've got a real open avenue to have that going forward."
Q: Do you think he's going to make it to camp this year?
Q: You spoke about the benefits of having camp here, both from the football coaches' perspective, getting the guys away, but also to come up here like you do every year. When Missouri Western does things like the Bill Snyder Pavilion and upgrades to the cafeteria, how much does it mean to you guys to see them constantly trying to upgrade, so every year you come back you see them making that effort?
DONOVAN: "It goes back to the commitment they made nine years ago. I mentioned how complicated that was, without the Hunt family putting in a bunch of money, that thing doesn't get built. When I say that thing I mean the indoor facility. I think our coaches did a great job early on with that, Andy (Reid) has maximized that. So from a football perspective, those are big. I mentioned at the press conference that we've had issues, we've had things we had to address. One of them with our fields, which was a big issue. We had a lot of things we had to get through a couple years ago and we sat down with them, we said this is going to be a tough conversation, but here's what it means to us. I think you guys have it, but to give the fans perspective, we had 12, 13 days on grass in this facility, we have to get every single one of those days right and we can't be impacted by the grass on the fields. I mentioned Josh (Athletic Director Josh Looney) and Dr. Vartabedian, they understood this. They understood it because they experienced it a year or two in, and I think that's a real big benefit. I think the Snyder Pavilion, the stadium, the other things they're doing are great for our camp. I look at it a little bit differently as well, that it's great for the university. That we're able to do these things and create the interest and hopefully the funding from alumni continues to support this university. I know enrollment has been up since we've been here, I know that athletically, having the facilities creates a recruiting advantage. We knew that going in. It's been fun to sort of see that play out."
Q: Do you anticipate a bump in attendance up here because of the (Patrick) Mahomes affect?
DONOVAN: "A lot of it will depend on weather. We've done a pretty good job of scheduling this year with our fan days and our big days on weekends. As you guys know, years in the past because of the scheduling, our guys aren't practicing on a Saturday. That's tough, even in the summer. So I do expect it to be up. Again, I mentioned the ticket world is changing, how fans consume their favorite team, consume meaning their tickets, media, TV, tweeting, online, Instagram, training camp, that's changed. I think you're going to continue to see that change. What we're trying to do with this camp is what I said before, create more opportunities for them to have really personal interactions. A lot of our fans, a very high percentage of Chiefs fans never get to Arrowhead Stadium. A very high percentage of our Chiefs fans never get to see our players live without a helmet on. This is that opportunity and they are in an environment where they're going to be a little more relaxed. They are going to be really tired, but they are going to be a little more relaxed, and coach does a great job, Brett (Veach) does a great job of just expressing that."
Q: Do you feel somewhat underdressed when you see Jordan (Devey) and Anthony (Sherman) walk in?
ZOMBO: "I saw Anthony's outfit last night. I went over to his house to visit with his family a little bit. He pulled it out and was really excited about it. I was nervous his legs might not fit through the holes in that little onesie he had but he tried it out and it all worked out. He's been excited for that outfit. I've heard about it all summer. He goes all out. I think I got the picture of what he was going to wear about a month ago. Everyone is excited for camp and I think that helps Anthony get excited. That's his thing."
Q: What's some advice you give to younger guys?
ZOMBO: "They have to stay in their book. Things get thrown at us really fast when it comes to installs and things like that. The whole playbook goes in within 10 days. You have to stay in your book. Doing your job and being in the right spot at the right time, being accountable and having the coaches being able to depend on you is something you can make a career out of. I would say stay in your book and being accountable, so they can trust you and put you in the game is huge. Getting your rest when you need it and being at things on time because you never want to be the guy who isn't there and not reliable."
Q: What is it about having camp away from Kansas City that makes this valuable for you and where you think the team needs to go before the start of season?
ZOMBO: "I think going away to a training camp brings your team closer. If you are at home then you are going to hang out with your family. Between practice and meetings you are eating at the dorms with your buddies and getting through it together. There are times where we are going three days in a row of pads and you have fight through it. You need your guys there to talk through it. It helps with team bonding. Once you get older you kind of feel like "Okay, I'm 31 years old and I'm going to stay in a dorm," but that's the whole tradition of training camp and football. There's no more two-a-days but I feel you still need the sense of the dorms and being away like that."
Q: Did Patrick Mahomes set the bar with the jorts?
DEVEY: "These were made before him (referring to his jean shorts) – but he did do it and set the bar pretty high."
Q: You've got a fresh haircut for training camp? Are you going for the mullet?
DEVEY: "Yeah, it's business as usual up top and I've always done the comb over since I was about five or six – and in the back I just let it go and let it flow."
Q: What's the most important thing to pack for training camp and to survive the dorms?
DEVEY: "We always tell the rookies to bring a mattress cover and a box fan – and that's about it."
Q: What are you most excited for about training camp?
DEVEY: "I mean, it's football – it's football time. That's what we're here for. The mullet and the American shirt aside, it's time to get back to work and play ball again."
Q: Who gave you the idea for the outfit?
SHERMAN: "My wife gave me this idea. I like wrestling too, so it worked out. I put these sleeves on to make it look more like a professional wrestler."
Q: Where did you get the outfit?
SHERMAN: "This outfit is actually from Amazon. These sleeves are from rogue and I got my Nobull shoes on."
Q: How excited are you about this offense with all the talent that's been put together?
SHERMAN: "I am extremely excited. Brett Veach has done a phenomenal job of bringing guys in. I'm excited to see Pat (Mahomes) and get him the reps and see what he's able to do."
Q: Did you learn anything about Pat (Mahomes) in the Denver week last year? Not just the game itself, but the week of practice too?
SHERMAN: "Absolutely, he's a tremendous professional. He came in early, he was there late studying, knowing this was his time to show everyone what he had. He did a phenomenal job, so I'm excited to see it week and week out."