Reid explained how he breaks down the third preseason game and his main goal for the team.
"Playing time will be somewhere there in three quarters for the ones, and then the twos will take it from there," Reid said. "The way we do it now [this game] is important. For the ones, it is kind of the final tune-up, and that's what most teams do around the league. You go play, that's the main thing. You just go play and execute and do it to the best of your ability."
While key players like LT Eric Fisher, NT Dontari Poe and WR De'Anthony Thomas are on the road to recovery, Reid maintains his strong faith in his players.
"We'll run our stuff," Reid said. "We have trust in the guys that are in there and we go with it. We'll go ahead and we'll play, just like we did last week. We played and we rolled with it."
After taking a hit in last week's contest against Seattle, Reid talked about how he plans for Dee Ford to play.
"Dee will work in a rotation in there," Reid said. "He's good, he'll be in there. He didn't have a broken rib, which is a good thing. He just had a bruise. Initially, it looked like that on an MRI but it wasn't a break once [the doctors] looked at it. Bob [Sutton] has a plan for him there, him and Gary [Gibbs]."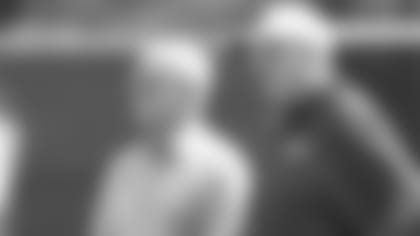 On Tuesday, Reid met with longtime friend and former Chiefs Head Coach Dick Vermeil, but said the two's conversations didn't include any advice.
"It's great seeing him," Reid said. "He needs to be in the Hall of Fame – for all of you guys who vote on that. Let's get him in. He's a heck of a coach."
Ford exited last week's preseason matchup against Seattle in the third quarter with an injury sustained from a hit.
"I felt fine, but we saw the X-Ray and saw some things we wanted to make sure weren't detrimental to my health," Ford said. "I felt fine after a day or so. It's just all game-planning and knowing that he's going to chip kind of high at your body."
Before his injury, Ford was pleased with his play and his improvement since last year.
"I felt like I did well but, of course, there's a lot of things to clean up and preseason is the time to do that," Ford said. "Experience is everything, especially to be great at this game. It was definitely good for me to get that experience under my belt. You have to know the situation in this league. With pre-snap awareness and just knowing what's going on from an awareness standpoint, I'm able to play a lot faster."
Following his injury, Ford took social media to let Chiefs Kingdom know No. 55 was "all good."
"A lot of people were upset," Ford said. "I wanted everyone to know I didn't really have a problem with the hit and I was OK. Nothing was going on- it's just football. You're not doing a good job rushing if you're not getting chipped, so I just have to do something different."