Sunday's Broncos-Chiefs game was filled with ebbs and flows, so much so that Kansas City Chiefs WR Junior Hemingway found a fitting analogy to describe the back-and-forth opportunities between the AFC West rivals.
"It was two heavyweights going at it and it came down to the wire," Hemingway said. "There were some plays that we could have made, but we have to get over it real quick and regroup; we'll regroup, I'm not worried about that part, we just have to regroup and come back next week."
Despite Sunday's outcome, one of many noteworthy performances for the Chiefs came via the pass-catching and tackling abilities of Hemingway. The 6'1, 225-pound WR caught his second-career TD on Sunday and led the team with four special teams tackles. The signal-caller responsible for throwing both touchdown passes to Hemingway, Chiefs QB Alex Smith, spoke to #88's reliability.
"I think every time he gets an opportunity, every time his number gets called, he steps up and makes a play," Smith said. "Every time I turn (and look at) special teams, he's out there making a play. He's just a good, good football player and obviously a talented receiver, no question. Like I said, every time he seems to get an opportunity, he makes a play."
While Smith noticed Hemingway's receiving and tackling skills, so too did the team's head coach, Andy Reid.
"Junior is a good blocker, a tough kid," coach Reid said. "You saw how well he did on special teams, likewise then, he also has sure hands. He is a good catcher. We have increased his playtime here as the season has gone on; I think he has done a good job with that."
On Sunday, Smith found a season-high 11 different Chiefs pass catchers, helping Kansas City rack up 452 yards of total offense, marking the highest offensive output since the Chiefs accumulated 507 net yards of offense on Dec. 23, 2012 vs. the Indianapolis Colts. Junior finished with three catches for 42 yards (14.0 avg.) and one touchdown, but instead of talking about individual statistics, he described the team-wide mindset, leading into Week 14.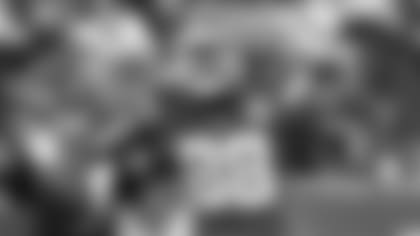 "One thing we can say is, it's not over with," Hemingway said. "We just have to keep playing football. We have to come back next week and win out."
Chiefs fans are hoping that's exactly what their favorite team does, beginning Sunday, against Washington.
For a look at the best images from Broncos vs Chiefs in Week 13, click here.