Following every practice at training camp, the Kansas City Chiefs host their "Helmet Walk," during which young Chiefs fans get the chance to hike up to the locker room alongside their favorite player.
An experience even the most mature of Chiefs fans would envy.
On Tuesday, the Chiefs hosted the members of the Kansas City Metro YMCA Challenger Football League, a standalone organized flag football team for kids with special needs or disabilities.
Starting from ages 5 and up, the Challenger Football League grants kids and young adults with physical, developmental and intellectual disabilities the opportunity to be active in sports, social and recreational activities.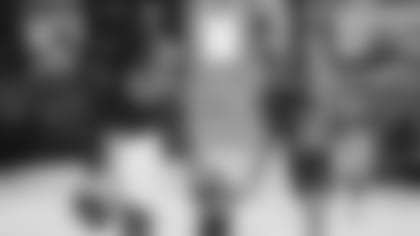 In their fourth year attending training camp practices in St. Joseph, Shannon Milbourn, coach of the KC Metro YMCA Challenger League said their yearly camp visits inspire many of the young adults to remain physically active despite their abilities.
"As they get older, they don't really have the chance to do much to stay active," Milbourn said. "They're engaging hand and eye coordination, speed, agility and quickness, while getting the chance to be around their buddies and have a good time."
After enjoying one of the season's final training camp practices in the VIP tent, the Challengers got to assist various Chiefs players, including Marcus Peters, Anthony Sherman and Dee Ford on a post-practice walk.
"They're amazing kids and they know the game," Milbourn added. "It makes the kids feel important. They look up to these players. They're their heroes. It makes training camp more personal for the kids."