Arrowhead Art Collection | Kansas City Chiefs - Chiefs.com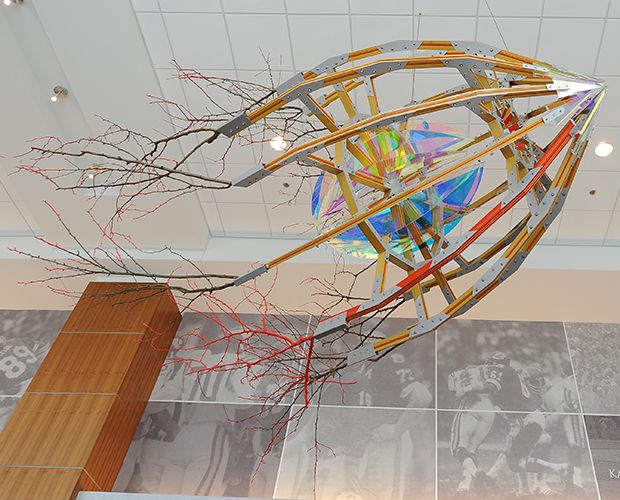 To The Power of Twelve, 2013
Osage Orange wood milled wood and branches, aluminum gussets, dichroic film, plexi-glass, paint
This artistic vision reflects the elements of a successful team: family ownership, front office, coaches, players and the undying support of the fan.
The ribs are Osage Orange wood which was highly prized by Native Americans for its' strength in making bows. The raw branches evolve into finished hardwood. Likewise, the raw talent of individual players is molded into a team united.
The 12 ribbed members reflect the 11 players on the field and the "12th Man" in the stands. These ribs surround the inner translucent core like a team huddle. The core represents the legendary founder of the Chiefs, Lamar Hunt.
Dehaemers was born in Leawood, Kansas and currently resides in Mission, Kansas.
Matthew Dehaemers