There's little doubt that when he's been healthy, Kansas City Chiefs' outside linebacker Dee Ford has displayed a skill set that causes concerns for opposing offenses.
He has shown the ability to affect the quarterback—the single-most critical aspect of a defense throwing an offense off their game plans in today's pass-happy NFL.
And back in 2016, Ford had a six-game stretch where he was virtually unblockable.
Between the beginning of October and mid-November of that year, Ford rattled off nine sacks in six games, and the Chiefs went 5-1 over that stretch.
It seemed as if Ford had turned a corner, and that was the thought heading into last season. But he suffered a back injury that sidelined him for the majority of the season and added that he didn't feel right for the time that he was out there.
Now, heading into his fifth year with the team, Ford said he's finally at a point in which he feels ready to contribute and take that next step as a player.
"I see it as an opportunity to bring everything together," Ford explained after Monday's practice of his 2018 season. "Everyone has seen flashes of what I can do, but in order to be a good player, you have to be consistent. You can't just be good. I think in my third year (in 2016), in those first 10 games or so before I got hurt, everyone was saying, 'That's the guy we expected.'
"But in order to be great, you have to be consistent. This is the time to put it all together."
Prior to last year, when he played in just six games, Ford had missed only three games in the first three years of his career, which included starting 14 games in 2016, where he finished with 10 sacks and looked to be on the verge of breaking out.
"As you grow and mature, you understand that to be a great player you can't just do it for 14 games. You have to do it for 16 games," he added. "Then next year you have to do it again for 16 games and then do it consistently for a 10-year stretch. That's greatness. Those are my personal expectations."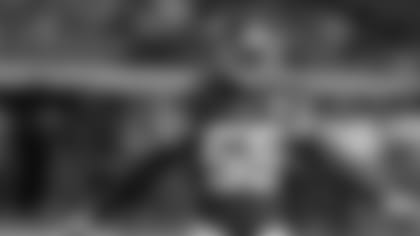 As Ford sets his expectations high for the 2018 season, he shared his thoughts on the mental side of perfecting a pass-rushing move, using the legendary Bruce Lee as an example.
"It's about perfecting one move before you move on to another," he explained. "It's really the Bruce Lee theory. I think [Lee's] quote was, 'I don't fear the guy who has 1,000 moves, I fear the guy who does one move 1,000 times.'
"It's an art form and to really work your art form, it's about the approach before the approach. So, if you can visually see it and get it in your mind, it's a progression that you take to the field."
Ford's point was that if you have the discipline to work on one move so many times that it becomes second nature, the chances of finding success with that move are considerably higher.
And Ford rarely turns off the side of his brain that's thinking about pass rushing. It's always on his mind, even when he's at home.
"When you're a pass rusher, it never stops," he smiled. "You're always thinking about it. I'm walking around my house doing moves. If I'm going into a room at home, I will flip my hips around the wall and clear them into the next room as I stay square to the wall."
Ford, who at this time was standing off to the side of the media tent at training camp with just a couple of people around, started demonstrating how he does this, which looks similar to a drill they work on at practice.
"I even get my girlfriend involved sometimes," he laughed. "I'll do it to anybody. I don't even know I'm doing it half the time. It just happens."
After Monday's practice, Chiefs coach Andy Reid explained that it's important that they bring guys coming back from injury along slowly—something Ford added will be difficult for him because he feels right for the first time in a while.
But he said he's ready to become the player we've always seen flashes of but hasn't yet put it together for an entire season.
"I'm always motivated," Ford added. "It's extra motivation. Coming off of a back surgery, no one really expects you to be back to where you once were. I'm just excited to be back in full form. It's been a long time since I've felt normal."