A photograph can be a powerful thing.
It has the ability to capture the raw emotion of a singular moment – whether that be a game-winning touchdown or a fan experiencing their first trip to Arrowhead Stadium.
We began exploring some of those moments from the 2018 season last month and will continue to do so over the next several weeks along with commentary from Chiefs' photographer Steve Sanders.
Sanders, who has been on the job for over 20 seasons, hand selected each of the photos we'll feature over the next two months as his personal favorites.Here's a look back at what we've covered so far:
We'll continue with No. 8.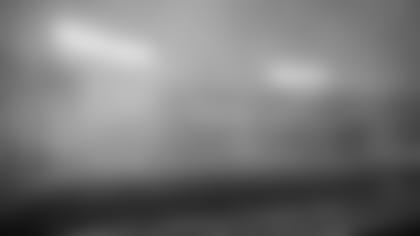 Chiefs vs. Colts at Arrowhead Stadium
The subject: The Chiefs lined up for an extra point following a touchdown during Kansas City's Divisional Round victory over the Indianapolis Colts.
Model: Canon EOS-1D X Mark II
On why he included it in this collection: "I was looking at this picture as if it's timeless," Sanders said. "This picture could have been taken in the 60s when we were playing in the Cotton Bowl. There's just this rainy, foggy sky and a little bit of extra smoke in there from the fireworks. I just like that it's in black and white and it lends itself to that timeless look. If the spider cam wasn't hanging there in the sky, you wouldn't know that it was current. That's what keeps bringing me back to this picture – the timeless nature of it."
On why he decided to turn it black and white: "Sometimes, I'll turn a photo black and white because of the emotion that it has," Sanders said. "Black and white gives the viewer a different feeling. This one just lends itself to black and white because the fog and the smoke were creeping in on the field. It gave it kind of a spooky feeling – a little more character – where I just thought it read better in black and white."
Check back next week for another one of Sanders' top moments from 2018.