A photograph can be a powerful thing.
It has the ability to capture the raw emotion of a singular moment – whether that be a game-winning touchdown or a fan experiencing their first trip to Arrowhead Stadium.
We began exploring some of those moments from the 2018 season last week and will continue to do so over the next few months along with commentary from Chiefs' photographer Steve Sanders.
Sanders, who has been on the job for over 20 seasons, hand selected each of the photos we'll feature over the next two months as his personal favorites.
Here's a look back at what we've covered so far:
We'll continue with No. 9.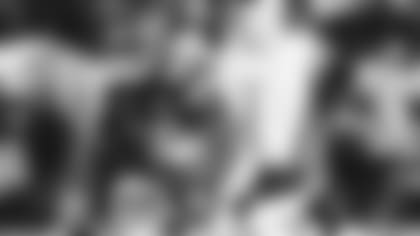 Chiefs vs. Colts at Arrowhead Stadium
The subject: Chiefs' linebacker Justin Houston celebrated after sacking Indianapolis Colts' quarterback Andrew Luck in the Divisional Round of the postseason. Houston had two sacks in the victory.
Model: Canon EOS 1D X Mark II
On why he included it in this collection: "At this point in the game, we were getting after the Colts pretty good," Sanders said. "Justin was having a tremendous game – he was almost unstoppable. He had come off the edge and sacked [Colts' quarterback] Andrew Luck on this play, and in a fluid motion afterwards, he got up and flexed. One of the things that I like about this picture that's kind of subtle is you can see Luck looking up at him like, 'Where did you come from?' Justin is just coming up with a lot of confidence here. It's just a neat photo."
Check back next week for another one of Sanders' top moments from 2018.