It was Kansas City Chiefs' General Manager Brett Veach's turn to meet with the media at the 2019 NFL Scouting Combine on Thursday morning, where he fielded a variety of questions relating to the team as Veach and his staff prepare to tackle the offseason.
Here are six things that stood out from his remarks at the podium.
1. The Combine is all about evaluating the next group of young players entering the league, but before Veach dove into that topic, he was asked for his thoughts on last year's rookie class – which included five defensive players among the Chiefs' six draft picks.
Veach first addressed Kansas City's defense-heavy haul last year, indicating that it was just the way things worked out as opposed to a designed plan.
"We did do an all-defensive draft last year and got a lot of questions on if that was the plan," Veach said. "I think our plan is to draft the best player available and to add talent."
And with 2018 now in the books, Veach is encouraged about the Chiefs' rookie class and what they were able to accomplish last season.
"As far as the guys we drafted, we are really excited about those guys and I think all those guys were really able to come on right away and contribute," Veach said. "[Linebacker] Breeland [Speaks] played a lot of snaps, [defensive tackle] Derrick Nnadi was a starter for us. Even when you factor in guys like [cornerback] Charvarius Ward, who we added at the waiver-wire cut down day before the season started, he played. [Linebacker] Dorian [O'Daniel] saw a lot of snaps and [safety] Armani Watts was coming on. [Cornerback] Tremon Smith did a lot in special teams. So, really, all those guys got a chance to contribute and get their feet wet, and we're looking forward to those guys taking the next step."
2. Speaking of the defense, Veach spoke about the depth in this year's draft class of defensive prospects.
"You can never have enough of that. It's a really intriguing class," Veach said. "I think it's been mentioned multiple times throughout the first few days - the defensive line this year is really deep. There are a lot of players - pass-rushers, interior pass-rushers and run players - there's a lot of depth at that position. I certainly think there will be a lot of names from those defensive players called early on, but there's kind of tricky depth throughout the class here and we're excited to have a [first-round pick], two [second-round picks] and a [third-round pick]. It's the first time I think we've had a [first, second and third] for years…we're just excited to have a lot of picks to work with."
The Chiefs didn't have a first-round pick last year due to the trade that helped bring quarterback Patrick Mahomes to Kansas City. For a full list of the Chiefs' current picks in the upcoming draft, click here.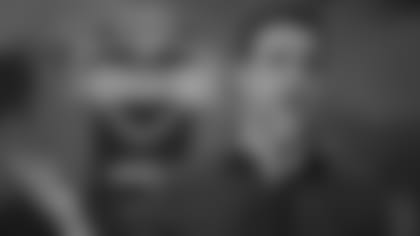 3. With that draft capital in mind, Veach was asked if having all those picks changes his approach in comparison with recent years.
"It's difficult when you don't have a first-round pick. Listen, [the Mahomes trade] was worth it. We'd do it all over again every year, but it's challenging because there are consensus drop offs," Veach explained. "You'll have your top ten players, then you'll have your top 20, then there's a big discrepancy between 20 and 30 and then a bigger one between 30 and 40. So, when you're not [picking] until after the first round, it makes it challenging. You have to try to get creative in any way you can, but I certainly think that having picks and multiple picks in the second round adds to your ability to manipulate the board a little."
4. This week is a key part of the process that leads to those picks, prompting a question about how Veach balances a prospect's game tape with their measurables at the Combine in the evaluation process.
"That's a great question. My philosophy is I think that in your primary rounds, you have to just maintain consistency, and I think when you get into the later rounds of the draft, I think sometimes you just let the tape speak for itself," Veach said. "If a guy can play, he can play. Not to say that you won't break those trends earlier on, but I think just in general, you want to maintain the standards you have set – a certain height, weight, speed - all those kinds of things early on. Every year is different. There is always a unique player that will kind of break that philosophy."
5. Speaking of that process, Veach was also asked about weighing the value of adding pieces in the secondary with other areas of the defense, such as a pass-rusher, based on how the board falls.
"I would say that I don't think you ever want to pigeon-hole yourself," Veach said. "Listen, if you have a pass-rusher that you feel overall is a higher-graded player than a corner or safety, you stick to the integrity of the board and you go in that direction. You certainly can have some wiggle room if guys are graded very similarly - you can maybe go corner or safety here if you have similar grades. But I don't think you ever want to jeopardize the integrity of your board and take, say a third or fourth-round corner over a first or second-round pass rusher. I think if you just kind of stick to that consistently, you'll have success."
6. Finally, Veach was asked if he feels any differently this year as opposed to last offseason – his first as an NFL GM – after finding so much success in 2018.
"I think that I've been very fortunate to have a lot of great people around me and I don't think anything has ever been too big just because I've always been around great people and they kind of make me look smart," Veach said with a smile. "When you have a Hall of Fame coach and a league MVP at quarterback, you feel pretty good. It's a good thing."
The Combine will continue over the course of the next several days through March 4. Tune in to NFL Network to catch the action.