The Kansas City Chiefs added to their backfield on Saturday afternoon, picking Utah State tailback Darwin Thompson with the No. 214 overall selection in the 2019 NFL Draft.
Here are five things to know about Thompson.
1. He had a huge season for the Aggies in 2018
Thompson played just one season at Utah State, but he certainly made the most of it. The five-foot-eight, 200-pound Thompson tallied 1,044 rushing yards and 14 scores in 2018, averaging 6.8 yards per attempt – the 13th-best mark in the country.
In addition to his efforts on the ground, Thompson hauled in 23 passes or 351 yards and two touchdowns. In all, his performance earned Thompson Second-Team All-Mountain West honors on the year.
He also has a knack for extending plays after first contact.
Here are some additional numbers from the folks at PFF, further demonstrating Thompson's ability to keep his legs moving.
"He ranked fourth in forced missed tackles per touch (0.349) and second in yards after contact per touch (6.91) among the 210 FBS backs with 100 or more touches on the year. Though limited to just 151 carries this past season, Thompson ranked eighth in forced missed tackles per rush (0.318) and sixth in yards after contact per rush (5.07). His ability to make defenders miss in the open field and remain upright through contact is among the best entering this year's draft."
And that's not just limited to the running game. He breaks his fair share of tackles as a receiver, too.
"Looking specifically at his receiving ability, where the 5-foot-8, 200-pounder will make most of his money in the NFL, Thompson led all 83 FBS backs with 20 or more receptions in yards after contact per reception (18.5) and forced missed tackles per reception (0.542)."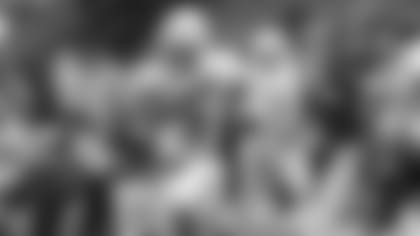 2. Before transferring to Utah State, Thompson played at Northeastern Oklahoma A&M
All Thompson did in his two seasons with the Norsemen was rack up the second-most rushing yards (2,420) in school history, averaging a ridiculous 7.2 yards per carry.
He was the Southwest Junior College Football Conference Offensive MVP and a Second-Team National Junior College Athletic Association All-American as a sophomore, rushing for 1,391 yards and eight scores.
In a word, the guy was a star.
3. Thompson is known for his work ethic
He's not the tallest running back in this draft class, but he may have the largest heart. Thompson has developed a reputation as a tenacious worker – exemplified through his ability to shed tackles – but it goes beyond even that.
"I'm supposed to be the underdog," Thompson said in a February interview with Pro Football Focus. "I've been like this all my life. I've never been handed anything. I've had to work for everything. I've had to prove my worth… It's God's plan. It's another opportunity to prove my worth and inspire somebody else. Don't let the doubters weigh you down."
He's certainly demonstrated that work ethic in the gym, too, as Thompson has less than five percent body fat.
4. His uncle played in the NFL
Thompson's uncle, David Thompson, was a tailback at Oklahoma State before spending three seasons with the St. Louis Rams from 1997-99. The elder Thompson saw action in 12 games for the Rams in that time, returning 49 kicks for 1,110 yards.
5. He grew up near Tulsa, Oklahoma
Thompson was a star running back at Jenks High School in suburban Tulsa, garnering honorable mention all-metro honors from the Tulsa World.
He didn't receive any offers out of school despite his stellar career at Jenks, but all these years later, Thompson's relentless desire to achieve his dreams has him headed to Kansas City.