For a guy entering his first National Football League training camp as a starting quarterback, Patrick Mahomes seemed very comfortable assuming all of the obligations that come along with being QB1 and the face of a franchise.
It's not something he hasn't already done for much of the offseason, but Mahomes stood in front of the local media Sunday afternoon and answered dozens of questions as the quarterbacks, rookies, and some select vets reported to the campus of Missouri Western State University for the first day of training camp.
For the next three days, the Chiefs will have between 30-40 players that'll practice before the rest of the veterans report to camp Wednesday afternoon.
"It's awesome to be back," Mahomes said. "Just sitting around waiting for football to get going, it's been exciting time but now we're here. For me, it's expecting us to go in and work hard and get better every single day. You want to be in this position, you want to be able to go out and play every single day and play a sport you love."
While Mahomes had the perfect mentor last year in veteran Alex Smith, who was traded earlier this offseason to the Washington Redskins, the fact that he's already got a camp under his belt with Andy Reid helps him as he looks to take the next step in his career while also moving this team forward.
"Being through the whole entire process, I know what to expect so I'm excited to just kind of go out there and utilize that knowledge and to get better," he said. "[Alex and I] still have a good relationship, we're still friends. When you're a quarterback in this league, you have kind of a special thing where you know what each other are going through."
Last year, Mahomes became the franchise's first homegrown quarterback that was drafted by the team to start and win a game for them in almost 30 years.
When combined with the fact that he's also the first quarterback the team has selected in the first round since 1983, and the natural ability that he's shown—both in the win over the Denver Broncos game in Week 17 of last year, and through the words of his teammates who have been with him at practice every day—there's a lot of reason for the excitement and hype that's building around him and this offense.
Mahomes isn't oblivious to what's being said either, but he does understand that it doesn't mean anything—the rankings, the comparisons, and the hype—it's not real.
"Hearing those comparisons are awesome," Mahomes smiled. "Guys that you grew up seeing highlight tapes of, all of that stuff is really cool. But at the same time, getting to start training camp, it is all about the grind. All that stuff is over now. It is about getting ready for the season.
"So, I'm going to make sure I grind out and hopefully have a lot of success this year."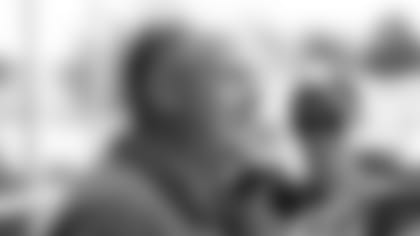 Reid, who has a successful history of working with young quarterbacks, spoke of what he's seen and what he expects out of Mahomes as they begin this three-week camp.
"He absorbed, that's what he did and it showed during the OTAs," Chiefs coach Andy Reid mentioned of his young quarterback. "He was able to function at a high level and do what he needs. Are there going to be growing pains and all that stuff that go on? Sure, he's a young guy that's learning the game.
"But we're here to teach him and that's what we'll do. He's here to learn and then go play and have fun doing it."
Despite having a quarterback with just one start (and win) under his belt, Reid said this team isn't backing off the high expectations they've placed on themselves.
"There are high expectations, but the important thing is that there's high expectations within the building and within the team," Reid said. "They demand that from themselves and you felt that in the OTAs and I expect that to continue. I expect guys to challenge each other. That's the way you get better and we have great competition that we're going to play this year, starting with the Chargers. You get yourself ready to go and take that upon yourself as an individual. Let's start there."
"They've had this time here to work and get themselves in shape and now let's get ourselves in football shape, and get ourselves ready for the season."
"It's about going out there and winning," Mahomes added. "For me and myself, it doesn't matter what it takes. Whatever we can do to win a ton of football games and get to different steps that we haven't been to in a long time, that's the goal for the entire season."