"Army Bands promote the Army and our national interests, enable commanders to shape the environment to accomplish their mission, and set the conditions that lead to trust and confidence in America's Army and its readiness to conduct operations in peacetime, conflict, and war."
- Army Technical Publication 1-19
Recognizing America's volunteer uniformed Service Members at home and abroad is a Chiefs tradition. That tradition continues this season through the "Tribute to the Troops" program at GEHA Field at Arrowhead Stadium, which recognizes military service, heroism, or courage.
On Sunday, November 13, Milwaukee-native, US Army Sergeant Bridget Olenik will be recognized for her service as the "Tribute to the Troops" honoree presented by Crown Royal during the Chiefs' upcoming game against the Jacksonville Jaguars.
Olenik was nominated for this distinction by her command team after she was recently named the Maneuver Support Center of Excellence Soldier of the Quarter. Even more noteworthy, Sgt. Olenik was also named the 2022 Army Bands Active Component Soldier of the Year, where she beat out competitors from across the US Army's twenty active-duty bands.
"I am deeply humbled and grateful to have earned these honors, and thankful for the leadership and mentorship that have supported me and provided me with the best guidance to succeed," said Olenik.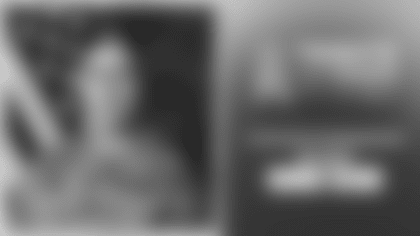 When asked about her decision to volunteer for service in the Army as a musician, she shared: "I joined the Army a bit later than most. I enlisted when I was 29 years old. I was a public-school band director at the time of my decision to enlist. Being in a military band is a chance to use music to serve my country and to take care of my family. It is such an honor to be a part of the music behind important military ceremonies and memorials of those who paved the way for our freedoms and paid the ultimate sacrifice," she said.
"It was at the age of 29 that I realized if I wanted to do this, I needed to do it now," she added. "If I didn't, I knew I would regret it. It has been such an honor to serve using the skills that I have honed over two decades. My best skillset is as a musician, and I'm humbled that I get to use my skills to serve my country and fellow Soldiers."
Sgt. Olenik is currently a member of the 399th Army Band, stationed at Ft. Leonard Wood, Missouri, where she serves as a percussionist (drummer), small group leader, operations clerk, and travel coordinator. Army musicians have many of the same opportunities as civilian musicians—and in some cases, more.
"As a drummer, I can sit in on various groups and have had the opportunity to perform with all of our small groups; rock band, brass band, woodwind quintet, jazz combo, and my own group: the brass quintet. I also play in our marching and ceremonial bands. Outside of that, I help train newer soldiers for competitions, arrange music as needed, and other duties as they come up."
She recently assisted in the unit's train-up for the coveted Army Expert Soldier Badge, which is a special skills badge designed to test Soldier combat skills by showcasing proficiency in warrior tasks and battle drills while improving individual readiness.
Olenik also wants to use her platform on Sunday to help educate the American public about those who serve in Army bands.
"Above all things, we remain Soldiers first and foremost. We attend the same basic training and continually train to be competitive in our rifle marksmanship, physical readiness, and military expertise," she said. "We take our jobs seriously as musicians, and that discipline carries over into every aspect of the job. We support our fellow soldiers, maintain our own readiness, and are also ambassadors of the Army to the public."
And when asked about her anticipation for this Sunday's game, Sgt. Olenik's excitement was clear.
"I am very much looking forward to being at GEHA Field at Arrowhead Stadium," she said. "It's been a while since I've been to a professional football game, and I'm especially excited to see Patrick Mahomes play in person. Go Chiefs!"