The newest members of the Kansas City Chiefs may be professional athletes nowadays, but every journey to the NFL began with the joy of a kid simply playing outside on a warm summer day.
The Chiefs' rookie class – all 24 of them – returned to those beginnings on Monday as they welcomed a group of students from the Police Athletic League to Arrowhead Stadium for a Play60 clinic.
It was one of the very first visits to the Arrowhead grass for the rookies as they experienced what it meant to be a pillar in their new community.
"This was my first Play60 experience, so it meant a lot to be out here," said linebacker Dorian O'Daniel. "I didn't really know what to expect going into it, but the kids seemed excited as soon as we came out and they kept that energy going the entire time we were playing with them."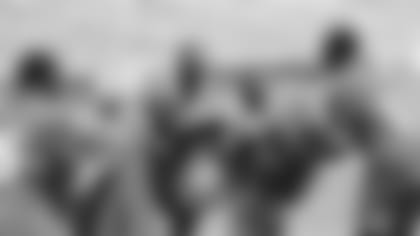 That collective energy echoed throughout the west end zone as the rookies led the kids through a handful of football-related drills and activities.
"It was a lot of fun…I felt like a little kid again," said cornerback Tremon Smith. "They had me acting young out there, celebrating with them and going through all the drills. I love to do that sort of thing, so I'm always up for it."
The over 40 kids in attendance were all members of the Police Athletic League of Kansas City, which exists to provide local youth with an opportunity to interact with police officers in a positive setting while participating in extra-curricular activities.
"The Police Athletic League is there for our community and for our children. It's a place where kids can be themselves," said KCPD Captain Kari Thompson. "Coming out here with the Chiefs means so much to us because the players are demonstrating to our kids that they are important."
It was a responsibility that wasn't lost on the rookies, as it wasn't too long ago that many of them were looking up to professional athletes themselves.
"It's always awesome when you have a chance to hang out with some kids," said offensive guard Kahlil McKenzie. "Just for them to be around professional athletes – maybe one of us is their role model or we're doing something that they'd like to do one day – that's a pretty cool thing."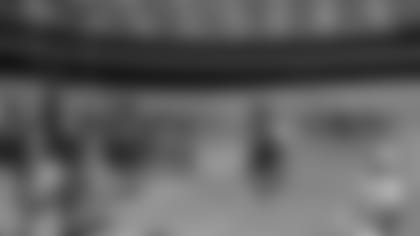 "The Chiefs have been there for us," Thompson said. "We've learned that there are a lot of fans of the police on the Kansas City Chiefs, and we are so thankful for that."
It was that sentiment that prompted the KCPD to present Chiefs President Mark Donovan, Director of Player Engagement B.J. Stabler and Player Engagement Coordinator Ramzee Robinson with Certificates of Appreciation early last week for their efforts in bringing the two organizations together for the betterment of the community.
And as far as Thompson is concerned, it's just the beginning of much more.
"This outpouring of love has been amazing," Thompson said. "And we look forward to working collaboratively with the Chiefs in the future."
The 2018 Kansas City Chiefs rookie class helps kids from the Police Athletic League enjoy a play 60.