It was only a matter of time before the other side did their own thing. 
Each year, some of the NFL's best pass rushers all get together in the offseason for the Von Miller Pass-Rushing Summit, which this year took place at Big Cedar Lodge in Branson, Missouri.
It's been a widely documented and promoted event. The players who attend, both current and former, all share tips with one another on how to improve their craft.
Then, it was less than a year ago that Duke Manyweather—a consultant and offensive line trainer who lives down in Dallas, Texas—was watching television and saw one of his former clients—the Philadelphia Eagles' Lane Johnson—speaking on NFL Network as part of the NFL's Top 100 series.
Johnson made a comment during the show about how all the pass rushers get together every year and that it was something that offensive linemen should do, too.
It was something that Manyweather, who had trained Johnson a few years prior, had thought about doing before.
"I just didn't know when or how to quite go about it," he explained. "I'm known for training and evaluating but I knew I needed to get the right people involved for it to carry any weight. When I saw that on the TV, I immediately turned it off and texted [Johnson] and said, 'I want to do it. Let's do it.'"
One of the first people Manyweather called after Johnson was the Kansas City Chiefs' right tackle Mitch Schwartz, who, along with his brother, Geoff, who also played for the Chiefs (2013), have a good relationship with him that goes back years.
Schwartz was a good person to call to be a part of this event. He's been named a second-team All-Pro in his first two seasons with the Chiefs and has started all 96 games of his six-year career. This includes playing more than 6,200 snaps without missing a single one—the longest current streak in the NFL.
He'd tell you that a good chunk of that is luck, but some is also preparation and the desire to always be available and the best at what you do.
For example, last year when the Chiefs went on the road to face the Denver Broncos in Week 17—Schwartz, who didn't have to play as many of the starters were given the night off, decided that he wanted to play. He was essentially handed bonus PTO and he simply handed it back.
"Here's a guy who's established and he doesn't want to miss a start, or a play," Chiefs' coach Andy Reid explained. "It really helped our quarterback to have him out there with all the calls."
That was Patrick Mahomes' first start of his career and a game that's been thoroughly dissected from every angle imaginable. Much is made of Mahomes' performance, and rightfully so, but more should also be made of what Schwartz did that night.
The decision to play in that game comes from the same place that told him to spend his last few days before training camp with some other offensive linemen from across the league at the first ever "OL Masterminds" summit.
The summit happened a week before training camps opened across the league and was a three-day deal that took place at the Baylor Scott and White Sports Research Performance Center in Dallas, Texas.
Overall, there were 26 players from around the NFL who attended the event, including Johnson and Schwartz, and guys like the Broncos' Ronald Leary and Menelik Watson, the Jaguars' A.J. Cann, Cam Robinson and Jeremy Parnell, the Jets' Brandon Shell and Brian Winters, plus the Saints' Terron Armstead, among many others.
"It was fun," Schwartz explained. "You always want to better your game, and if you learn something from another guy—maybe you don't use that same technique but you can think of why that works for him, it can spur things for yourself."
"It was just cool to learn how guys think—how they process things," he added. "Everyone has a different flare on how they block—the key to what they're looking at or the key to their technique."
All-in-all, Manyweather said there were a combined-719 NFL starts and three Super Bowl championships from the players who attended the summit this year, and the goal was simple—to share knowledge.
"The guys who do it, the guys who are in that arena–are the guys who can best explain it," Manyweather, who played collegiately at Humboldt State (CA) before a brief stint in the Arena league, explained his philosophy of putting this event together. "This was about those guys picking each other's brains. It was a wealth of knowledge being spread and I was just happy to facilitate it."
"We made history in terms of what we did with putting a bunch of offensive linemen from different teams together," he added. "It had never been done."
More specifically, Manyweather said the three-day event was split between board work and getting up and having guys demonstrate the techniques they use, and going through the film to get an understanding of what it looks like in a game situation. 
"We targeted 25-30 guys who are problematic, whether it be edge rushers or interior guys, and we would get in the classroom and walk and talk through situations," Manyweather explained. "You couldn't make up a better three or four-day period in terms of the way it flowed."
Furthermore, the fact that Schwartz would spend his last few days before having to report camp with a bunch of other guys from around the league doesn't surprise those he's around almost every day.
"[Schwartz] has an incredible football mind," Chiefs' offensive line coach Andy Heck explained. "He loves football—has an off-the-charts IQ, I'm sure, but this makes sense because of how much this guy loves football and is always working on it and thinking about it."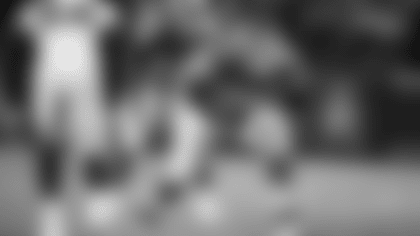 "[Schwartz] has really developed into a great leader amongst his guys in that offensive line room," Reid added. "Everybody has full trust in him and he knows everything. He's got that photographic memory—just a brilliant kid."
Schwartz was able to take all the knowledge he's gained over the years and share it with others.
"He's a very cerebral person in terms of preparation and he played with arguably one of the very best to ever do it in Joe Thomas," Manyweather noted of Schwartz's first four years in the league with the Cleveland Browns and their future Hall of Fame left tackle. "He was able to share those things with us, how he and Joe [Thomas] would get on the same page and prepare.
"He's not a guy that's vociferous and has to talk a lot, but some things get him going—O-Line play and preparation and the cerebral aspect are a few of those things," he added. "He was able to interject and be very valuable to the room. He's had tremendous success against the Von Miller's and Khalil Mack's, and he plays on the same team with some dynamic pass rushers as well.
"There were a lot of how-to's coming from him that a lot of guys wanted to know."
When he's not training players or helping on the committee for the Joe Moore Award, which is named after the legendary offensive line coach and is an award given to the nation's top collegiate offensive line unit each year, Manyweather will spend much of his time planning for next year's summit.
"I think it could be a three-day mastermind section in the future with players and then maybe a one-day or two-day with coaches in the room," he explained. "It's all about being innovative and progressive, and when things are to grow, you have to have a definitive plan. The type of names I heard from that said, 'Hey, I can't be there this year but I will be there next year," are the best to do it."
Unsurprisingly, Schwartz said he plans on being there in the future.
"I can't imagine it not growing," Schwartz added. "There was a lot of good feedback and I'm sure guys are going to go back to their team and talk about how it could benefit them. It did for me."