GAME TIME: 12:00 p.m. CT on Sunday, Oct. 28
LOCATION: Arrowhead Stadium in Kansas City, Mo.
HOW TO WATCH: CBS (KCTV5 local)
HOW TO LISTEN: 101.1 The Fox
It was only a few weeks ago that these two teams faced off in one of the best games of the year.
Trailing the Denver Broncos by 10 points with just over six minutes left in the fourth quarter, quarterback Patrick Mahomes led the Kansas City Chiefs on a pair of touchdown-scoring drives to take the lead in the game's waning moments.
The 23-year-old Mahomes completed 13-of-16 passes for 153 yards in the final quarter of play - posting a passer rating of 127.3 - as the Broncos surrendered a double-digit lead in the fourth quarter at Mile High for the first time since 2004.
It was a remarkable performance - from Mahomes' five passes of at least 15 yards in the fourth quarter alone to a left-handed toss on third down that moved the chains - helping Kansas City win a sixth-straight over Denver for the first time since 1973.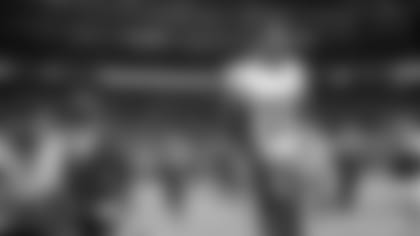 The game was yet another exciting chapter in a storied rivalry that dates back 59 seasons, and on Sunday, the two teams will line up against one another yet again at Arrowhead Stadium with less than a month between matchups.
"They know us, and we know them," said Head Coach Andy Reid. "Both sides will have [new] wrinkles and there are adjustments to be made there. I just think the fact that you know each other is probably the biggest challenge. You have to be feeling really sharp as you go through it, have a good scheme and execute well."
Mahomes, in particular, has seen plenty of the Broncos already in his young career, as Sunday's matchup will mark his third start against Denver in just nine outings as a professional.
"You always get a little more familiar with a defense whenever you play them a lot," Mahomes said. "Especially being able to play them this last game when they threw a ton of stuff at me - a lot of different blitzes and coverages and stuff. Being able to look at the tape and see what mistakes I made, as well as the things that I did well, is going to be something that I can kind of take going into this next game."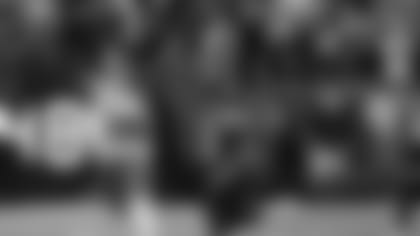 There was no shortage of highlights in that Week 4 contest.
Mahomes threw for 304 yards in that game - becoming the first player to top 300 yards through the air against Denver since 2016. It was the second-year quarterback's third-straight game overall in which he threw for at least 300 yards, continuing a streak that's still alive and well.
In fact, Mahomes' six-straight games with at least 300 yards passing is already the longest in franchise history and the lengthiest overall since Colts' quarterback Andrew Luck put together a streak of eight-straight games in 2014.
It's been impressive, to say the least, and it's helped the Chiefs pile up the most points in the NFL with the midpoint of the campaign on the horizon.
Tailback Kareem Hunt has been right in the middle of that success after amassing 175 yards of total offense in Kansas City's win over Denver in Week 4. The second-year running back had yet to tally triple-digit yards from scrimmage on the season heading into that game, and since, he's done so in two of the Chiefs' last three contests.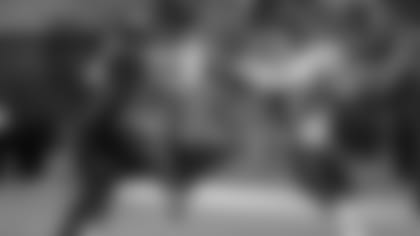 "He's running hard and aggressive," Reid said. "Kareem enjoys playing the game and he takes great pride in the details. He spends a lot of time studying the defense and understanding the blocking schemes that we're using. He does a nice job of setting his linemen up - he is very patient that way - and he's having a good season so far."
Hunt is one of a myriad of playmakers available at Mahomes' disposal, which includes wide receiver Tyreek Hill, whose seven receiving touchdowns lead the NFL, and tight end Travis Kelce, who has at least 100 yards through the air in three of his last four games against Denver.
The Broncos, meanwhile, have struggled to find consistency on offense behind quarterback Case Keenum, who has thrown more interceptions (9) than he has touchdowns (8) on the season.
Denver is averaging just 23.6 points per game this year, topping more than 25 points just twice in seven games. There have been performances like last week, where the Broncos racked up 45 points against the Arizona Cardinals on Thursday Night Football, but also like Week 5, when they mustered only a pair of touchdowns against the New York Jets.
Rookie tailback Phillip Lindsay has been dependable weapon offensively amidst that disparity, averaging 5.81 yards per carry. Lindsay picked up 69 yards on the ground against Kansas City earlier this season, and with fellow rookie running back Royce Freeman already ruled out with an ankle injury, Lindsay will likely see plenty of action on Sunday afternoon.
Veteran wide receiver Emmanuel Sanders has also been a reliable target of late, hauling in 13 catches for 217 yards and a pair of touchdowns over his last two games.
Both players were instrumental in Denver's victory over Arizona last week, which snapped a four-game skid, and each will require the Chiefs' attention on Sunday as Kansas City aims to win for a 19th time in its last 20 games against a division rival.
"I feel like every game against an AFC West opponent is a tight one. It's always something that comes down to the end of the game," Mahomes said. "I feel like with Coach Reid, he's just prepared us for every situation and we've gotten lucky enough to come out on top of most of those games. Hopefully, we can keep that trend going."
The Chiefs will try to do just that on Sunday afternoon.
Catch the game on CBS (KCTV5 local) and 101.1 The Fox at 12 p.m. CT.