GAMETIME: 12 p.m. CT on Sunday, December 4LOCATION: Georgia Dome in Atlanta, GeorgiaHOW TO WATCH:KCTV5HOW TO LISTEN:101.1 The FoxGAMCENTER: Chiefs.com
The Thanksgiving holiday has come and gone, meaning the final stretch of the NFL season is upon us.
The Kansas City Chiefs (8-3), despite winning six of their last seven games and coming off their biggest win of the season in Denver, still find themselves in second place in the AFC West behind the Oakland Raiders (9-2).
The Chiefs head to Atlanta this weekend to play a Falcons (7-4) team holding onto first place in the NFC South as the Tampa Bay Buccaneers surge behind them.
If they keep up their trends, the Chiefs and Falcons would likely be playoff teams, but the game on Sunday in the Georgia Dome could be vital in the long run for playoff position.
That's why it is essential the Chiefs don't get hung up on that dramatic Sunday Night Football victory. In the grand scheme of things, this one matters just as much.
"There are times when a big win can more dangerous than a tough loss to rebound off of," Chiefs quarterback Alex Smith said this week, "especially a big game in the division on national TV with everyone talking about it. Can we be mentally tough enough to handle the success and can we focus down and do all the little things this week? We got back late Monday morning. Can we handle that with going on the road again? It's a big challenge and we'll find out. It's absolutely a test."
According to points scored per game (32.5), the Falcons boast the league's top offense. That success has a lot to do with quarterback Matt Ryan, who holds the league's second-best passer rating (114.3), only behind New England's Tom Brady.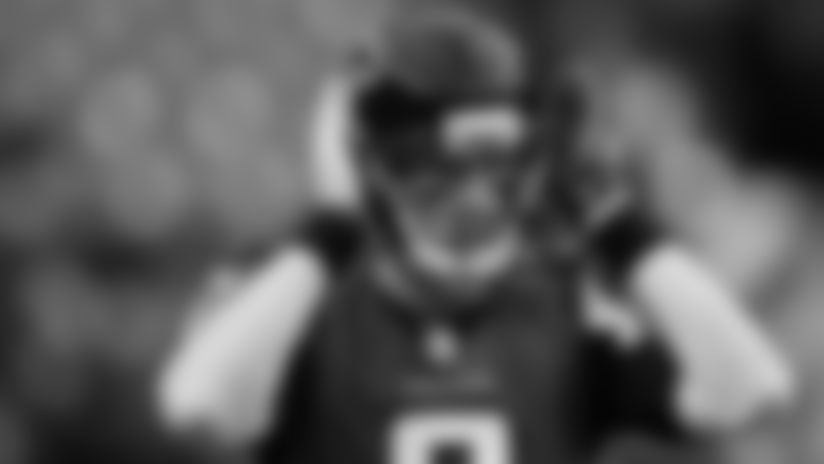 Ryan has thrown for 10 touchdowns during the past four games, in which the Falcons have won three, but he has thrown interceptions in back-to-back games.
Wide receiver Julio Jones, who has already been to the Pro Bowl three times during his first five years in the league, has played in six games this season in which he has recorded more than 100 yards receiving.
"He could get the ball every play, but one of the strengths of their offense is they have a lot of weapons and they use them all," Chiefs defensive coordinator Bob Sutton explained this week. "They're not afraid to shy away."
In addition to Jones, Ryan spreads the ball between WR Mohamed Sanu, tight end Jacob Tamme, and more recently, WR Taylor Gabriel, who has scored five touchdowns in the last four games.
"He's very fast and very explosive," Sutton said of Gabriel. "I think he's really coming on as a player for them. He's a guy that can catch something short and turn it into something big. He's a guy that can run by you and he's a guy that can get it on the reverses and all that. He's a really dynamic player that you really have to be aware of and know where he's at."
Third-year RB Devonta Freeman, who is averaging 4.5 yards per carry with five touchdowns this season, is the man in the backfield for Atlanta.
Stopping the potent Falcons offense could be more manageable for Sutton and the Chiefs if linebacker Dee Ford could return to the lineup. Ford missed last week's game against the Broncos due to a hamstring injury and is questionable against the Falcons.
Justin Houston, who had 3.0 sacks against the Broncos last week, defensive tackle Dontari Poe and cornerback Phillip Gaines, are also questionable (FULL INJURY REPORT). Poe was the only questionable Chiefs player who was held out of practice all week.
On the offensive side of the football, WR Jeremy Maclin will once again be out for the Chiefs. He hasn't played since injuring his groin during the Chiefs' Week 9 game against the Jacksonville Jaguars.
In Maclin's absence, rookie Tyreek Hill has broken out as a weapon in the offense for Kansas City, picking up more of the plays in Andy Reid's playbook every week.
"I was a little concerned with how much of it a rookie can come in and handle, and Hill hasn't showed any signs of slowing down," co-offensive coordinator Matt Nagy explained this week. "We just need to be conscious as coaches of not putting too much on his plate."
Tight end Travis Kelce will be looking his third consecutive game of 100 yards or more this Sunday against the Falcons.
"He's a good player. So, normally in big games, your good players show up and you try and doll them up," Reid said after Kelce's 101-yard effort against the Broncos. "He's always going to be a part of your game plan. We'd be foolish not to make him a part, and so, then you have to kind of overcome the teams' [plan] and try something else if they double him. We have him moved all over the place, so we're lucky that he can do that."
The Falcons defense, which was already ranked No. 27 in the league based upon yards allowed per game, recently received news that one of their top cornerbacks, Desmond Trufant, and one of their top pass rushers, Adrian Clayborn, headed to injured reserve. That means they will need to call on younger players and backups to step up down the stretch.
Linebacker Vic Beasley, who the Falcons selected with their No. 8 overall pick last season, leads the team in sacks with 9.5. The Chiefs and Falcons meet for the ninth time Sunday in Kansas City's first visit to the Georgia Dome since 2008.
It's not a playoff game, a division game or even an in-conference game, but with the playoffs now just a short five weeks away with races this close, the game's implications couldn't be any greater.