The Kansas City Chiefs are back at Arrowhead Stadium on Sunday afternoon to take on the Arizona Cardinals at 12:00 p.m. CT.
Here's everything you need to know if you're coming to the game.
National Anthem: Retired Army Staff Sgt. Ron Gutierrez, former vocalist from the United States Army Band, 'Pershing's Own,' will perform our National Anthem
Color Guard: The Ft. Leonard Wood Army – Baron Hill Color Guard
Flyover: A-10 Warthogs from the 303 Fighter Squadron, stationed at Whiteman Air Force Base, will fly over Arrowhead at the conclusion of the National Anthem (weather permitting)
Coca-Cola Coin Toss Captain: U.S. Navy veteran Bill Daniels
Game Ball Presentation: The Black Daggers Parachute Team, the official U.S. Army Special Ops Command Parachute Team, will jump into Arrowhead for the game ball presentation (weather permitting)
Blue KC First Pass: Army veteran Patrick Benson
Drum Ceremony Honoree: Col. Donald Ballard, a Medal of Honor recipient, will be Sunday's Drum Ceremony Honoree
Halftime: The 35th Infantry Division Band from the Kansas Army National Guard will perform a compilation of all five military branch songs
7:30 a.m. – Ford Tailgate District Opens
9:30 a.m. – Scout Investments Club Level Opens (For Club Level Ticketed Guests Only).
10:00 a.m. – All Stadium Gates Open
Prepay: Fans are encouraged to prepay for parking to save money and time at the gate. Purchasing a pass in advance not only helps save time at the tollgates, but also provides you with the lowest parking price. Click here to purchase your single game parking pass in advance for $35 (Ticketmaster fees apply). On event days, parking is only available for purchase at the gate for $60 cash ($100 for a Bus/RV).
Arrive Early to park closest to the stadium. The parking lots open at 7:00 a.m. Guests that arrive later will be parked in the outer lots.
Mobile Ticketing: Don't forget to add your tickets and/or parking pass to your mobile wallet on your phone via the Chiefs Mobile App for expedited entry.
As a reminder, you are unable to print any tickets and/or parking for the game.
What's Going on at Arrowhead?
Salute to Service Game presented by USAA: The Chiefs have a long-standing tradition of supporting the men and women of our Armed Forces. This Sunday, the Chiefs will host their annual Salute to Service game at Arrowhead. Each year, the NFL and NFL Players Association come together in honor of Veterans Day to celebrate and recognize members of the military. Through Salute to Service, the league supports military appreciation non-profit partners including the USO, the Pat Tillman Foundation, TAPS, the Bob Woodruff Foundation and the Wounded Warrior Project. With the NFL, these efforts allow the Chiefs organization to salute our servicemen and women and share our appreciation for all the sacrifices that they and their families make on our behalf.
Before kickoff on Sunday, the Black Daggers, the official U.S. Army Special Ops Command Parachute Team, will jump into Arrowhead, weather permitting. Sunday's National Anthem will be performed by retired Army Staff Sgt. Ron Gutierrez and the flag will be presented by the Ft. Leonard Wood Army – Baron Hill Color Guard. In addition, Missouri Governor Mike Parson, a six-year U.S. Army veteran, will join 150 service members and the color guard holding the American flag on the field. At the conclusion of the National Anthem, there will be a flyover by the 303rd Fighter Squadron A-10 Warthogs out of Whiteman Air Force Base, weather permitting.
The Chiefs Drum Ceremony will be performed by Col. Donald Ballard, a retired Navy and Army National Guard Medal of Honor recipient. Throughout the course of the game, all five branches of the military will be honored. USAA, the Official Salute to Service Partner of the Chiefs, will present an in-game Salute to Service moment. During warmups, players will wear commemorative patches in honor of the 100th anniversary of Armistice Day and the National WWI Museum and Memorial. Players, coaches and officials will wear other apparel supporting Salute to Service throughout the game. In addition, on-field and in-stadium branding will be visible around Arrowhead. At halftime, there will be a performance by the Kansas Army National Guard 35th Infantry Division Band.
At 11 a.m. on Sunday, there will be ringing bells. The bells also rang 100 years ago on Nov. 11, signifying the end of World War I. The armistice was declared on the 11th day of the 11th month at the 11th hour in 1918.
Toys for Tots Collection: For more than five decades, the Kansas City Chiefs and local members of the Marine Corps have hosted an annual Toys for Tots collection at Arrowhead Stadium. That tradition continues on Sunday when the team hosts the Arizona Cardinals. Chiefs' fans are encouraged to donate new and unwrapped toys for boys and girls up to the age of 15 as they enter the Arrowhead gates. The Marines will also be accepting cash and check (made out to "Toys for Tots") donations at these stadium collection points if fans would prefer to help support a local child in need this holiday season.
50/50 Raffle: The Hunt Family Foundation 50/50 Raffle will benefit Folds of Honor on Sunday. Folds of Honor provides educational scholarships to the children and spouses of our fallen and disabled service members. Fans can purchase three tickets for $5, 10 tickets for $10 and 60 tickets for $20. For more information on Folds of Honor, click here, and for information on the Hunt Family Foundation 50/50 Raffle, click here.
The Ford Tailgate District is open to all fans before home games. This party zone is free to enter and features drink specials, food trucks, games, and live entertainment until kickoff. Be sure to check it out during pregame on the north side of the stadium right in front of the Chiefs Pro Shop.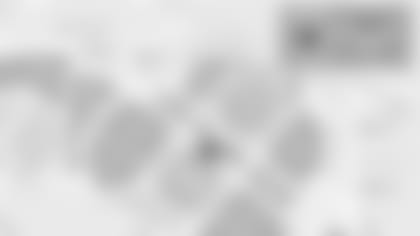 STM Kickoff Countdown Tent
The STM Kickoff Countdown hospitality tent is an exclusive area for Season Ticket Members on game day. Open beginning at 10:00 a.m. until kickoff, this ticketed event space offers Season Ticket Members complimentary hors d'oeuvres, beer, wine and non-alcoholic drinks. Located between Gate G and the Hy-Vee Gate on the Plaza Level, the tent also features a DJ, photo booth, KC Wolf and Chiefs Cheerleaders, plus a STM-branded koozie giveaway. To secure STM Kickoff Countdown tickets, Season Ticket Members may click here or do so through the Chiefs Mobile App.
For the fifth year in a row, the Fellowship of Christian Athletes (FCA) has joined with the Kansas City Chiefs to offer a non-denominational pregame chapel service for fans at Arrowhead Stadium who may miss their normal Sunday worship opportunities due to Chiefs' games. The service, which is held on the east side of the Pavilion on the south side of Arrowhead Stadium, will take place every week there is a noon home game. Every service will feature a message and supplemental worship beginning at 10 a.m. and concluding by 10:45 a.m. Sunday's service will be led by team chaplain Marcellus Casey and music will be performed by Marvin Mumford.
Be A Designated Driver: Visit a Fans First booth to sign up for the designated driver program. By committing to be a designated driver, you are pledging that you are 21 years of age or older, you will not be drinking alcoholic beverages at the game and you will provide responsible transportation for your group. Click here for more information.
Chiefs Mobile App: Once connected to "Arrowhead Wi-Fi" enhance your game day experience with the Chiefs Mobile app featuring exclusive in-stadium access to NFL RedZone, live video feeds, video highlights, replays from every drive and much more. To download the Chiefs Mobile App, visit either the Apple App Store or  Google Play.
1. All fans will walk through metal detectors.
2. The Clear Bag Policy is in effect. Fans will be able to carry the following style and size bag, package, or container at stadium plaza areas, stadium gates, or when approaching queue lines of fans awaiting entry into the stadium:
-Bags that are clear plastic, vinyl or PVC and do not exceed 12" x 6" x 12".
-One-gallon clear zip-seal bag (Ziploc bag or similar).
-Small clutch bags that do not exceed 4.5" x 6.5", with or without a handle or strap, may be carried into the stadium along with one of the clear bag options.
-An exception will be made for medically necessary items after proper inspection.
For more information on what items are permitted inside the stadium, click here.
Email: fanexperience@chiefs.com
Text: "Chiefs" "Your Location" and "Issue" to 69050
Visit: Any Fans First booth located throughout the stadium and in the parking lots.