The Kansas City Chiefs wrap up the preseason on Thursday night against the Green Bay Packers at 7:30 p.m. CT. Here's everything you need to know if you're coming to the game.
National Anthem: Vocalist Symonne Sparks will sing our National Anthem. Sparks, a graduate of the University of Missouri with a degree in vocal performance, trained with the Opera Theatre of St. Louis and has performed the National Anthem across collegiate and professional sporting events.
Color Guard: The colors will be presented by the Kansas National Guard
Coca-Cola Coin Toss Captain: Caroline Hoppock
Blue KC First Pass: Wesley Hamilton and Chiefs Ambassador Anthony Davis
Drum Ceremony Honoree: Former Chiefs' safety Jon McGraw
Halftime: Local youth football teams will participate in a Play Football scrimmage on the field
3:30 p.m. – Ford Tailgate District Opens
5:00 p.m. – Scout Investments Club Level Opens (For Club Level Ticketed Guests Only)
5:30 p.m. – All Stadium Gates Open
Prepay: Fans are encouraged to prepay for parking to save money and time at the gate. Purchasing a pass in advance not only helps save time at the tollgates, but also provides you with the lowest parking price. Click here to purchase your single game parking pass in advance for $35 (Ticketmaster fees apply). On event days, parking is only available for purchase at the gate for $60 cash ($100 for a Bus/RV).
Arrive Early to park closest to the stadium: The parking lots open at 2:30 p.m. Guests that arrive later will be parked in the outer lots. All fans are reminded that there will be increased traffic throughout the city for Thursday's game due to the outbound rush hour commute. Fans may experience delays and traffic congestion that they might not normally experience for weekend contests and are therefore encouraged to plan accordingly.
Mobile Ticketing: Don't forget to add your tickets and/or parking pass to your mobile wallet on your phone via the Chiefs Mobile App for expedited entry.
To download the Chiefs Mobile App, visit either the Apple App Store or Google Play. Once downloaded, click "Manage My Tickets," select Chiefs vs. Packers and click "View Barcode." Click here for more information. As a reminder, you are unable to print any tickets and/or parking for the game.
What's Going on at Arrowhead?
Play 60 at Arrowhead: Thursday's game at Arrowhead will focus on the NFL's Play 60 initiative and youth football, with over 5,000 tickets being distributed to youth players and coaches across Chiefs Kingdom. The Chiefs and Chairman and CEO Clark Hunt will recognize guests who have become involved with local Play 60 programs and personify the Play 60 ideals.
Four youth football teams, the Olathe South Falcons, Shawnee Mission West Vikings, Lee's Summit Titans and Blue Springs Chiefs, will join both the Chiefs and Packers during the National Anthem. At halftime, all four teams will participate in a scrimmage on the field.
The Chiefs aim to help contribute to the NFL movement for an active generation by encouraging young fans to eat healthy and be active for at least 60 minutes a day. The Chiefs have championed spreading the NFL's Play 60 message of living a healthy lifestyle through exercise and healthy eating through schools, community groups and other agencies.
Hometown Hero 1st Responder Honoree: The Chiefs will recognize Officer Kurt Skiles of the Olathe Police Department as the Hometown Hero 1st Responder Honoree during the second quarter. Officer Skiles continues to mentor and coach youth baseball, impacting the lives of young people in the community. He teaches the fundamentals of baseball as well as fundamentals for good decision-making in life. As a police academy instructor, he has prepared hundreds, if not, thousands, of officers to serve and protect their communities with professionalism, integrity and trust. This academy training is a vital component of a young officer's development of officer safety skills.
Salute to Service Honoree: Staff Sergeant Michael Painter of the Army will be recognized as the Chiefs' Salute to Service Honoree on Thursday during the third quarter. A lifelong Chiefs' fan, Staff Sergeant Painter has deployed twice to Afghanistan in support of Operation Enduring Freedom and once to Turkey. In 2014, while on a patrol, Staff Sergeant Painter and his team were struck by an IED, destroying their Stryker vehicle and leaving them vulnerable to attack. With outstanding training and teamwork, all Soldiers walked away with minimal injuries and zero casualties.
50/50 Raffle: The Hunt Family Foundation 50/50 Raffle will benefit Derrick Thomas and Neil Smith's Third and Long Foundation, which strives to sack illiteracy among urban youth and help children succeed in school and in the outside world by overcoming seemingly insurmountable obstacles through social, cultural and educational activities and programs. Through the course of its five-year history, the Hunt Family Foundation 50/50 Raffle has raised nearly $1.5 million for charity. Fans can purchase three tickets for $5, 10 tickets for $10 and 60 tickets for $20. For more information on the Third and Long Foundation, click here, and for information on the Hunt Family Foundation 50/50 Raffle, click here.
Making its debut for the 2018 football season is the Ford Tailgate District, which will be open to all fans before home games. This party zone is free to enter and will feature drink specials, food trucks, games, and live entertainment until kickoff. Be sure to check it out during pregame on the north side of the stadium right in front of the Chiefs Pro Shop.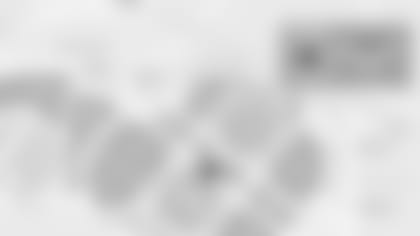 Be A Designated Driver: Visit a Fans First booth to sign up for the designated driver program. By committing to be a designated driver, you are pledging that you are 21 years of age or older, you will not be drinking alcoholic beverages at the game and you will provide responsible transportation for your group. Click here for more information.
Chiefs Mobile App: Once connected to "Arrowhead Wi-Fi" enhance your game day experience with the Chiefs Mobile app featuring exclusive in-stadium access to NFL RedZone, live video feeds, video highlights, replays from every drive and much more. To download the Chiefs Mobile App, visit either the Apple App Store or Google Play.
1. All fans will walk through metal detectors.
2. The Clear Bag Policy is in effect. Fans will be able to carry the following style and size bag, package, or container at stadium plaza areas, stadium gates, or when approaching queue lines of fans awaiting entry into the stadium:
-Bags that are clear plastic, vinyl or PVC and do not exceed 12" x 6" x 12".
-One-gallon clear zip-seal bag (Ziploc bag or similar).
-Small clutch bags that do not exceed 4.5" x 6.5", with or without a handle or strap, may be carried into the stadium along with one of the clear bag options.
-An exception will be made for medically necessary items after proper inspection at a gate designated for this purpose.
For more information on what items are permitted inside the stadium, click here.
Text: "Chiefs" "Your Location" and "Issue" to 69050
Visit: Any Fans First booth located throughout the stadium and in the parking lots.