The Chiefs kick off the postseason on Saturday afternoon as Kansas City takes on the Tennessee Titans at 3:35 p.m. CT. From rally towels to a flyover and everything in between, the atmosphere at Arrowhead on Saturday promises to be electric. Be sure to find your seat well before kickoff to ensure that you're a part of it.
Chiefs President Mark Donovan discussed the importance of arriving early on Saturday earlier this week.
"Coach likes to talk about the ground shaking at Arrowhead, every game matters, every play matters, and with the playoffs, it's up a little bit more," Donovan said. "Every play does matter and one thing that I would urge our fans to do *is to get in your seats early. They're going to come out and it's going to be beautiful on Saturday. A 3:30 start gives us plenty of time to tailgate, like we do better than anybody in the world. We've got the full American flag, we've got a B2 bomber going over - there's nothing better in my mind in sports than that moment - and we really want the ground shaking at kickoff. That's part of the 'Arrowhead Advantage,' that's part of what makes this place special and I know our fans, I hear this from our fans, there's a lot of pride in this market place when we're on a national stage and for our fans to show the world what makes Arrowhead special, and we have a great opportunity to do that. So maybe just leave 15 minutes earlier than you're used to so that you get in a little bit earlier." *
Here's everything you need to know if you're coming to the game.
National Anthem:Platinum recording artist Clay Walker will perform our National Anthem.
Color Guard:The Color Guard will be from the Fort Leonard Wood Non-Commissioned Officers Academy.
Drum Leader:Emmy Award winning star of "Modern Family," Eric Stonestreet, will lead the crowd in "The Chop."
Flyover:There will be a B-2 flyover from 509th Bomb Wing at Whiteman Air Force Base, weather permitting.
Halftime:Three singers from "The Voice," Adam Cunningham, Ashland Craft and Mitchell Lee, will perform at halftime.
Rally Towels:To celebrate a second-consecutive AFC West title and another home playoff game, Hy-Vee, the presenting partner of the Chiefs Playoffs, will be giving away a rally towel to all fans as they enter the Arrowhead Stadium gates.
Donovan discussed the towels earlier this week.
"We've got some really cool towels that we're going to give out," Donovan said. "(They read) 'Fear Nothing and Attack Everything.' Our friends from Hy-Vee have been very supportive of our playoff run. They produced 70,000 of these towels, and we're doing it in truly an Arrowhead way: half will be red and half will be white. The visual is going to be amazing on ESPN and ABC. It's going to be a visual that really launches to the world."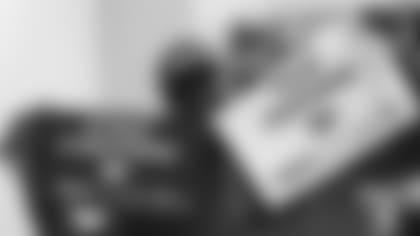 11:30 a.m. – Ford Fan Experience Opens
1:00 p.m. – Scout Investments Club Level Opens (For Club Level Ticketed Guests Only). The Draft Room opens.
1:30 p.m. – All Stadium Gates Open
Parking and Tailgating Prepay:Fans are encouraged to prepay for parking to save money and time at the gate. Purchasing a pass in advance not only helps save time at the tollgates but also provides you with the lowest parking price. Click here to purchase your single game parking pass in advance for $40 (Ticketmaster fees apply). On event days, parking is only available for purchase at the gate for $60 cash ($100 for a Bus/RV).
Arrive Early to park closest to the stadium. The parking lots open at 10:30 a.m. Guests that arrive later will be parked in the outer lots.
Please note: Your prepaid parking pass will be accepted at most gates. Gate 1 is reserved for Platinum M and Bus/RV parking pass holders. Gate 7 is reserved for Platinum, Gold and Bus/RV parking pass holders. Fan Favorites
Ford Fan Experience Location: The Ford Fan Experience, located on the Founder's Plaza on the north side of Arrowhead Stadium, will open at 11:30 a.m. The event will feature a DJ, face-painting, a field goal kicking inflatable, a Play 60 station and Chiefs-themed tailgate games. Click here to view a map of the stadium gates.
Be A Designated Driver: Visit the Ford Fan Experience or a Fans First booth to sign up for the designated driver program. By committing to be a designated driver you are pledging that you are 21 years of age or older, you will not be drinking alcoholic beverages at the game and you will provide responsible transportation for your group. Click here for more information.
Chiefs Mobile:Once connected to "Arrowhead Wi-Fi" enhance your gameday experience with the Chiefs Mobile app featuring exclusive in-stadium access to NFL RedZone, live video feeds, video highlights, replays from every drive and much more.
50/50 Raffle:Saturday's 50/50 Raffle will benefit the Hunt Family Foundation, going to support youth education programs for local students in underserved communities. Throughout the course of the season, the Hunt Family Foundation 50/50 Raffle has raised more than $640,000, with half of that total going to local charities and the other half going to winning ticketholders. The 50/50 Raffle features a special offer for fans purchasing raffle tickets during any of the club's playoff contests. With prices set at three tickets for $5 and 10 tickets for $10, the playoff special is a 100-ticket deal for only $20. For more information on how fans can participate in the Hunt Family Foundation 50/50 Raffle, including a list of official rules and regulations, click here. Stadium Policies

1. All fans will walk through metal detectors.
2. The Clear Bag Policy is in effect. Fans will be able to carry the following style and size bag, package, or container at stadium plaza areas, stadium gates, or when approaching queue lines of fans awaiting entry into the stadium:
-Bags that are clear plastic, vinyl or PVC and do not exceed 12" x 6" x 12." (Official Chiefs branded tote bags are available through club  merchandise outlets or at shop.kcchiefs.com).
-One-gallon clear zip-seal bag (Ziploc bag or similar).
-Small clutch bags that do not exceed 4.5" x 6.5," with or without a handle or strap, may be carried into the stadium along with one of  the clear bag options.
-An exception will be made for medically necessary items after proper inspection at a gate designated for this purpose.
4. Your tickets are accessible via the Chiefs Mobile app or printable through your online account.
Email: fanexperience@chiefs.com
Text: "Chiefs" "Your Location" and "Issue" to 69050
Visit: Any Fans First booth located throughout the stadium and in the parking lots.