The Kansas City Chiefs made an addition on defense and special teams with the signing of free agent cornerback Antonio Hamilton.
Here are five things to know about the newest member of Chiefs Kingdom. 
1. He played for the New York Giants last season
Hamilton is coming off of his second season in the Big Apple and his most productive campaign as a professional with 12 tackles (8.0 solo) and four pass-breakups in six games on defense for New York in addition to ranking second on the team with 373 special teams snaps. The six-foot-tall, 195-pound Hamilton saw his most action defensively in the Giants' season finale, allowing just two completions on seven targets in 43 snaps in coverage while recording all four of his pass-breakups on the season, according to Pro Football Focus.
2. Hamilton originally entered the league in 2016 with the Oakland Raiders
Hamilton signed with Oakland prior to the 2016 campaign after he went undrafted out of South Carolina State, going on to record 12 tackles across 12 games for the Raiders over the next two seasons. He then signed with New York before the 2018 season, logging 13 appearances for the Giants that year exclusively as a special teamer, tallying the fifth-most special teams snaps of any player on the roster.
He proceeded to build on that experience in 2019, earning 132 snaps on defense (including two starts at cornerback) while continuing to make a significant contribution on special teams.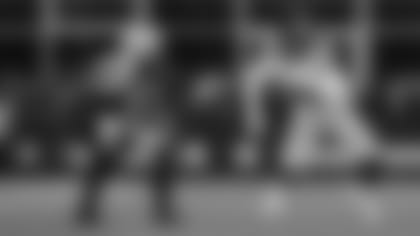 3. In fact, he was one of the best in the business on special teams in 2019
Among players to see at least 80 percent of special teams' snaps, Hamilton graded out as the sixth-best overall special teamer in the NFL last season according to Pro Football Focus, where his impressive athleticism – such as his 4.38 second 40-yard dash clocked ahead of the 2016 NFL Draft – was on full display.
For example, check out this play in punt coverage last season.
4. He was a star at South Carolina State, particularly as a return man
In addition to playing defensive back, Hamilton was an impressive return man for the Bulldogs. He tallied 1,316 combined kick and punt return yards across his junior and senior seasons, earning All-Conference honors as a return man in 2015.
He has yet to return a kick in the NFL, but the ability is certainly there.
5. Hamilton is a native of Johnston, South Carolina
Hamilton grew up just outside of Augusta, Georgia in the small town of Johnston, otherwise known as the "Peach Capital of the World." Now, the 27-year-old is headed to Kansas City to help the Chiefs defend their Super Bowl title.