Kansas City Chiefs' tailback DeAndre Washington, who signed with the Chiefs this offseason after four years with the rival Oakland Raiders, spoke with the media via conference call for the first time as a member of the team on Wednesday afternoon.
Here are five things that stood out from the call.
1. Washington is no stranger to Chiefs Kingdom, tallying four trips to Arrowhead Stadium in his career as a member of the Raiders. He explained what it was like playing against the Chiefs on the call.
"It's a division game, so it's definitely one of those games that when you're on the opposing team you want to get up for, especially being in the division. So, having the chance these last four years to come to Chiefs Kingdom and play against you guys it was always an incredible environment," Washington said. "The fans were always top notch and made it an exciting game. From my memories it was always exciting playing against the Chiefs and something I definitely looked forward to during my time in Oakland."
As it turns out, Washington's first-career start actually took place against the Chiefs back in 2016. Four years later, he's a member of the red and gold.
2. He's familiar with Chiefs' quarterback Patrick Mahomes, too. In fact, the duo played with one another for two years at Texas Tech. Washington spoke about his past experience with Mahomes on Wednesday.
"[It was] kind of a similar excitement [that it is now]. It was kind of weird because when Pat came in, we had [Cleveland Browns' quarterback] Baker Mayfield and another quarterback named Davis Webb at the time. So, it was pretty intense watching all three of those guys at practice," Washington said. "You know, one went on to win the Heisman and all three ended up getting drafted, so it was a good feelings being able to play with all of those guys. It was exciting. Pat does some things that you can't coach. Being able to play with and experience that during college was definitely a fun experience."
It was a productive one, too. In his two years with the eventual NFL MVP, Washington racked up 3,308 yards of offense and 20 touchdowns.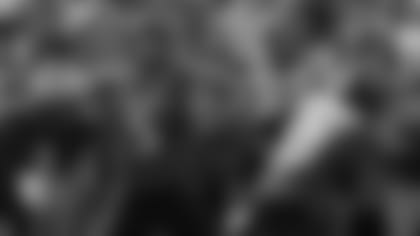 3. Washington was later asked about his familiarity with the Chiefs' coaching staff and what they ask of their running backs.
"First of all, I'm a huge fan of Andy Reid. I've followed him way back since I could really understand football. I'm a big fan of his and his play calling and just the way he utilizes his weapons," Washington said. "Funny story, [Offensive Coordinator Eric] Bieniemy actually recruited me at Colorado back in his Colorado days, so we have a relationship that goes back to then. Just watching those guys over the course of the year it kind of seems like everyone's involved. No matter the horsepower they got - and they got some serious horsepower in that offense - Coach Reid has a unique way of getting everyone involved. I'm definitely looking forward to coming in and making some plays with that group."
The five-foot-eight, 210-pound Washington rushed for 387 yards and three touchdowns on 108 attempts while chipping in 36 receptions for 292 yards in 2019, tallying a career-high 679 yards of offense. He appeared in all 16 games for Oakland in 2019, starting three contests.
He was one of 25 players to notch at least 250 yards on both the ground and through the air last season, displaying a certain versatility the Chiefs often like in their running backs.
4. Now a member of the Chiefs, Washington explained why he believes Reid can maximize the vestatile talents the four-year veteran demonstrated last season.
"I think it's just his creativity. It's one of those deals where he can run the same play a hundred different ways, and I just think that puts a lot of pressure on defenses when you're able to dress up a play but once you really strip it down, it's kind of the same play," Washington said. "Just his creativity, getting guys involved and getting guys to play to their strengths. So, I'm looking forward to that. Like I said, I've been following Andy Reid for a long time, so it's definitely an honor to be able to play with him."
5. Lastly, Washington earned starting nods in three of the Raiders' final four games last season due to injuries elsewhere in the backfield. He spoke about what he learned about himself during that experience.
"More so that I was ready. I was ready to go. I was very glad that I was able to get that opportunity. It was unfortunate that Josh [Jacobs] got hurt, but it was an opportunity for me to showcase what I'm about and that's an every down back, being able to carry the load, Washington said. "I just wanted to take full advantage of that opportunity once I got it. It was a good thing to be able to get those opportunities."
Washington joins a crowded – but talented – backfield with the Chiefs and will soon enough have a chance to show what he can do.