The Kansas City Chiefs hit the field once again on Wednesday as the team continued their final offseason practices before training camp rolls around next month.
Here are five things that stood out from Wednesday's media availability, which included wide receiver Demarcus Robinson, cornerback Charvarius Ward, tailback Carlos Hyde and center Austin Reiter.
1. Robinson was asked to discuss his role amongst the Chiefs' wide receivers as he enters his fourth season in the NFL.
His answer was simple enough.
"Just being a leader and making plays," Robinson said. "Teaching the younger guys, filling their spots and doing what the coaches ask."
Robinson – who found the end zone a career-high four times last season – later gave an example of that veteran leadership by explaining his advice to wide receiver Mecole Hardman on playing with quarterback Patrick Mahomes.
"Just run through everything," Robinson said. "It's a different level of speed in the NFL than it was in college. We have the best quarterback in the NFL. He can get the ball downfield even when you're 60 yards downfield, so run through everything and run full speed through all your routes."
2. On the other side of the ball, Ward was asked if his approach has changed heading into his second year in the league with some experience under his belt.
"My approach has stayed the same. I approach every game and every season - even when I was in high school and college – [with the mindset that] I want to be the best player I can be," Ward said. "I always go out there to be the best I can be no matter if I'm starting or if I'm coming off the bench. I just want to be the best."
Ward – who the Chiefs acquired from Dallas during the preseason last year – was given an opportunity to play late in the 2018 campaign and certainly made the most of it. In fact, Ward wound up starting Kansas City's playoff victory over the Indianapolis Colts and defended four passes.
3. Ward went on to talk about the opportunity he has here in Kansas City and what it means to him.
"It's a dream come true. The Chiefs gave me an opportunity - the Cowboys also gave me an opportunity, but the Chiefs believed in me because they traded for me," Ward explained. "Coach Andy Reid and General Manager Brett Veach, they see a lot in me and they gave me an opportunity. I respect them for that and I thank them for that, and I'm going to prove them right."
There's plenty of excitement surrounding the Chiefs' re-made defense this offseason, and Ward's development is a big part of it.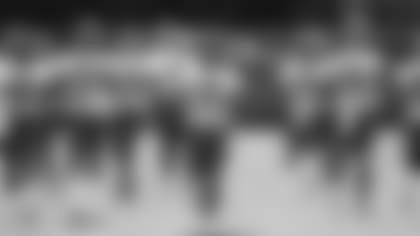 4. Hyde, meanwhile, was asked about his grasp on the playbook as he enters his first season with the Chiefs.
"It's coming together now. I feel like I'm able to practice fast. This minicamp has been good for me - I've been playing fast," Hyde said. "I have a good feel on the offense, but it's definitely complex for a running back. It's a lot on our plate which is good. You get to run the ball, catch the ball and do it all."
Hyde is only a season removed from back-to-back 1,000-yard campaigns in terms of total offense, racking up 938 yards on the ground and 350 receiving yards as recently as 2017. Now in Kansas City, Hyde is understandably excited to play with the league MVP at quarterback.
"Honestly, I [haven't played] with anybody like Patrick. He definitely has a different approach to the game and he's definitely a special guy," Hyde said. "Just his leadership, the way he carries himself and the way he's respected throughout the locker room [is special]. He's a guy that when the play breaks down, you just continue to play because he's going to be able to find you. You can be 80 yards down the field and he will find you. Playing with guys like that is special and I'm definitely excited to be playing with him."
5. Finally, Reiter – who emerged as a viable starter at center last season – discussed his breakout campaign.
"I think in some situations I did well, but there are obviously things I can always work on," Reiter said. "That's what keeps a pro at this level - not being comfortable and always finding stuff to work on. Like I've told myself before when I got into this league, I know I'm a capable player and I know I can play at this level."
Reiter later talked about playing alongside guards Andrew Wylie and Laurent Duvernay-Tardif – who missed much of last season with a leg injury – now that all three players are healthy.
"It's great. It's definitely good to get reps with Larry now," Reiter said. "He's a physical player and he has great strong hands which is awesome in pass protection and helps me out. I think I saw his comments yesterday where we're learning to keep our feet out of each other's way, and that's kind of a battle when you start playing with new guards and centers. I'm extremely satisfied with what we've done in these last seven or eight weeks."
All four players will hit the field on Thursday as minicamp wraps up.