Offseason workouts are in full-swing for the Kansas City Chiefs, but that didn't slow down six members of the linebacker corps from getting active with a group of Girl Scouts in the Chiefs Sports Lab on Wednesday afternoon.
From dancing in front of a green screen to learning about the human body through one of the many fun games the Sports Lab has to offer, it was certainly a day to remember for everyone involved.
"When I was growing up, I wish the role models [that I looked up to] did stuff like this," said linebacker Reggie Ragland. "It's all about giving the kids a chance at hope and being accessible to them so they can pick our brains about anything – even non-football related stuff. I just love the kids and I love being there for them."
The Sports Lab – located within Arrowhead Stadium – is all about encouraging kids to embrace a healthy lifestyle, and that's exactly what this week's visit was all about. In fact, every Girl Scout that participated on Wednesday received a "Play60" patch as a reward for their efforts.
"It just reinforces what I'm already teaching my daughter – to stay active and to play other sports," said Kaitlin McLess, whose daughter attended the visit. "She's really involved with softball, but this shows her that other activities can be fun, too. It's all about finding other ways to be active other than just one particular thing."
The "Play60" patch is one of three badges the Chiefs offer to local scouts covering a wide-range of interests – from the Arrowhead Art Collection to the annual "Arrowhead Takeover" event that invites hundreds of Girl Scouts to the stadium every year.
Each patch represents a fun way for Scouts to get involved with the Chiefs - who are one of only a few teams in the NFL to offer an official patch program – and Wednesday's visit certainly demonstrated just that.
"It was awesome," Ragland said. "I think everybody had a good time – dancing in front of the green screen and learning a bunch of facts about the body. I know when I was a kid, we played all day. It's important to just get out there and play with your friends."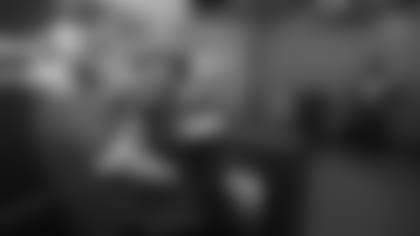 Ragland had just one reservation about the experience.
"I was hoping they had some cookies with them, so I was a little disappointed there," Ragland joked, suggesting that heathy living doesn't mean you can't treat yourself every once in a while.
And luckily, that disappointment didn't last long. The Scouts ventured back to Arrowhead on Thursday and came prepared, dropping off some cookies for their new friends.
It was a fun conclusion to an unforgettable couple of days for the Scouts, and they each have the patch to prove it.
To learn more about bringing a Scout group to Arrowhead for one of the patch programs, click here.
The Kansas City Chiefs Community Caring Team, led by the Chiefs linebackers, hosted a group of Girl Scouts at the Chiefs Sports Lab inside Arrowhead Stadium on May 8, 2019.