When it comes to understanding the importance of healthy living, there may not be a better resource out there than Kansas City Chiefs' offensive guard Laurent Duvernay-Tardif.
Not only is the former sixth-round pick one of the best at his position in the NFL, but Duvernay-Tardif recently completed a six-year trek through medical school in his native Canada.
The four-year veteran knows what he's talking about, and on Monday, Duvernay-Tardif - along with a handful of his teammates - chose to share that knowledge with more than 20 local kids at The University of Kansas Health System Training Complex.
"This idea started when I went to Steve Nelson's nutrition activity a few months ago," Duvernay-Tardif explained. "It's crazy the kind of impact that we can have. I'm doing a lot of stuff with kids back home about the importance of leading a healthy lifestyle, nutrition and physical activity, and we have the perfect setup here to bring in a group of people. Our Player Engagement guys did an awesome job of finding a group of kids that were super motivated, too."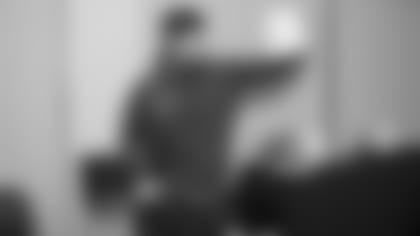 The kids were all members of BoysGrow, a local organization that teaches entrepreneurship to young men through agriculture.
"We hire 14 to 17-year-old men to come out onto the farm and get paid, then we teach them about entrepreneurism through selling the food that they grow to restaurants and grocery stores - just being part of the food system," said John Gordon, the organization's founder. "It's entrepreneurism, but it's also mentorship and vocation training."
That prior background lent itself to some interesting discussion between the players and the kids before the afternoon's activities got underway.
"They were asking about the different food groups, the different types of proteins and carbohydrates, plus conditions like diabetes and hypertension and how to prevent those things," Duvernay-Tardif said. "I think we pushed it a lot, and the guys were really enjoying it and following it. They were super-educated, so it was a lot of fun."
And from there, things were just getting started.
Following that spirited dialogue, the kids got to work constructing healthy meals from an array of food provided by the Chiefs' cafeteria staff.
"The best way to learn and remember something is to actually execute it," Duvernay-Tardif added. "By building their own plates, I think they got an idea of the amount of food you need in a day and what foods you should eat. The kids seemed to have a lot of fun, and [my teammates] provided a one-on-one experience by being here. I think the kids loved it."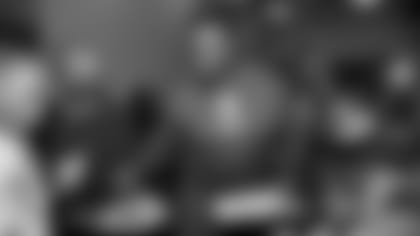 That feeling was just as evident from the players' point of view.
"I'm only 24-years-old, and being able to see these kids, it's funny because I used to be that age not too long ago," said safety Eric Murray. "It wasn't just a memorable experience for them, but it was the same way for me."
The event marked the second installment of the "4th Quarter Program," a player-driven initiative designed to address social justice focus areas of particular interest to the players themselves.
"It's interesting, because medicine and football seem like they'd be really far away, but if you look at it from a nutrition standpoint, it's great to have that medical background," Duvernay-Tardif said. "It helps when building a nutrition plan, and if I can share that knowledge with the kids and they want to learn from me, it's just an awesome opportunity."
Laurent Duvernay-Tardif, along with the help of his teammates, explains the basics of healthy living and nutrition to a group of 20 young men from BoysGrow on Monday afternoon. The player-led initiative marked the second installment of the players' "4th Quarter Program" which seeks to address social justice areas of particular importance to the players themselves.