We're only two weeks from training camp, and with the annual pilgrimage to St. Joseph nearly here, we're in the midst of examining every position group on the roster in anticipation of the 2022 campaign.
Here's a look at what we've covered so far:
We'll continue with the defensive line, where the Chiefs currently feature 14 players: Cortez Broughton, Chris Jones, Derrick Nnadi, Khalen Saunders, Taylor Stallworth, Tershawn Wharton, Mike Danna, Shilique Calhoun, Frank Clark, Austin Edwards, Malik Herring, Joshua Kaindoh, George Karlaftis and Kehinde Oginni Hassan.
Here's a closer look at each defensive lineman on the roster, sorted by defensive tackles and edge rushers.
Defensive Tackles (sorted alphabetically)
The Chiefs signed Broughton, a seventh-round pick of the Los Angeles Chargers in 2019, to a "Reserve/Futures" contract early in the offseason. He originally joined the Chiefs as a member of the practice squad last season, eventually earning an elevation and playing three defensive snaps against the Chargers in Week 15.
Prior to joining the Chiefs, Broughton played in 11 games across his two seasons with the Bolts.
One of the top pass-rushers in all of football, Jones recorded the 11th-most pressures (65) among all players last season and the third-most among interior defensive linemen. It was a continuation of what we've come to expect from Jones, who ranks sixth in the NFL with 41 sacks since 2018.
"Jones' pass-rush prowess is among the game's best. Despite facing double-teams on nearly 50% of his pass rushes, he wins on 20% of his overall rushes, second on this list behind Aaron Donald."
Simply put, Jones is one of the best players in the game and anchors the Chiefs' defensive line.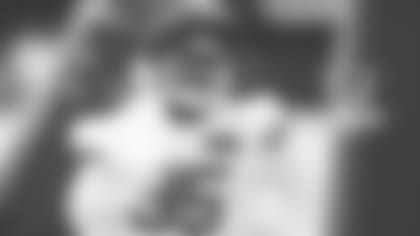 Now entering his fifth year as a professional, Nnadi has become a steady and familiar face along the Chiefs' defensive front. In fact, only Jones has been around longer than Nnadi among Kansas City's defensive linemen. The 26-year-old has tallied 64 appearances (52 starts) in that time, taking the field in every game last season (with 10 starts) while recording a career-most three sacks and 15 defensive stops. He's also been a strong run-defender for the most part during his career, recording Pro Football Focus' eighth-best run-defense grade among all interior linemen in 2020. The advanced metrics weren't as significant last season, but the ability is clearly there.
Additionally, perhaps Nnadi's greatest attribute has been his reliability, as the veteran has been available for every game of his career thus far.
Originally a third-round selection (No. 84 overall) in the 2019 NFL Draft, the 6-foot-tall, 324-pound Saunders is embarking on his fourth season with the Chiefs after appearing in seven games last year.
The Western Illinois product took the field for 12 games (and 4 starts) during his rookie season in 2019 and showed flashes of promise, but injuries limited his availability in the two seasons since. Most recently, Saunders suffered a knee injury in Week 7 of last year that essentially ended his season. Now healthy, however, Saunders will have an opportunity to earn a rotational role along the defensive front as he heads into the final year of his rookie contract.
The Chiefs signed Stallworth this offseason after the four-year veteran tallied 16 tackles, 12 quarterback hits, four tackles-for-loss and three sacks last season while appearing in 16 games (1 start) for Indianapolis.
It was a career season for the 26-year-old defensive tackle, whose 22 total pressures ranked fourth on the Colts. He was efficient with those pressures, too. In fact, Stallworth had the most pressures of any interior defensive lineman with fewer than 340 snaps in 2021. For context, former defensive tackle Jarran Reed – who signed with the Packers this offseason – amassed 28 total pressures across 711 snaps last season, recording only six more pressures in more than twice the snaps when compared to Stallworth.
He'll need to show that he can maintain that efficiency when given more snaps, which is a storyline to watch in camp.
One of the best stories of camp two years ago, Wharton emerged as an undrafted free agent from nearby Missouri S&T who went on carve out a role along the Chiefs' defensive front in each of the last two seasons. He was on the field for 502 defensive snaps last year, ranking fifth among Kansas City's defensive linemen while tallying 28 pressures, two sacks and two forced fumbles.
The 24-year-old Wharton has proven versatile, too, lining up at numerous spots along the defensive line. He's a unique chess piece for Defensive Coordinator Steve Spagnuolo who will look to take the next step in his development this upcoming season.
Defensive Ends (sorted alphabetically)
A fifth-round selection (No. 177 overall) in the 2020 NFL Draft, Danna is entering his third season with Kansas City after amassing 22 pressures, 10 quarterback hits and three sacks last year. Danna was on the field for 534 snaps last season, which ranked second among Chiefs' defensive ends and marked a 200-snap increase from his rookie campaign. His pressure total ranked eighth among all second-year edge-rushers.
Like Wharton, Danna has also proven to be versatile. He's capable of lining up both inside and outside depending on the defensive formation. With all of that in mind, this upcoming season will be big for him as he aims to continue his progression as a professional.
Calhoun, who joined the Chiefs' practice squad last October, elected to stick with Kansas City by signing a "Reserve/Futures" contract back in February. Originally a third-round selection (No. 75 overall) of the Oakland Raiders in 2016, Calhoun has appeared in 51 career games during his career.
The 6-foot-4, 260-pound Calhoun tallied 18 tackles, two sacks and two forced fumbles with New England across 10 games in 2020. He has yet to appear in a regular-season game since that performance.
The longest-tenured member of the Chiefs' defensive end group, Clark is entering his fourth season with Kansas City in 2022 after notching 46 pressures, 17 quarterback hits, 4.5 sacks and two forced fumbles in 14 games last year.
Clark, who battled injuries early in the campaign, was a big part of the Chiefs' mid-season turnaround defensively last season, ranking 11th among all edge rushers in pressures (34) from Week 8 through the end of the regular season.
Edwards, who signed a "Reserve/Futures" contract earlier this year, is entering his second season with the Chiefs after spending the 2021 campaign on the practice squad. Before joining Kansas City, Edwards spent the 2020 season with Atlanta's practice squad. He appeared in one game for the Falcons that year.
The 24-year-old Edwards checks in at 6-foot-5 and 273 pounds.
One of the more intriguing stories to follow in this group is the progression of Herring, who has been around the Chiefs' facility for more than a year rehabbing a torn ACL suffered during the Senior Bowl in 2021. Herring signed with the Chiefs as an undrafted free agent following the injury, and now finally healthy, the former University of Georgia standout has an opportunity to show what he can do on the field.
The 6-foot-3, 280-pound Herring impressed during the offseason workout program and has a shot to make the team as a rotational edge rusher if he can replicate that performance in training camp.
The Chiefs' fourth-round selection (No. 144 overall) in the 2021 NFL Draft, Kaindoh only appeared in three games last season before suffering an ankle injury in October that essentially ended his rookie campaign.
What makes Kaindoh an interesting player to follow is his unique blend of size (6-foot-7, 265 pounds), length (34.5-inch arms) and exceptional athleticism. In fact, coming out of the draft, the advanced metrics identified Kaindoh's athletic skills as some of the best at his position in the last several decades.
Kaindoh is still a raw player, but those athletic and physical skills are worth the investment. Now healthy, he'll have a shot to capitalize on that potential during camp.
The No. 30 overall selection in the 2022 NFL Draft out of Purdue, Karlaftis was among the top pass-rushers in all of college football last season. He racked up 54 total pressures in 2021, earning Associated Press Third-Team All-American honors and First-Team Big 10 recognition following the year. He was also a finalist for the Ted Hendricks Award, which is presented to the top defensive end in the nation.
Here's what the folks at Pro Football Focus had to say about the Chiefs' selection, which was one of only two picks in Round 1 to earn an "Elite" grade from PFF:
"Karlaftis' slide ends with the Chiefs at 30th overall, making him the biggest steal of Round 1. He turned in a 90.6 pass-rush grade as one of the few game-wreckers in college football last season. Also known as the college football Greek Freak, the 6-foot-4, 266-pounder boasts some of the best hand usage in the class and plays with big-time power and an impressive get-off. Karlaftis turned in the fourth-best win rate in the Power Five on true pass-rushes this past season despite being consistently chipped, doubled and cut."
Karlaftis, who looked great during the offseason training program, will likely have an opportunity to compete for a starting role in camp.
An alum of the NFL International Player Pathway program, Hassan is a native of Nigeria looking to make it as a professional football player. Originally a tight end prospect at the IPP Combine, Hassan has tremendous height at 6-foot-7 and will be an interesting story to follow throughout camp.
The Chiefs kept nine defensive linemen in 2021, 10 in 2020 and nine in 2019, which provides some historical precedent as to how many Kansas City may keep this time around. The Chiefs have traditionally split that total pretty evenly, opting to carry five defensive tackles and four defensive ends last season (although Chris Jones, listed as a defensive tackle, played both positions). Kansas City went with six defensive ends and four defensive tackles in 2020 after carrying four defensive ends and five defensive tackles in 2019.
Overall, this group could feature some of the most wide-open battles of any position on the roster. On one end, Karlaftis has a real opportunity to earn a starting role in Week 1 with a strong camp. There's also intrigue elsewhere, however, as players such as Stallworth and Saunders will be competing for rotational roles that often prove critical over the course of a long season.
Additionally, it's worth mentioning that the ability to wear pads – which isn't permitted during the offseason training program – is crucial to the evaluation process with defensive linemen. Each of the players in this group has been working on the mental and fundamental aspects of their games for months, but there's only so much a lineman can do when live contact isn't allowed. With camp nearly here - which permits pads - we're almost to the point where they can physically put that preparation to work and the real evaluation can begin.
For more information or to attend Chiefs Training Camp, click here.