Before the Kansas City Chiefs introduced new safety Tyrann Mathieu at One Arrowhead Drive on Thursday afternoon, General Manager Brett Veach spoke with members of the local media via conference call to discuss the Chiefs' other moves this offseason.
Here are six things that stood out.
1. Veach began the teleconference with an opening statement discussing the Chiefs' decision to release safety Eric Berry and linebacker Justin Houston this past week.
"I just want to start off by saying that this time of year is always a bittersweet way to start the season," Veach said. "On one end, we're certainly excited about the new players that we're going to add during this free agency period and the draft is right around the corner. We're excited to add some new, young players to this organization as well.
"But on the other end, change is inevitable, and it's always hard to move on from players that have been here. It certainly makes it even more difficult when change involves long-standing members of the community and the locker room, and certainly I'm talking about Eric Berry and Justin Houston. What two guys better exemplify that? As everyone knows, those guys were outstanding players. All of the accomplishments on the field will never be forgotten, but one of the things that [Chiefs Chairman & CEO] Clark [Hunt], [Head Coach] Andy [Reid] and I will always talk about, too, is just the impact that they've had in the community. They've done great things for the people here in Kansas City. It's certainly very difficult, but again, change is a part of this process."
Veach also took a moment to recognize the Chiefs' unrestricted free agents that have signed contracts with other teams in the last 24 hours.
"I'd like to wish the best of luck to [cornerback] Steve Nelson, [center] Mitch Morse and [tight end] Demetrius Harris - all those guys," Veach said. "I'm really proud of what they were able to do here and I'm really excited for them and their families. All of those guys were integral parts of our success."
Lastly, Veach thanked linebacker Dee Ford for his contributions over his five seasons in Kansas City. Ford was traded to the San Francisco 49ers this week.
"We were able to reach a trade with San Francisco for a 2020 second-round selection, so I'm excited for Dee and his family," Veach said. "[49ers General Manager] John Lynch got a great player, and I feel like after the trade went through, both teams were in a good position moving forward."
2. Veach was then asked what role the salary cap played in the Chiefs' recent moves.
"Looking at both now and into the future, we have a lot of great young talent," Veach said. "We have guys like [quarterback] Patrick Mahomes, [defensive lineman] Chris Jones and [wide receiver] Tyreek Hill, and one of the things that we made a strong effort to do when I took over was to make sure that we had good, young talent in the pipeline but also that we're cap flexible and have draft capital.
"The cap was certainly a big part of these decisions. Where we were, what was going to be utilized in regard to cap space and how we can maneuver ourselves to potentially do long-term extensions with other players [played a role]. I think the fact that we have a [first-round pick] and two [second-round picks] this year and then a [first-round pick] and two [second-round picks] next year puts us in a position to be aggressive from now until the start of the season," Veach said. "So, I think you start with the cap and, again, they're tough decisions, but I think it's something that – looking toward not just next season, but the next two, three, four and five years – if you're not proactive in your approach, then you're always chasing your tail and you're always in a position where you don't have draft capital or cap space."
3. Veach went on to explain the importance of that flexibility moving forward, as the process of building a championship-caliber roster never truly ends.
"I think one thing to remember too is everyone, and rightfully so because it is an exciting time here the first week of free agency and the new league year, but it's a long way until the opening kickoff in September," Veach said. "There certainly are a lot of headlines this week and we're going to be able to add two guys here very soon, but it never ends."
Veach was referring to Mathieu and linebacker Damien Wilson, who also signed on Thursday. He went on to explain how the team-building process continues long after the initial rush of free agency.
"There's a window here coming up before the draft where things happen, then there's the draft," Veach explained. "There are moves made during the draft and then after the draft. I mean, Chicago signed Khalil Mack in late August. I just think that moving forward - when you talk about our options and what we can do - I think any time you have a [first-round pick] and two [second-round picks] this year and a [first-round pick] and two [second-round picks] next year - and cap space, you have the ability to position yourself in a way that will put you in a good position for the upcoming season.
"But then also, the [potential] extensions and to prolong contracts and to keep young guys that we drafted – to keep them here for a long time. I just think that now, having those picks and having this maneuverability, I think now we can certainly think outside the box and be aggressive."
Veach later summed it all up in three simple words:
4. The roster changes this week will likely mean a larger role for edge rusher Breeland Speaks moving forward. Veach talked about the second-year player on Thursday.
"Breeland was a guy that, coming here last year from Ole Miss, we lined up at the outside linebacker position and we thought, moving forward with Breeland, he could get us some reps there and transition into maybe a five-technique," Veach explained. "Now, looking ahead in a 4-3 scheme, he's probably a natural fit as a base end. We're excited about him."
Speaks recorded 24 tackles (15 solo), eight quarterback hits, 1.5 sacks and a forced fumble last season for Kansas City. He started four games at outside linebacker from Week 6 through Week 9 when Houston was out with an injury.
"Really, when he got in there in that four-game span when [Justin Houston] was out, he put out some good tape at a position that he probably wasn't most comfortable with, but I think he still had some good logs, some good playtime and flashed a little," Veach said. "He certainly didn't look out of place. Now, having a full offseason in a scheme more conducive to his skillset, I think he should really be able to take the next step.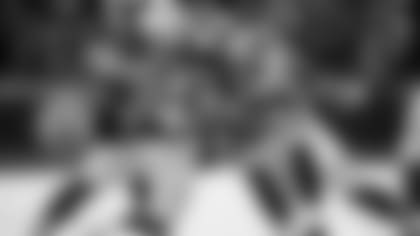 While on the topic of young players, Veach also touched on safeties Armani Watts and Jordan Lucas. Watts flashed in his five games with the Chiefs last year before suffering a season-ending core muscle injury while Lucas impressed in his 16 games of action.
"We are certainly excited about those players," Veach said "Armani was a guy that came on toward the end of camp. He started to log more and more play time. He certainly had his best game [against] Jacksonville before getting hurt. And then Jordan Lucas was a guy that infused some excitement and some energy in the middle of the season. We certainly like his skillset."
5. Speaking of the defense, Veach talked about the depth available on defense – and specifically along the defensive front - this year in the draft.
"One thing - and it's kind of been noted out there the last few weeks and especially at the Combine – is that this is a good defensive draft class," Veach said. "There's defensive line depth there. It's been talked about and it's real. There's a lot of intriguing players up there. When you win games, you have to pick at the end of every round, so to do things, you need picks. That's one end, and there's also the [players] you draft with other team's picks [that you've acquired]."
6. Finally, Veach was asked if the Chiefs' roster moves and the hiring of new Defensive Coordinator Steve Spagnuolo will bring about a culture change on that side of the ball.
"I'll say this, there will be a change, but this is a new defensive staff and some guys are younger guys, some guys that are coming back are older, but when the players report officially, everyone is on the same page. This is a brand-new playbook. This is a brand-new scheme," Veach said. "It's not like whoever we add in free agency or the Draft is coming into a scheme and coming into a locker room where players have been running something for years and years and years and they are trying to fit in and do different things. I know Steve [Spagnuolo] is excited to get all the players here and introducing them to the playbook and starting from page one.
"The one unique aspect is when you add a rookie this year, or even a guy like Tyrann Mathieu, they are all starting on the same chapter to begin this process with this staff. They are excited about that. I think Ty [Mathieu] is going to be a game changer, too, in regard to him as a person…he is an instant energy and juice guy."
Stay tuned as the Chiefs continue to build the roster this offseason with championship goals.