The war between the National Football League and American Football League had gone on for seven years, but was a resolution anywhere in sight? Assuredly, it was costing both parties much in the way of money as teams from both leagues were vying for talent from the same base of college players.
The AFL's television contract with NBC-TV gave Lamar Hunt's league new life and was further evidence to NFL owners that it wasn't going away. Consequently, Dallas Cowboys' general manager Tex Schramm, representing the NFL, reached out to Hunt in April of 1966 to discuss what he termed "a matter of mutual importance."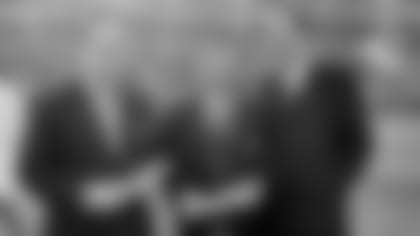 The NFL owners had come to the conclusion that it would at least consider a merger between the two leagues, if Hunt and his fellow owners would be interested.
Here was what Hunt had wanted all along — not a battle for supremacy, but a coming together to offer what was fast becoming America's favorite sport.
Hunt's success in keeping his league afloat – and his owners buying collegiate stars that the NFL had at one time sole right to – had brought the older and more established league to the realization that the time had come to where an accommodation with the upstart league might be reached.
Schramm was to be the NFL's envoy, and he initiated secret talks with Hunt which, in time, would result in a negotiated agreement to merge the two leagues. In the meantime, the battle went on for players with one difference: the NFL now showed its hand that it would pursue AFL players whose contracts had run out.
Such a move was clearly proof — although unsaid as yet in words — that the NFL had some respect for the quality of player the younger league was turning out.
The signing by the NFL's New York Giants of Buffalo Bills' kicker Pete Gogolak threatened to break off negotiations, especially when the Oakland Raiders countered by attempting to sign Los Angeles Rams' quarterback Roman Gabriel.
Al Davis, who had only recently been named the AFL's new commissioner, believed the response to the NFL's move would strengthen Hunt's hand as the talks began to heat up. Hunt held a different opinion. Davis, soon to be out of a job he had just taken, was unhappy he had been left out of the negotiations; Jets' owner Sonny Werblin was not pleased on what an agreement might do to his growing season ticket base in a city that had an NFL franchise.
But, over time, both Schramm and Hunt tempered emotions from within their respective sides. By May, a deal had been reached that owners from both leagues could live with, although a few AFL owners griped at paying the NFL an initiation fee to join.
Throughout the negotiations, Hunt made clear that all AFL teams (Miami would join in 1966 and Cincinnati in 1968) were to be included in a now expanded NFL, or there would be no deal.
The planned merger between the AFL and NFL was announced in a joint press conference on June 8, 1966. Hunt, Schramm and NFL commissioner Pete Rozelle were in attendance.
Football remained Hunt's greatest joy throughout his life and only strengthened his connection to an America that continues to embrace the game as part of its ethos.