A photograph can be a powerful thing.
It has the ability to capture the raw emotion of a singular moment – whether that be a game-winning touchdown or a fan experiencing their first trip to Arrowhead Stadium.
We began exploring some of those moments from the 2018 season last month and will continue to do so over the next several weeks along with commentary from Chiefs' photographer Steve Sanders.
Sanders, who has been on the job for over 20 seasons, hand selected each of the photos we'll feature over the next two months as his personal favorites.
Here's a look back at what we've covered so far:
We'll continue with No. 7.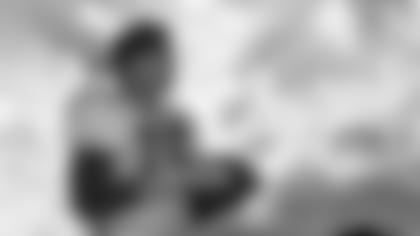 Training Camp in St. Joseph, Mo.
The subject: Chiefs' quarterback Patrick Mahomes warmed up for practice in front of a backdrop of incredible sunlight and clouds.
On why he included it in this collection: "We had been at training camp a couple weeks, and [photography intern] Matt Starkey got out to practice early that morning. The clouds were just heavenly – there were these great sun rays coming through," Sanders said. "Matt asked Patrick to pose for a picture for him before things got started, and he agreed. He was just throwing the ball back and forth and stopped there for a second, and Matt was able to add just a little bit of light to this and create this image…it's one of my favorite pictures from the year."
On the additional meaning behind this photo knowing that it was taken before Mahomes' magical 2018 season: "It created this hero portrait with Patrick and the sun rays around him," Sanders said. "You can look at this and just enjoy what he brought us."
On his thoughts when he first saw this photo: "When I first saw this picture, I thought, 'Well, I guess Matt is going to be able to shoot everything I need him too,'" Sanders said. "The kid had it."
Check back next week for another one of Sanders' top moments from 2018.