The Kansas City Chiefs addressed their offensive line in a big way this offseason with a number of high-profile moves, and with Organized Team Activities (OTAs) now well underway at the team practice facility, that new-look group is working on the field together for the very first time in preparation for the 2021 campaign.
That includes offensive tackle Orlando Brown Jr. - who the Chiefs acquired from the Baltimore Ravens prior to the draft – prized free agent signee Joe Thuney at guard, rookie center Creed Humphrey and veteran guard Kyle Long, who came out of retirement to compete for a spot on the defending AFC champions.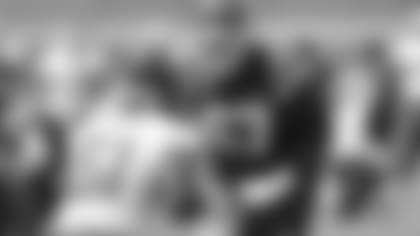 Kansas City also signed veteran center Austin Blythe in free agency, drafted guard Trey Smith in the sixth round and retained offensive linemen Mike Remmers and Andrew Wylie to compete with a group that already included Nick Allegretti, Yasir Durant, Martinas Rankin, Darryl Williams and Prince Tega Wanogho – each of whom possess positional versatility along the line.
Additionally, guard Laurent Duvernay-Tardif and lineman Lucas Niang are both returning to the fold after opting out of the 2020 season, rounding out a group that includes 15 players and an abundance of talent.
It's certainly a good problem to have, and while the prevailing question of the offseason will center around which of those 15 players will emerge as the Chiefs' starting five offensive linemen, this introductory period is all about the learning the system and how each other communicates.
"It's an ongoing process," said Chiefs' offensive line coach Andy Heck on Thursday. "The challenges are to gel together as a unit and for us to find that starting unit, plus the guys who will ultimately be on our roster, but more importantly, [it's important] that they're communicating well together and speaking the same language."
That experience working and communicating with one another extends beyond just the linemen themselves, too, as quarterback Patrick Mahomes is utilizing OTAs to get acquainted with many of these players for the first time.
"I think for that whole group, it's good to be out there and to have these guys here. [This is when] you start building that chemistry and communication that you need as an offense," Mahomes said. "I think we're doing a good job of learning and not making the same mistake twice."
In fact, Mahomes – who's now entering his fourth season as a starter in the NFL – has taken on a leadership role in that process with the Chiefs' youngest linemen, mirroring in a sense what he experienced as a young player behind a veteran offensive line several years ago.
"When I first came into the league, I had a lot of veteran guys who helped me when I was at the line of scrimmage – guys like Eric Fisher, Mitch Schwartz and Mitch Morse. They helped me to communicate and to ensure that we were all on the same page," Mahomes said. "Now, we have a new group of guys who are extremely intelligent and who know the game of football, but I can show them how I communicate and how I do things at the line of scrimmage. We're building that chemistry, which I think is really cool, and it's going to help us in the long run as we learn how each other thinks."
That budding chemistry is particularly exciting when considering the collective youth the Chiefs' have assembled up front. The storyline this offseason has primarily been focused on how Kansas City's remade offensive line will help the Chiefs this season, but this group also has the potential to grow into a dominant force for years to come.
Only two of the 15 linemen on the Chiefs' current roster are 30 years old or older (Long and Remmers). Kansas City's two major acquisitions during the offseason, Brown (25) and Thuney (28) are right in the middle of their athletic prime, while Niang (22), Humphrey (21) and Smith (22), among others, are rife with potential.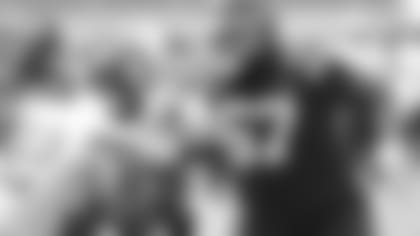 In the case of Humphrey, that potential – which goes beyond just his physical traits - enticed the Chiefs to select him with the No. 63 overall pick back in April.
"What I liked most about him [during the scouting process] was his intelligence and his leadership ability," Heck said. "You're looking for alpha [personalities] – guys who won't shy away from a challenge – and I like his confidence. I also like his intelligence, whether that be his football or social smarts. So far, he's been everything we hoped for in that regard."
The six-foot-five, 321-pound Smith was diagnosed with blood clots in his lungs midway through his college career – forcing him to miss some time - but he bounced back in a big way by yielding just one sack, four hits and 12 hurries across 754 pass-blocking snaps during his final two years at Tennessee.
He was simply one of the top players in the nation during that span, and at least so far, Heck is pleased with what he's seen out at practice.
"I think that Trey has the [potential to be] a starting guard in his future. How fast will that come? That's difficult to predict, but he has all the physical and mental tools that you [need]," Heck said. "He loves football, he loves to compete and he's an extremely physical person – these things jump out at you when you watch the tape. Now, how fast can be learn our system? We'll see, but he's certainly off to a good start and he's working very hard at it."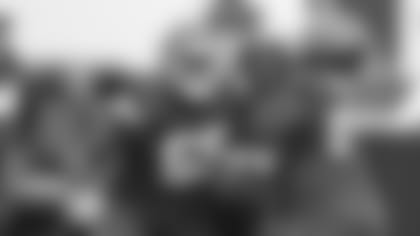 That's encouraging news as the Chiefs look to not only find the right starting combination up front, but also to pool viable, talented depth along the offensive line in preparation for a long season.
"You just want to build depth – I think that's the biggest thing. [Between who we've brought in and kept], the competition is high every single day. I feel like we had good guys in that room last year, but [when you] continue to add more talent, it brings out the best," Mahomes said. "That's what you want on a winning team with winning culture. You have to earn your spot every single day with the mindset of always getting better. That brings out the best in everybody."
That competition is only just now getting started, and Heck made sure to note that the serious position battles won't really get underway until the pads come on, but the talent alone that Kansas City has amassed up front is reason for excitement.
"Here's the beautiful thing about all of these guys: they love football. They're all top-notch people who are hard workers and who come in every day excited to work at their craft. They like each other, too, and they're having fun out there," Heck said. "Do I expect that these guys will be able to come together and gel by early September? Absolutely. That's my expectation."