Here's everything you need to know if you're coming to the game.
National Anthem: Republic Records recording artist and Season 9 winner of The Voice, Jordan Smith, will perform our National Anthem
Color Guard: The Liberty Fire Department Honor Guard
Coca-Cola Coin Toss Captain: Avion Jones
Game Ball Presentation: Kyle Leighton-Floyd
Blue KC First Pass: Cameron Black
Drum Ceremony Honoree: Kansas City Royals' outfielder Alex Gordon
Halftime: Two-hundred and fifty Junior Chiefs Cheerleaders from throughout Chiefs Kingdom will perform alongside the 2018 Chiefs Cheerleaders under the direction of Chiefs Cheer Director Stephanie Judah.
3:00 p.m. – Ford Tailgate District Opens
5:00 p.m. – Scout Investments Club Level Opens (For Club Level Ticketed Guests Only).
5:30 p.m. – All Stadium Gates Open
Prepay: Fans are encouraged to prepay for parking to save money and time at the gate. Purchasing a pass in advance not only helps save time at the tollgates, but also provides you with the lowest parking price. Click here to purchase your single game parking pass in advance for $35 (Ticketmaster fees apply). On event days, parking is only available for purchase at the gate for $60 cash ($100 for a Bus/RV).
Arrive Early to park closest to the stadium. The parking lots open at 2:30 p.m. Guests that arrive later will be parked in the outer lots.
Mobile Ticketing: Don't forget to add your tickets and/or parking pass to your mobile wallet on your phone via the Chiefs Mobile App for expedited entry.
As a reminder, you are unable to print any tickets and/or parking for the game.
What's Going on at Arrowhead?
Play Football: As part the NFL's "Play Football" initiative to celebrate youth and high school football, "Fuel Up to Play 60" kids will line the spirit tunnel during Chiefs' player introductions in partnership with Midwest Dairy. Additionally, the Mill Valley Jaguars (Shawnee, Kansas) will be on the field pregame to watch the teams warm up.
"Play Football" branding will also appear on the field, goalposts, banners and various other locations throughout Arrowhead.
"Play Football" is a year-round initiative celebrating youth and high school football. The initiative aims to shape football experiences for flag and tackle participants, highlight coaches and ambassadors who promote values of football participation and to connect the football community through positive messages and experiences.
Hometown Hero 1st Responder Honoree:** The Chiefs will recognize Jefferson City Fire Department Assistant Fire Chief Tim Grace as the Hometown Hero 1st Responder Honoree during the second quarter. A native of Warsaw, Mo., Assistant Fire Chief Grace began serving his community in 1991, working his way to his current position in 2011. He's played a pivotal role in the JCFD fleet replacement plan and has spent thousands of hours ensuring that the department's fire trucks are functional, efficient, and safe. He embodies the Jefferson City Fire Department Motto: "Serve People, Shield Property, Save Lives."
Salute to Service Honoree: Senior Chief Daniel Tiffee will be recognized as the Chiefs' Salute to Service Honoree on Sunday during the third quarter. Senior Chief Tiffee has served 27 years in the United States Navy, spending time in nine states and over 30 countries throughout his career. A decorated Navy man, Senior Chief Tiffee will retire this December.
50/50 Raffle: The Hunt Family Foundation 50/50 Raffle will benefit the Guadalupe Centers on Sunday night. The mission of the Guadalupe Centers is to improve the quality of life for individuals in the Latino communities of Greater Kansas City by providing education, access to health and social services, promoting cultural enrichment events and sponsoring social activities that engage Kansas City's diverse Latino communities. Fans can purchase three tickets for $5, 10 tickets for $10 and, as a "Primetime Special," 100 tickets for $20. For more information on the Guadalupe Centers, click here, and for information on the Hunt Family Foundation 50/50 Raffle, click here.
The Ford Tailgate District is open to all fans before home games. This party zone is free to enter and features drink specials, food trucks, games, and live entertainment until kickoff. Be sure to check it out during pregame on the north side of the stadium right in front of the Chiefs Pro Shop.
Additionally, NBC's "Sunday Night Football" bus will be open to fans at the Ford Tailgate District prior to kickoff. Featured on the bus will be a Carrie Underwood SNF Open experience, a selfie-mirror presented by @OnHerTurf – a partnership between Refinery29 and NBC Sports - and an area showcasing SNF's new initiative with Boys & Girls Clubs of America. In addition, fan favorites returning to the bus include a life-size player wall, the official "Player of the Game Ball" that's signed at the end of every SNF matchup and a replica of the "Football Night In America" desk.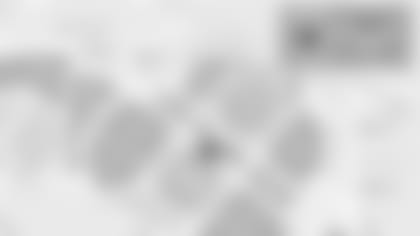 STM Kickoff Countdown Tent
The STM Kickoff Countdown hospitality tent is an exclusive area for Season Ticket Members on game day. Open beginning at 5:30 p.m. until kickoff, this ticketed event space offers Season Ticket Members complimentary hors d'oeuvres, beer, wine and non-alcoholic drinks. Located between Gate G and the Hy-Vee Gate on the Plaza Level, the tent also features a DJ, photo booth, KC Wolf and Chiefs Cheerleaders, plus a STM-branded koozie giveaway. To secure STM Kickoff Countdown tickets, Season Ticket Members may click here or do so through the Chiefs Mobile App.
Be A Designated Driver: Visit a Fans First booth to sign up for the designated driver program. By committing to be a designated driver, you are pledging that you are 21 years of age or older, you will not be drinking alcoholic beverages at the game and you will provide responsible transportation for your group. Click here for more information.
Chiefs Mobile App: Once connected to "Arrowhead Wi-Fi" enhance your game day experience with the Chiefs Mobile app featuring exclusive in-stadium access to NFL RedZone, live video feeds, video highlights, replays from every drive and much more. To download the Chiefs Mobile App, visit either the Apple App Store or Google Play.
1. All fans will walk through metal detectors.
2. The Clear Bag Policy is in effect. Fans will be able to carry the following style and size bag, package, or container at stadium plaza areas, stadium gates, or when approaching queue lines of fans awaiting entry into the stadium:
-Bags that are clear plastic, vinyl or PVC and do not exceed 12" x 6" x 12".
-One-gallon clear zip-seal bag (Ziploc bag or similar).
-Small clutch bags that do not exceed 4.5" x 6.5", with or without a handle or strap, may be carried into the stadium along with one of the clear bag options.
-An exception will be made for medically necessary items after proper inspection.
For more information on what items are permitted inside the stadium, click here.
Text: "Chiefs" "Your Location" and "Issue" to 69050
Visit: Any Fans First booth located throughout the stadium and in the parking lots.