The Kansas City Chiefs are back at Arrowhead Stadium on Sunday afternoon to take on the Denver Broncos at 12:00 p.m. CT.
Here's everything you need to know if you're coming to the game.
National Anthem: Erica Bread, a member of the Kiowa and Cherokee Nations of Oklahoma and one of Sunday's American Indian Heritage Month Honorees, will perform our National Anthem.
Color Guard: Native American Veterans of Kansas City
Flyover: Two Blackhawk Helicopters from the 1st Battalion, 108th Aviation, Kansas City National Guard will fly over Arrowhead at the conclusion of the National Anthem (weather permitting).
Coca-Cola Coin Toss Captain: Holly Draper
Game Ball Presentation: Graham McMorrow
Blue KC First Pass: Marilyn Alstrom
Drum Ceremony Honoree: Chiefs' Hall of Fame safety and 2019 Pro Football Hall of Fame Finalist Johnny Robinson
Halftime: Four local youth football teams will take part in a scrimmage on the field during halftime as part of the NFL's "Play Football" initiative.
7:30 a.m. – Ford Tailgate District Opens
9:30 a.m. – Scout Investments Club Level Opens (For Club Level Ticketed Guests Only)
10:00 a.m. – All Stadium Gates Open
Prepay: Fans are encouraged to prepay for parking to save money and time at the gate. Purchasing a pass in advance not only helps save time at the tollgates, but also provides you with the lowest parking price. Click here to purchase your single game parking pass in advance for $35 (Ticketmaster fees apply). On event days, parking is only available for purchase at the gate for $60 cash ($100 for a Bus/RV).
Arrive Early to park closest to the stadium. The parking lots open at 7:00 a.m. Guests that arrive later will be parked in the outer lots.
Mobile Ticketing: Don't forget to add your tickets and/or parking pass to your mobile wallet on your phone via the Chiefs Mobile App for expedited entry.
As a reminder, you are unable to print any tickets and/or parking for the game.
What's Going on at Arrowhead?
American Indian Heritage Month Game: The Kansas City Chiefs are proud to recognize American Indian Heritage Month throughout the month of November and to honor the rich and diverse cultures, traditions and histories of our community in addition to acknowledging the important contributions of native people.
As part of the day's pregame festivities, Vice Chairman Fred Thomas and Treasurer Russell Bradley from the Kickapoo Nation of Kansas will lead a traditional American Indian "Blessing of the Four Directions" in the way of their people. The blessing is meant to bring a sense of preparation and good spirit to the day. After the blessing, the Native American drum group, "The Young Bucks," will prepare the Chiefs drum for a special gathering by performing an Honor Song.
Prior to kickoff, the national anthem will be performed by Erica Bread, a member of the Kiowa and Cherokee Nations of Oklahoma and the colors will be presented by Native American Veterans of Kansas City.
Hometown Hero 1st Responder Honoree: The Chiefs will recognize Officer Dillon Powell of the St. Joseph Police Department as the Hometown Hero 1st Responder Honoree during the second quarter. Last April, Officer Powell responded to reports of a vehicle crash and, upon arrival, found an individual trapped inside a burning car that was also stuck on railroad tracks. Despite the vehicle being engulfed in flames, Officer Powell managed to break a window, unlock the door and pull the unconscious occupant to safety. His quick actions undoubtedly saved the man's life.
Salute to Service Honoree: SFC Johnathon Balcom will be recognized as the Chiefs' Salute to Service Honoree on Sunday during the third quarter. SFC Balcom is stationed at Fort Leonard Wood, Missouri as the Senior Drill Sergeant. He's served in the Army for 13 years as a Military police officer, deploying to Iraq as a driver in support of Operation Iraqi Freedom from 2006-2007 and again from 2008-2010 as a team leader on a police transition team where he helped train Iraqi police. He was recently selected as the Fort Leonard Wood Joint Non-commissioned Officer of the Year for 2018.
DiPardo Spirit Leader: Gary Johnson, a Chiefs Red Coater and one of Sunday's American Indian Heritage Month Honorees, will serve as the DiPardo Spirit Leader in the fourth quarter.
50/50 Raffle: The Hunt Family Foundation 50/50 Raffle will benefit the United Way on Sunday. The United Way, in partnership with the NFL, improves lives by mobilizing the caring power of communities around the world to advance the common good. Fans can purchase three tickets for $5, 10 tickets for $10 and 60 tickets for $20. For more information on the United Way, click here, and for information on the Hunt Family Foundation 50/50 Raffle, click here.
The Ford Tailgate District is open to all fans before home games. This party zone is free to enter and features drink specials, food trucks, games, and live entertainment until kickoff. Be sure to check it out during pregame on the north side of the stadium right in front of the Chiefs Pro Shop.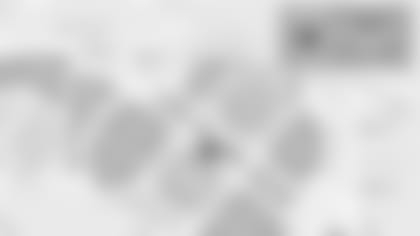 STM Kickoff Countdown Tent
The STM Kickoff Countdown hospitality tent is an exclusive area for Season Ticket Members on game day. Open beginning at 10:00 a.m. until kickoff, this ticketed event space offers Season Ticket Members complimentary hors d'oeuvres, beer, wine and non-alcoholic drinks. Located between Gate G and the Hy-Vee Gate on the Plaza Level, the tent also features a DJ, photo booth, KC Wolf and Chiefs Cheerleaders, plus a STM-branded koozie giveaway. To secure STM Kickoff Countdown tickets, Season Ticket Members may click here or do so through the Chiefs Mobile App.
For the fifth year in a row, the Fellowship of Christian Athletes (FCA) has joined with the Kansas City Chiefs to offer a non-denominational pregame chapel service for fans at Arrowhead Stadium who may miss their normal Sunday worship opportunities due to Chiefs' games. The service, which is held on the east side of the Pavilion on the south side of Arrowhead Stadium, will take place every week there is a noon home game. Every service will feature a message and supplemental worship beginning at 9:30 a.m. and concluding by 10:15 a.m. Sunday's service will be led by Chiefs' running back J.D. Moore and music will be performed by Marvin Mumford.
Be A Designated Driver: Visit a Fans First booth to sign up for the designated driver program. By committing to be a designated driver, you are pledging that you are 21 years of age or older, you will not be drinking alcoholic beverages at the game and you will provide responsible transportation for your group. Click here for more information.
Chiefs Mobile App: Once connected to "Arrowhead Wi-Fi" enhance your game day experience with the Chiefs Mobile app featuring exclusive in-stadium access to NFL RedZone, live video feeds, video highlights, replays from every drive and much more. To download the Chiefs Mobile App, visit either the Apple App Store or  Google Play.
1. All fans will walk through metal detectors.
2. The Clear Bag Policy is in effect. Fans will be able to carry the following style and size bag, package, or container at stadium plaza areas, stadium gates, or when approaching queue lines of fans awaiting entry into the stadium:
-Bags that are clear plastic, vinyl or PVC and do not exceed 12" x 6" x 12".
-One-gallon clear zip-seal bag (Ziploc bag or similar).
-Small clutch bags that do not exceed 4.5" x 6.5", with or without a handle or strap, may be carried into the stadium along with one of the clear bag options.
-An exception will be made for medically necessary items after proper inspection.
For more information on what items are permitted inside the stadium, click here.
Email: fanexperience@chiefs.com
Text: "Chiefs" "Your Location" and "Issue" to 69050
Visit: Any Fans First booth located throughout the stadium and in the parking lots.