The Kansas City Chiefs return to Arrowhead Stadium on Sunday to kick off the Divisional Round of the postseason against the Houston Texans at 2:05 p.m. CT.
Here's everything you need to know if you're coming to the game.
Construction Surrounding Arrowhead: All fans are reminded that MoDOT has commenced a multi-year construction project on sections of I-435 and I-70. Please be advised that there will be detours on game day at the I-435 and I-70 Interchange for travelers on Southbound I-435 toward Arrowhead Stadium. Complete information regarding detours and construction plans can be found at modot.org/node/16145 and modot.org/i-435-and-i-70-interchange.
Giveaway Item: The first 50,000 fans to enter Arrowhead Stadium will receive a commemorative 60th season Chiefs Kingdom flag, sponsored by Hy-Vee and CommunityAmerica Credit Union. Chiefs Kingdom flags will be distributed at all Arrowhead Stadium gates, while supplies last.
National Anthem: Winner of Season 9 of NBC's The Voice, Jordan Smith, will perform our National Anthem. A full-field American flag will be displayed on the Arrowhead Stadium playing surface during the performance of the National Anthem, as 150 Chiefs Season Ticket Members and Chiefs Red Coaters hold the full-field flag.
Color Guard: The colors will be presented by representatives from the Kansas City, Kansas Fire Department.
Flyover: Four F/A-18 Hornets from Naval Air Station Oceana in Virginia Beach, Va., are scheduled to perform a pregame flyover (weather permitting).
Lamar Hunt Legacy Seat Honoree: Tom Kruse, Raymore-Peculiar H.S. Head Football Coach and Activities Director, will be Sunday's Lamar Hunt Legacy Seat Honoree. Kruse, the 2004 and 2005 Chiefs High School Coach of the Year, is set to retire following the 2019-20 school year after 20 years of service to the school district.
GEHA Drum Deck Honoree: Former Chiefs' linebacker Tamba Hali will be Sunday's Drum Honoree in the brand-new GEHA Drum Deck located below the west scoreboard on the upper level.
NFL's 100th Anniversary Team: Throughout the game, select former Chiefs players who were named to the NFL's 100th Anniversary All-Time team will be recognized on the GEHA Drum Deck.
Tony DiPardo Spirit Leader: Kansas City native, actor and comedian Eric Stonestreet will serve as the game's Tony DiPardo Spirit Leader. This will also take place on the new GEHA Drum Deck.
9:30 a.m. – Ford Tailgate District Opens
11:30 a.m. – CommunityAmerica Club Level Opens (For Club Level Ticketed Guests Only)
12:00 p.m. – All Stadium Gates Open
Prepay: Fans are encouraged to prepay for parking to save money and time at the gate. Purchasing a pass in advance not only helps save time at the tollgates, but also provides you with the lowest parking price. Click here to purchase your single game parking pass in advance for $50, which can be accessed via the Chiefs Mobile App. On game day, parking is only available for purchase at the gate for $60 cash ($100 for a Bus/RV).
Arrive Early to Park Closest to the Stadium. The parking lots open at 9:00 a.m. Guests that arrive later will be parked in the outer lots.
Rideshare: Through an Arrowhead Events partnership with zTrip, Arrowhead Stadium guests have the opportunity to be dropped off and picked up within the Truman Sports Complex grounds. Guests taking the zTrip option will be dropped-off and picked-up on the east side of Arrowhead Stadium across from Lots A & B on Red Coat Drive. zTrip's fleet includes a number of transportation options at various price ranges including local taxis, shuttles and limousines. To learn more or to book your zTrip, click here.
Guests and non-zTrip transportation vehicles, including other ride-sharing services, may drop off and pick up at the Missouri Welcome Center located between Gates 1 and 2 on Blue Ridge Cutoff at no charge.
Mobile Ticketing: Don't forget to access your mobile tickets and parking pass via the Chiefs Mobile App prior to Game Day. Have your tickets ready to be scanned prior to reaching stadium security.
As a reminder, you are unable to print any tickets and/or parking for the game and no mobile screenshots will be valid for entry.
What's Going on at Arrowhead?
Ford Tailgate District: The Ford Tailgate District is open to all fans before home games. This party zone is free to enter and features drink specials, food trucks, games, and live entertainment until kickoff. Be sure to check it out during pregame on the north side of the stadium right in front of the Chiefs Pro Shop.
Good Morning Football's Kay Adams, along with NFL Network analysts Maurice Jones-Drew and Steve Smith Sr., will be present inside of the Ford Tailgate District on Sunday for the network's NFL Gameday Morning program. The 7-foot-tall Patrick Mahomes bobblehead will also be present inside of the Ford Tailgate District on Sunday, granting fans the opportunity to take a photo with the special playoff figure.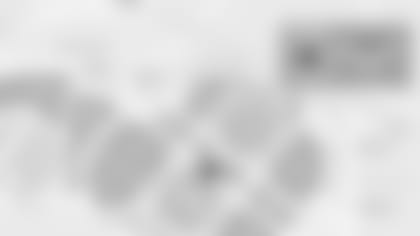 GEHA Drum Deck: New in 2019, the Chiefs are introducing an exciting new space to the Arrowhead Stadium gameday experience: the GEHA Drum Deck. Located below the west scoreboard in the upper level, the GEHA Drum Deck is a new, permanent site for two gameday traditions – the Drum Honoree and the Tony DiPardo Spirit Leader.
The new GEHA Drum Deck takes an exciting and important part of the gameday experience from the field level and elevates it to a more prominent position in the stadium, bringing fans in the upper level closer than ever before to a pair of special Arrowhead traditions.
Lamar Hunt Legacy Seat: To help celebrate the franchise's 60th season, the Kansas City Chiefs introduced the Lamar Hunt Legacy Seat at Arrowhead Stadium. For each home game in the 2019 season, the Chiefs will select one honoree (plus one guest) who embodies the spirit of Lamar Hunt and represents the four pillars of the Chiefs Mission: Win with Character, Unite our Community, Inspire our Fans and Honor Tradition.
The two gold seats are located in Section 121 of the lower bowl, symbolically positioned under Lamar Hunt's name in the team's Ring of Honor. Sunday's honoree is Tom Kruse, Raymore-Peculiar H.S. Head Football Coach and Activities Director. Kruse, the 2004 and 2005 Chiefs High School Coach of the Year, is set to retire following the 2019-20 school year after 20 years of service to the school district. In his 20 seasons as the Ray-Pec Panthers Head Football Coach, Kruse's teams accumulated three MSHSAA State Championships, one second-place finish and nine district titles. Kruse and Ray-Pec finished the 2019 season 10-3, winning the Missouri Class 6 District 4 title. Kruse's dedication and service to the Raymore-Peculiar School District embodies Chiefs Founder Lamar Hunt's vision of uniting our community.
50/50 Raffle: The Hunt Family Foundation 50/50 Raffle will benefit Youth Education Programs on Sunday. Tickets are three for $5 and 10 for $10, with a special playoff special of 100 tickets for $20.
The winning ticket will be announced during the fourth quarter of the game and winners do not need to be present to win. Raffle tickets will remain on sale through the end of the third quarter. To help make purchasing raffle tickets at Arrowhead Stadium more accessible, a credit card option is now available at kiosks located inside the stadium. The winner has 30 days to redeem their ticket. The winning ticket will be announced in-stadium and on this page.
NEW! For fans that can't attend the game and are in the state of Missouri, raffle tickets can be purchased online*. To learn more about the 50/50 Raffle or to purchase your tickets, click here.
Hometown Hero: KCMO Fire Chief Donna Maize will be Sunday's Hometown Hero. Maize is the first female to lead the Kansas City Missouri Fire Department in its 151-year history. Maize uses her platform to be a role model and inspire young women who may consider a career in fire and emergency services.
Salute to Service Honoree: Technical Sergeant Joe Gordon, Staff Sergeant Joshua Shafer, Technical Sergeant Cody Verbanac and Technical Sergeant Kyle Nizzio will all be recognized as Sunday's Salute to Service Honorees. For the second straight year, these soldiers went door-to-door at Wichita's Wesley Children's Hospital to surprise patients with military-dressed teddy bears as a method of spreading holiday cheer.
Be A Designated Driver: Visit a Fans First booth to sign up for the designated driver program. By committing to be a designated driver, you are pledging that you are 21 years of age or older, you will not be drinking alcoholic beverages at the game and you will provide responsible transportation for your group. Click here for more information.
Chiefs Mobile App: Once connected to "Arrowhead Wi-Fi" enhance your game day experience with the Chiefs Mobile app featuring exclusive in-stadium access to NFL RedZone, live video feeds, video highlights, replays from every drive and much more. To download the Chiefs Mobile App, visit either the Apple App Store or  Google Play.
1. All fans will walk through metal detectors. No divesting is needed, so keep things like your keys and wallet in your pockets.
2. The Clear Bag Policy is in effect. Fans will be able to carry the following style and size bag, package, or container at stadium plaza areas, stadium gates, or when approaching queue lines of fans awaiting entry into the stadium:
-Bags that are clear plastic, vinyl or PVC and do not exceed 12" x 6" x 12".
-One-gallon clear zip-seal bag (Ziploc bag or similar).
-Small clutch bags that do not exceed 4.5" x 6.5", with or without a handle or strap, may be carried into the stadium along with one of the clear bag options.
-An exception will be made for medically necessary items after proper inspection.
-Backpacks of any kind (including clear plastic) are not permitted.
For more information on what items are permitted inside the stadium, click here.
Email: fanexperience@chiefs.com
Text: "Chiefs" "Your Location" and "Issue" to 69050
Visit: Any Fans First booth located throughout the stadium and in the parking lots.