The Kansas City Chiefs kick off the preseason on Thursday night against the Houston Texans at 7:30 p.m. CT. Here's everything you need to know if you're coming to the game.
National Anthem: The Liberty Belles will perform our National Anthem prior to kickoff. The duet consists of Caroline Kellam & Avery Ellis, high school juniors from Frisco, Texas, who have performed the National Anthem across professional and college sports over the past four years.
Color Guard: The Smith Cotton JROTC Color Guard will present the American Flag
Halftime: Spirit Day Performance by 200 Youth Dancers | Chiefs Charity Game Check Presentation
3:00 p.m. – Ford Tailgate District Open
5:00 p.m. – Scout Investments Club Level Opens (For Club Level Ticketed Guests Only).
5:30 p.m. – All Stadium Gates Open
Prepay: Fans are encouraged to prepay for parking to save money and time at the gate. Purchasing a pass in advance not only helps save time at the tollgates, but also provides you with the lowest parking price. Click here to purchase your single game parking pass in advance for $35 (Ticketmaster fees apply). On event days, parking is only available for purchase at the gate for $60 cash ($100 for a Bus/RV).
Arrive early to park closest to the stadium: The parking lots open at 2:30 p.m. Guests that arrive later will be parked in the outer lots. All fans are reminded that there will be increased traffic throughout the city for Thursday's game due to the outbound rush hour commute. Fans may experience delays and traffic congestion that they might not normally experience for weekend contests and are therefore encouraged to plan accordingly.
Mobile Ticketing: Don't forget to add your mobile tickets and/or parking pass to your mobile wallet on your phone via the Chiefs Mobile App for expedited entry.
What's Going on at Arrowhead?
Thursday marks the 34th annual Chiefs Charity Game. Recognized as the top philanthropic game of its type in the NFL, it continues the Chiefs' long-standing commitment of offering vital support in the local community that was started by team Founder Lamar Hunt more than three decades ago. Since its inception in 1985, the Chiefs Charity Game has raised more than $13.3 million, with more than $6 million being raised in the last decade alone.
Last September, the Chiefs announced that Cornerstones of Care will be this year's beneficiary. Dating back to 1871, Cornerstones of Care has a long legacy of partnering with children and families to create safe and healthy communities. Annually, Cornerstones of Care serves more than 7,000 children and families through education, mental & behavioral health, foster care & adoption, youth & family support, and community trainings in Kansas, Missouri and beyond.
The 2018 season will be the first with Cornerstones of Care as the beneficiary.
50/50 Raffle: The Hunt Family Foundation 50/50 Raffle will also benefit Cornerstones of Care, so all fans who attend Thursday's game will be able to support this cause. Fans can purchase three tickets for $5, 10 tickets for $10 and 60 tickets for $20. For more information on Cornerstones of Care, click here, and for information on the Hunt Family Foundation 50/50 Raffle, click here.
Making its debut for the 2018 football season is the Ford Tailgate District, which will be open to all fans before home games. This party zone is free to enter and will feature drink specials, food trucks, games, and live entertainment until kickoff. Be sure to check it out during pregame on the north side of the stadium right in front of the Chiefs Pro Shop.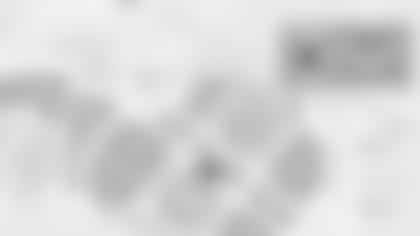 Be A Designated Driver: Visit a Fans First booth to sign up for the designated driver program. By committing to be a designated driver, you are pledging that you are 21 years of age or older, you will not be drinking alcoholic beverages at the game and you will provide responsible transportation for your group. Click here for more information.
Chiefs Mobile App: Once connected to "Arrowhead Wi-Fi," enhance your game day experience with the Chiefs Mobile app featuring exclusive in-stadium access to NFL RedZone, live video feeds, video highlights, replays from every drive and much more. To download the Chiefs Mobile App, click here for the Apple App Store and here for Google Play.
1. All fans will walk through metal detectors.
2. The Clear Bag Policy is in effect. Fans will be able to carry the following style and size bag, package, or container at stadium plaza areas, stadium gates, or when approaching queue lines of fans awaiting entry into the stadium:
-Bags that are clear plastic, vinyl or PVC and do not exceed 12" x 6" x 12".
-One-gallon clear zip-seal bag (Ziploc bag or similar).
-Small clutch bags that do not exceed 4.5" x 6.5", with or without a handle or strap, may be carried into the stadium along with one of the clear bag options.
-An exception will be made for medically necessary items after proper inspection at a gate designated for this purpose.
For more information on what items are permitted inside the stadium, click here.
Text: "Chiefs" "Your Location" and "Issue" to 69050
Visit: Any Fans First booth located throughout the stadium and in the parking lots.