A handful of fans had a front row seat for Minicamp practice on Wednesday as the Kansas City Chiefs hosted the annual "First Look" at the University of Kansas Heath System Training Complex.
Among those lining up along the sideline were Red Coaters, suite holders, corporate partners and Season Ticket Members, many of whom won the opportunity through a Chiefs Kingdom Rewards (CKR) raffle.
It existed as a way of giving fans an exclusive glimpse of what to look forward to at Training Camp and during the upcoming season.
"We are constantly looking for ways to reward our Season Ticket Members, suite members and corporate partners for their loyalty to our team," Chiefs' Executive Vice President of Business Operations Tyler Epp said. "Having a behind-the-scenes look at practice is truly a unique experience and I'm glad we had the opportunity to share it with our fans."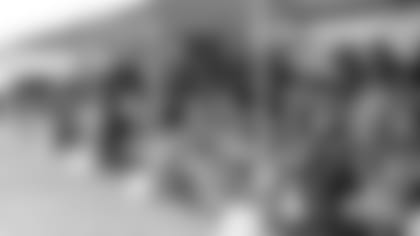 The event provided the over 100 attendees with an afternoon they won't soon forget.
"I've been to Training Camp before, but this is different," said Season Ticket Member Nathan James, a beneficiary of the CKR raffle. "This is just a little more up close and personal. It's a great experience seeing how big and fast the players really are."
That opportunity to watch the players go about their business in such an exclusive setting is what made Wednesday's practice so unique.
"We wanted to come out here to see the new prospects on the team and to watch [quarterback Patrick] Mahomes throw the ball," Season Ticket Member Bob Scatron said. "This is something we've never seen before. It's a lot more personable than a game, just being able to see and hear everything."
In addition to being so close to the action, fans had access to a radio "narrowcast" delivered by "Voice of the Chiefs" Mitch Holthus throughout the afternoon, providing context to the often fast-paced nature of an offseason practice.
"It's nice because he helps explain what's happening," Red Coater and 29-year Season Ticket Member Brenda Garvin said. "I like that they offer this because we don't always understand what's going on, and he even adds other info beyond just what's happening on the field."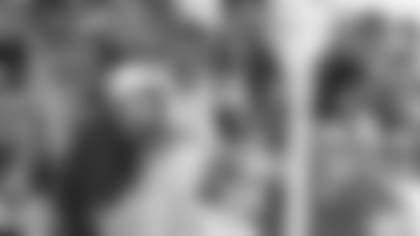 Following practice, Head Coach Andy Reid and General Manager Brett Veach addressed the crowd and thanked them for their support heading into the season. It wrapped up a special afternoon and once again demonstrated the Chiefs' commitment to providing a one-of-a-kind fan experience.
"This doesn't happen in many cities. I've been around to a lot of teams, and Kansas City is unique in this way," Chiefs Ambassador J.C. Pearson explained. "The fans are part of the team and part of the organization, so it's great to have these kinds of events where fans can come out, see the players and feel like they're really a part of all of this."
Kansas City Chiefs fans got their first look at the Chiefs in action at a live practice during Minicamp on Wednesday.