The Kansas City Chiefs' offensive line heads into the 2018 NFL season with all but one contributor still on the roster from last year.
It's important to have that continuity because if this Chiefs' offense, which has garnered plenty of headlines this offseason, is to take that next step as a group, it'll be the offensive line that takes them there.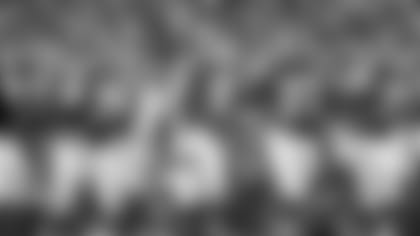 This group is really the engine behind the machine, and regardless of how nice the sports car is that's sitting in the driveway, it doesn't matter if what's under the hood isn't capable of letting that beast get out and do what it's been designed for.
It's the same with the Chiefs' offense, which now features the likes of the NFL's returning rushing champion in Kareem Hunt, the league's most explosive player in Tyreek Hill, arguably the game's best tight end in Travis Kelce, and the new guy—Sammy Watkins, who has proven to be one of the league's elite game-breakers as well.
All of those playmakers are now surrounding second-year player Patrick Mahomes, who takes over as the starting quarterback and whose abilities are widely documented, but he'll need the veteran group up front to guide this offense if it's to find the success many believe is possible, and in some circles, even likely.
There's reason for optimism in this regard as well.
According to Pro Football Focus, the Chiefs had the league's ninth-best pass-blocking offensive line last year. So, that kind of protection would be welcomed for a young gunslinger like Mahomes, who has drawn rave reviews from his coaches and teammates all offseason.
It's also a group that paved the way a year ago for the league's leading rusher in Hunt, so credit needs to be given to the guys who were creating the running lanes for Hunt as well.
The only player along the Chiefs' offensive line from last season who isn't returning is Zach Fulton—the versatile interior swing player who recently signed as a free agent with the Houston Texans. He played in 15 games with 12 starts last year.
Overall, the Chiefs return eight of the nine players who totaled 85 percent of the total snaps played last year along the offensive line.
They should also see the return of fourth-year center Mitch Morse, who played in just seven games last year because of a foot injury. Morse missed all of OTAs but Chiefs' coach Andy Reid said that Morse is making progress. His availability for training camp will be one storyline to watch.
If Morse is healthy, he'll be the guy at center for the Chiefs. Reid confirmed this at his press conference at the end of minicamp a couple of weeks ago.
In Morse's place at center during these offseason workouts was former Cleveland Browns' first-round pick Cam Erving, who came over to the Chiefs via trade at the end of the preseason last year.
"I think he's done a heck of a job," Reid said of Erving during OTAs. "That's a tough position. He's got a lot of responsibility as a transmitter between the right and the left side and making sure the protections are right and so on. He's done a good job with that."
So, with the Chiefs being seemingly set at left tackle with Eric Fisher, center with Morse, right guard with Laurent Duvernay-Tardif, and right tackle with Mitch Schwartz, the one open position right now on the starting offensive line is at left guard, which Reid addressed at his last press conference.
"We're kind working through that right now," Reid said of that spot. "We'll see how that goes."
The four top candidates could include Bryan Witzmann, who started 13 games there last year, Erving, who has experience at the spot as well, Parker Ehinger—the third-year player who has mixed in there a bit this offseason, and also undrafted rookie Ryan Hunter, who could be a young player to watch as we get into training camp.
Hunter played collegiately at Bowling Green and was one of the top players available at his position after the draft.
Top training camp storylines to watch:
Morse's health and availability
When healthy, Morse has proven to be one of the league's most-athletic centers, and much of what the Chiefs' offense wants to do is predicated by the ability of their offensive linemen to get out in space and run down the field.
Morse and Mahomes getting on the same page. It's a new quarterback working with a center that he doesn't yet have a lot of reps with at this point, so getting Morse back in the fold and getting him reps with Mahomes will be a storyline to follow during camp.
As previously mentioned, Reid said the left guard spot isn't yet set, and that makes for an intriguing battle once we get to training camp. It's a pretty veteran group at this point and it'll be important to find some continuity and get that spot solidified as we approach the start of the season.
It can probably be mentioned for every spot on the roster, but with so much being discussed with the Chiefs' offense and the ability of what they look to have, at least on paper as it stands today, the engine up front needs to be running on all cylinders and that means staying healthy through camp and the preseason.
Will a young guy step up?
Whether it's undrafted players from this year like Ryan Hunter or Jimmy Murray, or a number of the other young guys brought in to compete, it's always fun to see which young guys could step up and grab some key reps with the starters during camp.
The transition for Kahlil McKenzie
A lot of people are now aware that the Chiefs' final draft pick from this year—Kahlil McKenzie out of the University of Tennessee—was a defensive lineman in college who will now be making the transition to the offensive line. The Chiefs traded up in the sixth round to select McKenzie, who impressed Chiefs' general manager Brett Veach and his staff after a standout Pro Day workout.