A photograph can be powerful. It possesses the ability to capture the raw emotion of a singular moment through an otherwise fleeting snippet of time, whether that be the thrill of a postseason victory or a fan simply experiencing their first Chiefs' game.
We've been exploring those moments over the last several weeks along with commentary from Chiefs' team photographer Steve Sanders, who has been on the job for more than a decade. Sanders hand-selected each of the 10 photos featured in this series as his personal favorites, picking a variety of images from the 2021 campaign.
Here's a look at what we've covered so far:
We'll wrap up with No. 1: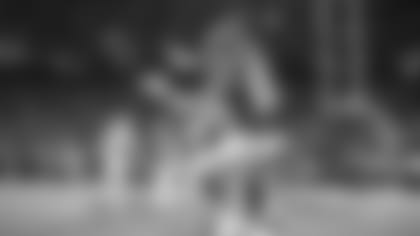 Game: Divisional Round vs. Buffalo
The Subject: Tight end Travis Kelce catches the game-winning touchdown in Kansas City's overtime postseason victory over Buffalo.
Camera Model: Canon EOS-1D X Mark II
Q: How was Sam in such great position to capture this moment?
Sanders: "We all work in specific areas during the game so that we can cover everything without getting in the way of one another, and this was Sam's zone," Sanders said. "This was obviously a really big moment. It's one of those things that when the play is coming at you, you're thinking to yourself, 'I can't mess this up.' Sam captured it perfectly."
Q: I'm sure Sam captured several different frames of this play, why did you choose this one?
Sanders: "We have every frame of this moment, from Travis running the route to his catch and the celebration that followed. I chose this particular frame because of the anticipation. Everybody knows what's about to happen," Sanders said. "The other thing I like about this frame is that you can see the defender reaching out in desperation. He knew that once Travis left his feet, the ball was on its way. He didn't know where the ball was, but he could tell that it's coming, and he did everything he could to prevent the touchdown. Overall, everything about this is just so crisp. The ball is coming in, the laces are out and Travis' hands are ready. It's such a nice shot."
Q: Is it unique when such a terrific photo doesn't include the subject's face?
Sanders: "I think that in this situation, the ball is the subject. Travis has to catch the ball for this all to work, so it's about his hands and the ball coming toward him," Sanders explained. "You almost want to reach out and grab it for him."
Q: How did Sam know to stick with Kelce throughout this play?
Sanders: "That's another example of photographing what comes into your space. He was on the right lens for this, and when the play came in fast, he saw what was developing," Sanders said. "As a photographer, you have to train yourself to make that decision in a hurry and be prepared when the ball comes you way."
Q: Lastly, why was this your favorite photo of the year?
Sanders: "I think this was the biggest moment of the year, and to be able to capture what happened in those moments following the '13 seconds' was awesome," Sanders said. "It was the biggest moment of the season."