A photograph can be powerful. It possesses the ability to capture the raw emotion of a singular moment through an otherwise fleeting snippet of time, whether that be the thrill of a postseason victory or a fan simply experiencing their first Chiefs' game.
We're exploring those moments along with commentary from Chiefs' team photographer Steve Sanders, who has been on the job for more than a decade. Sanders hand-selected each of the 10 photos featured in this series as his personal favorites, picking a variety of images from the 2021 campaign.
Here's a look at what we've covered so far:
We'll continue with No. 2: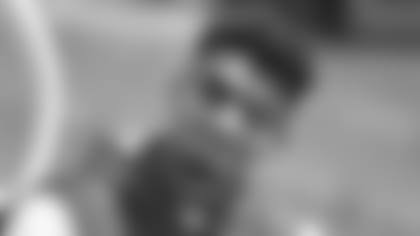 Game: Preseason Week 1 at San Francisco
The Subject: Quarterback Patrick Mahomes smiles for the camera prior to the Chiefs' preseason matchup vs. San Francisco.
Camera Model: Canon EOS-1D X Mark III
Q: What was going on here?
Sanders: "This was prior to our first preseason game against San Francisco. Patrick always comes out to the bench super early on game day and just sits there for 45 minutes or so. It's something he does before he even picks up a ball – he just takes some time to relax and talk to his teammates," Sanders said. "I was out there shooting some general photos, but I turned around and saw Patrick. This picture couldn't be more, 'Patrick being Patrick.' He's just a really genuine guy. He had those sunglasses on, and he just turned around with that smile. I shot a bunch of frames, and as I did it, he was moving his head from side to side working for the camera. It was awesome."
Q: How critical is it for you to build relationships with the players in order to capture moments like this?
Sanders: "Building relationships with these guys is key to what I do and what images I'm able to get. There's a level of trust there. I talk to them, and I want to learn about their lives outside of football," Sanders said. "The strength of those relationships is what leads to these moments."