A photograph can be powerful. It possesses the ability to capture the raw emotion of a singular moment through an otherwise fleeting snippet of time, whether that be the thrill of a postseason victory or a fan simply experiencing their first Chiefs' game.
We're exploring 10 of those moments over the next several weeks along with commentary from Chiefs' team photographer Steve Sanders, who has been on the job for more than a decade. Sanders hand-selected each of the 10 photos featured in this series as his personal favorites, picking a variety of images from the 2021 campaign.
Here's a look at what we've covered so far:
We'll continue with No. 4: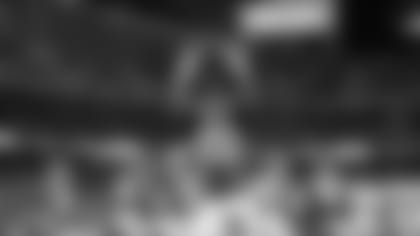 Game: Week 8 vs. New York
The Subject: Defensive lineman Chris Jones gets fired up during a break in the action as the Chiefs went on to defeat New York on Monday Night Football.
Camera Model: Canon EOS-1D X Mark II
Q: What exactly was going on here?
Sanders: "This was in the middle of a timeout, and somehow, Chris got two water bottles. They look like miniature bottles in his giant hands, but those are full-size water bottles that one of the athletic trainers brought out to the huddle," Sanders said. "Everybody else was taking a break, but Chris decided to do a dance – as he often does – when the music was playing, and while he was dancing, he decided he needed a refreshing water shower."
Q: Can you speak to the detail in this photo, notably the individual droplets you can see in the air?
Sanders: "This was super random and one of those moments that was pretty lucky to capture. Andrew happened to see Chris and stay on him – he probably thought he would catch him dancing and make a GIF out of it – but he was in the perfect position to get this," Sanders said. "It just made such a perfect picture because you can see the individual droplets, which was the product of how his camera was set up at a high-speed. He had a high shutter speed and a high frame rate, which is why he was able to get that detail."