A photograph can be powerful. It possesses the ability to capture the raw emotion of a singular moment through an otherwise fleeting snippet of time, whether that be the thrill of a postseason victory or a fan simply experiencing their first Chiefs' game.
We're exploring 10 of those moments over the next several weeks along with commentary from Chiefs' team photographer Steve Sanders, who has been on the job for more than a decade. Sanders hand-selected each of the 10 photos featured in this series as his personal favorites, picking a variety of images from the 2021 campaign.
Here's a look at what we've covered so far:
We'll continue with No. 5: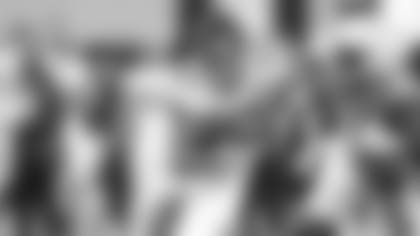 Game: Week 15 at Los Angeles
The Subject: Tight end Travis Kelce breaks free for a 34-yard, game-winning touchdown against Los Angeles.
Camera Model: Canon EOS-1D X Mark II
Q: Tell us the story behind this photo.
Sanders: "When we get the ball first in overtime, our team plans on winning, so as the guys went down the field, I was on the sideline while Andrew was in the end zone. I knew that he would get anything coming at him," Sanders said. "When this play started, it was just a simple, shallow crosser over the middle. Travis caught it for a first down, and there were three or four defenders right there around the ball. I shot a picture of him catching the ball, and the next thing I know, he was running down the field and nobody wanted to tackle him. He ran by something like eight defenders. He just kept crisscrossing across the field, and next thing you know, he was in the end zone and we were running out there to capture the celebration. I just like this picture because you can see how determined Travis was here. I thought it was a fun picture that told a story."
Q: As a photographer, how do you keep your cool in a moment like this?
Sanders: "When these big moments happen, you don't want anything more than to get the picture. You want your picture to tell that timeless story," Sanders said. "There's always going to be time to celebrate once you complete the image, but you have to keep your head down and get it in the moment. That's our philosophy around here. We'll celebrate after it's done."