A photograph can be powerful. It possesses the ability to capture the raw emotion of a singular moment through an otherwise fleeting snippet of time, whether that be the thrill of a postseason victory or a fan simply experiencing their first Chiefs' game.
We're exploring 10 of those moments over the next several weeks along with commentary from Chiefs' team photographer Steve Sanders, who has been on the job for more than a decade. Sanders hand-selected each of the 10 photos featured in this series as his personal favorites, picking a variety of images from the 2021 campaign.
Here's a look at what we've covered so far:
We'll continue with No. 7: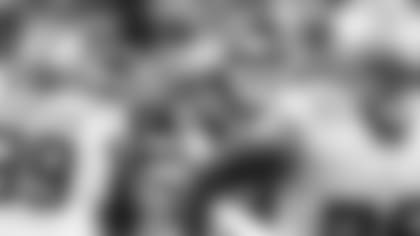 The Subject: Quarterback Patrick Mahomes prepares to throw a pass in the Chiefs' victory over Dallas.
Camera Model: Canon EOS-1D X Mark II
Q: What do you love about this photo?
Sanders: "Pictures like this are super cool just because of the challenge it is to get your subject in focus. Everybody is moving through the frame, and there's just a little pocket that opens where you can see what you want to shoot," Sanders said. "The idea was to capture Patrick here, and you can see his eyes following where he wants to go with the ball. I believe the target was whoever the Cowboys' defender in the right of the shot was covering, so it's cool that it includes that defender in the front of the frame as Patrick gets ready to throw the ball. There's a certain anticipation here, and it stands out among everything else happening in this picture."
Q: Can you speak to the mental focus needed to capture a photo like this?
Sanders: "When you lock in on a subject, you can't worry about everything else that's happening. You have to really stay focused on what you're doing, because the camera is going to want to change focus," Sanders explained. "You'll need to keep bringing it back to that subject, and the timing is critical. For this photo, for example, there was only a split second where the window to capture this was open."