A photograph can be powerful. It possesses the ability to capture the raw emotion of a singular moment through an otherwise fleeting snippet of time, whether that be the thrill of a postseason victory or a fan simply experiencing their first Chiefs' game.
We're exploring 10 of those moments over the next several weeks along with commentary from Chiefs' team photographer Steve Sanders, who has been on the job for more than a decade. Sanders hand-selected each of the 10 photos featured in this series as his personal favorites, picking a variety of images from the 2021 campaign.
Here's a look at what we've covered so far:
We'll continue with No. 6: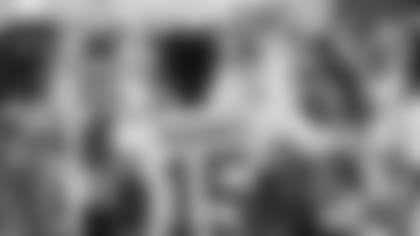 Game: Preseason Week 2 at Arizona
The Subject: Quarterback Patrick Mahomes speaks to the team before taking the field.
Camera Model: Canon EOS-1D X Mark III
Q: Tell us the story behind this photo.
Sanders: "This was before our second preseason game, and in this photograph, it makes it look like all 90 players are in this picture. Patrick is the only one without a helmet, and you can tell he's addressing the troops. He's getting everybody motivated and ready for the game. You don't know exactly what he's saying, but you can feel it," Sanders said. "The funny thing about this photo that you can't see is that there's a very narrow exit from the tunnel to the field. When the guys are ready to go, they're really ready to go, so when I was shooting this, as Patrick turned around and led the team out on the field, I turned around and ran right out there with them. I wasn't going to slow down or get in the way, I just decided to take the field with the guys."
Q: How did you stumble upon this moment?
Sanders: "I was actually standing out on the field as I saw them start to gather together, so I thought I'd just get some shots of faces and expressions, but when Patrick came up in front like this, I realized what a moment it was," Sanders said. "You can read his name and see everybody giving him attention, so I just thought it was really cool. Patrick also must like this picture because he made it his Twitter photo!"