A photograph can be powerful. It possesses the ability to capture the raw emotion of a singular moment through an otherwise fleeting snippet of time, whether that be the thrill of a postseason victory or a fan simply experiencing their first Chiefs' game.
We've been exploring many of those moments over the last several weeks along with commentary from Chiefs' team photographer Steve Sanders, who has been on the job for 12 years. Sanders hand-selected each of the eight photos featured in this series as his personal favorites, picking a variety of images from the 2020 campaign.
We'll complete our series with No. 1: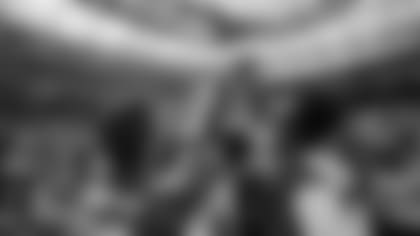 Game: Week 2 at Los Angeles
The Subject: The Chiefs hoist kicker Harrison Butker on their shoulders following his game-winning field goal vs. Los Angeles in Week 2.
Camera Model: Canon EOS-1D X Mark II
Q: What's going on in this photo?
Sanders: "This was at the end of the first Chargers' game following Harrison Butker's game-winning field goal. Not only did he make it once, but he made it once from 53 yards and twice from 58 yards after a penalty and a timeout nullified the first two kicks. It was a hard-fought game - we chased the Chargers the entire time – so there was a ton of emotion in this moment," Sanders said. "The guys were so happy that they picked Harrison up and put him on their shoulders. In all my years of football, this is the first time I had ever seen anything like this at the pro level in person."
Q: Considering you had never seen something like this before, how were you still so ready for the moment?
Sanders: "You follow the action. Harrison was jumping around, and the players all ran toward him to celebrate. It kind of felt like a walk-off in baseball, where the players all celebrate at home plate, and I felt like that was where this was headed," Sanders said. "Then, when they picked him up, I was just in the right spot. I found a window in between the guys that captures his expression and the score up top. It just all came together."
Q: How perfect was the natural lighting for this photo?
Sanders: "The lighting was great. I added a little bit of fill-flash just to kind of fill in under the helmet, and those are all things that I prepare for ahead of time," Sanders said. "Before the play, I needed to be ready for either scenario – if he made it or if he missed it. The game was pretty much over one way or the other, so I had to be prepared with the short lens and ready for a reaction."