A photograph can be powerful. It possesses the ability to capture the raw emotion of a singular moment through an otherwise fleeting snippet of time, whether that be the thrill of a postseason victory or a fan simply experiencing their first Chiefs' game.
We've been exploring many of those moments over the last several weeks and will continue to do so moving forward along with commentary from Chiefs' team photographer Steve Sanders, who has been on the job for 12 years. Sanders hand-selected each of the eight photos featured in this series as his personal favorites, picking a variety of images from the 2020 campaign.
We'll continue with No. 2: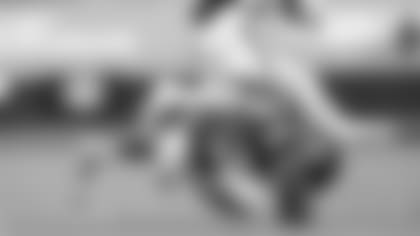 Game: Week 16 vs. Atlanta
The Subject: Defensive back L'Jarius Sneed makes an outstanding tackle during the Chiefs' victory over Atlanta.
Camera Model: Canon EOS-1D X Mark III
Q: What was going on in this photo?
Sanders: "I was focused on L'Jarius coming across the field and he went on to make just a perfect, form tackle," Sanders said. "I love the way that this cropped. [The running back's] head is out of the frame, but it's not really about the running back, it's all about Sneed making the tackle. From the expression on his face to the dirt kicking up off his shoes, it just came together really well."
Q: Were you following Sneed even before the snap?
Sanders: "I was focused over the middle of the line of scrimmage, and once I saw that it was a handoff, I stayed on the running back," Sanders explained. "Once I saw where he was going, I saw Sneed coming up and went over to him instead. It looked like he was going to make a big hit."
Q: How do you make snap decisions in the moment like that?
Sanders: "It's just a matter of repetition and understanding how plays develop over time. It's also about learning the team that you cover," Sanders said. "I think this was also a situation where Sneed had to make the tackle, or it may have been a much larger gain."
Q: How unique is the detail in this image?
Sanders: "I think that's what kept drawing me back to this photo when we were making selections for this series," Sanders said. "The determination that he's showing makes that detail pop. It's truly a real football picture."