A photograph can be powerful. It possesses the ability to capture the raw emotion of a singular moment through an otherwise fleeting snippet of time, whether that be the thrill of a postseason victory or a fan simply experiencing their first Chiefs' game.
We began to explore many of those moments several weeks ago and will continue to do so moving forward along with commentary from Chiefs' team photographer Steve Sanders, who has been on the job for 12 years. Sanders hand-selected each of the eight photos featured in this series as his personal favorites, picking a variety of images from the 2020 campaign.
We'll continue with No. 4: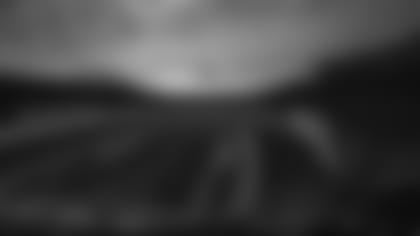 Game: Week 16 vs. Atlanta
The Subject: The sun rises over GEHA Field at Arrowhead Stadium on a game day morning.
Camera Model: Canon EOS-1D X Mark II
Q: This is such a classic shot, but these photos never get old, right?
Sanders: "Not at all. It was such a beautiful morning, and Andrew is always great about getting to the building early – especially when he's looking for something like this. He had been trying to get a good sunrise for several games and kept making his way in early in the morning. He wanted to catch something with a little detail in the sky," Sanders said. "Because he put in that work, he got a great picture. It's like there's a fire in the sky and the Super Bowl banner looks great. It's just a beautiful morning photo. The stadium is so quiet – there's nobody on the field. It's just set up really nicely."
Q: You touched on this a bit, but how much work and thought goes into capturing something like this?
Sanders: "You have to plan your location and plan the time of day that you're going to take it, then you also have to hope that mother nature cooperates and gives you something to work with other than a stark blue or stark gray sky," Sanders explained. "The clouds were moving, and you need the right humidity to get the color tones – there's a lot of luck that rolls into it. When you get it and everything works out, you get a beautiful image."